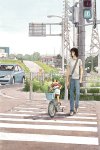 I don't know whether to applaud ADV Manga for getting their release schedule back on track or to lambast them for depriving me of my precious
Yotsuba&!
for so long. See,
Yotsuba&!
Vol. 6 was originally slated for release this past February, but was never published after volume 5 saw release in October of last year. Granted, it's only been about 7 months since volume 5 was released so I shouldn't complai...HEY! What am I saying? That's much too long to wait for a single volume of manga. However, I am nonetheless glad to see the release train possibly rolling again for titles such as
Cromartie High School
,
Gunslinger Girl
, and of course
Yotsuba&!
. ADV's Chris Oarr gives Ain't It Cool News the
full lowdown
, explaining, among other things, that ADV Manga still exists.