Salvador Mateos
Maidreamin Impressions @ Anime Expo 2016
When someone says Akihabara what comes to mind? Among those answers somewhere would have to be Maid Café. When once upon a time to have a real experience of a maid café you once would have to fly to Akihabara but not anymore during Anime Expo 2016 Akihabara maids came to us. This year Anime Expo invited Special Unit: 003 from Maidreamin the No.1 Maid Café restaurant in Akihabara.
What is Maidreamin? Well Maidreamin was founded in March 6th 2008 in Akihabara and now is the largest maid café chain in Japan with over 17 different locations and having over 400 servants. The servants are not just from Japan but from all around the world and are waiting for their masters or princesses to arrive. When you attend any of their 17 locations they entertain you by playing games, or performing one of their 20 original songs while you enjoy your meal.
Ayame, Hinata, and Mariru are the top 3 most loved and awarded maids from Maidreamin and together make Maidreamin Special Unit: 003. They brought the energy from Akihabara to Anime Expo to share their moe charm with fans. They had two daily sessions at 10am and 1pm everyday during Anime Expo. During which they welcomed all the masters and princesses to each session. During each session parties would be seated at a table and had AX maids take care of them. You had a café stand where you would go and purchase drinks and pastries. Meanwhile back at your table the in house maids would entertain your party by playing games or doing a small dance.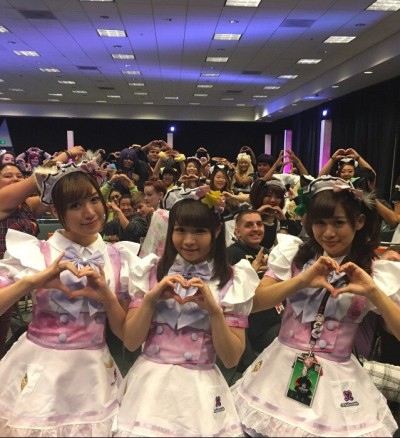 After each party got settled in Ayame, Hinata, and Mariru would take the stage and perform a few songs followed by the in house maids doing a small number themselves. After the final number they would say farewell to their masters and princesses to end the show. After this people were encouraged to visit the merchandize table to buy stickers, CDs, and other small gifts. Also they could buy Polaroid pictures of themselves with Ayame, Hinata, and Mariru or any of the in house maids.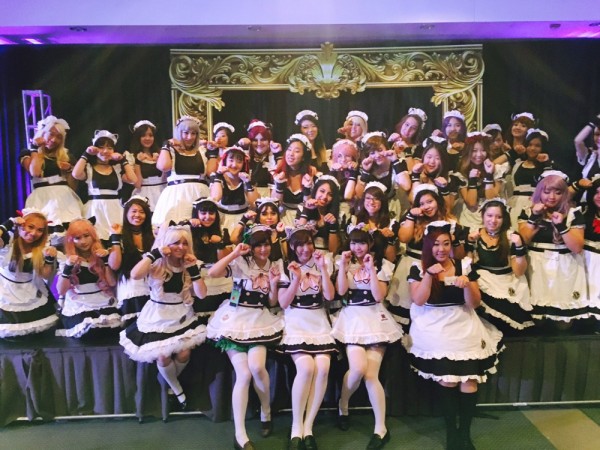 This event was very well received by all the attendees of Anime Expo so well that on the first day all the tickets where sold out for every session of the convention weekend. The atmosphere was welcoming and the entertainment was amazing. One thing that stood out was how much the maids seemed to enjoy themselves on stage. Their songs are made just for them and you can buy their CD's for $30.00 along with other goodies. Remember if you are ever in Akihabara of Japan make sure you visit them at any of their 17 locations. If you took a picture with them why not upload it on twitter to them @ayame_md, @mariru_md, and @hinata_md also remember to #MoeMoeKyun!