Ken Dubois
Domobics with TPDomo FAN EXPERIENCE @ J-POP SUMMIT 2016
Domo-kun has had a long history, as the mascot of the Japanese broadcast company NHK, and behind his large, saw-toothed mouth, there's something endearing about this brown, open-mouth monster. During this year's J-POP SUMMIT, the NHK mascot collaborated with the idol group Tokyo Performance Doll, forming a new unit called "TPDomo". Making their American debut, Tokyo Performance Doll (TPD), kicked off J-POP SUMMIT at Fort Mason Center on the main stage with a fun and energetic five-minute workout called "Domobics" at 11:00am on both days.
Originally one of the groups responsible for the massive pop idol sensation that's invaded the world, the group was disbanded in 1996 only to be revived in 2013 after an exhausting member search from over 8,800 candidates. Immediately after being formed, the new female idols who comprised the group had one goal in mind: to become a peerless and unique performance group.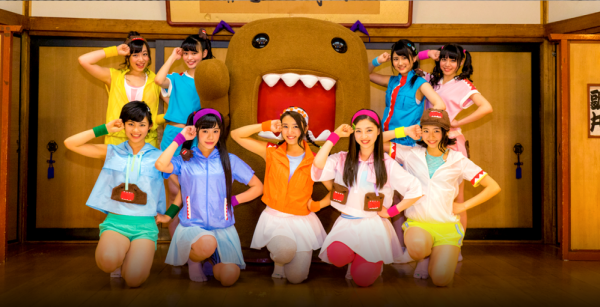 Using the monkier of "Domobics" (Domo + aerobics), the song features a 5-minute long exercise routine that uses simple moves from stretching to lower body workouts and was composed by m-flo's☆Taku Takahashi and supervised by Katsuhiko Nagata, an Olympics silver medalist. Although it may seem simple on the surface, underneath the glitz and glamour of the catchy pop-tune is an actual fun rhythmical workout to help you get ready for your day. With the simple message that, "if Domo can do it, then you can too," it effortlessly makes exercise fun!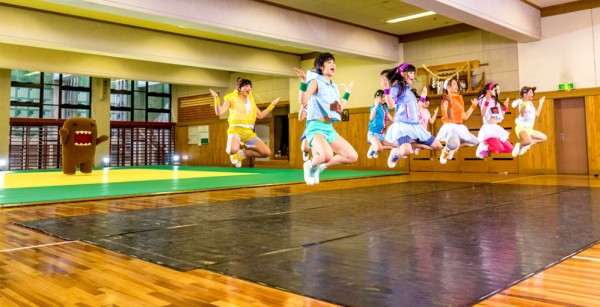 Earlier this month NHK launched a section on their website featuring special videos of Tokyo Performance Doll doing "Domobics." While we were a little disappointed that a physical CD or a digital version does not exist yet at this time, we were told you could go watch the "Domobics" music video on the official NHK YouTube channel. We also received a teaser from Sony Music that it may be released sometime within the near future; so fans will definitely have something to look forward to!
Throughout the festival the NHK booth hosted multiple "Domobics" sessions featuring Tokyo Performance Doll where attendees were able to learn the routine and even a lucky few were able to participate on stage and receive autographed posters from the group.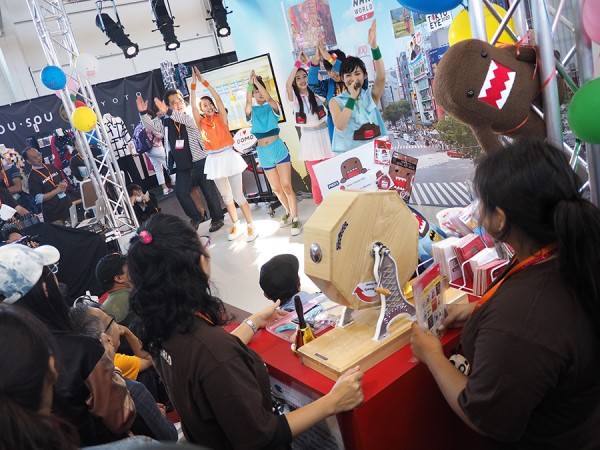 Other activities included special appearances by the mascot Domo and attendees were offered the chance for a photo op. Sebastian Masuda, art director of Kawaii International, NHK's pop culture program which explores everything from Tokyo street fashion to art and design, collaborated with NHK to host "TIME AFTER TIME CAPSULE" a workshop which includes an interactive art installation in the shape of Domo.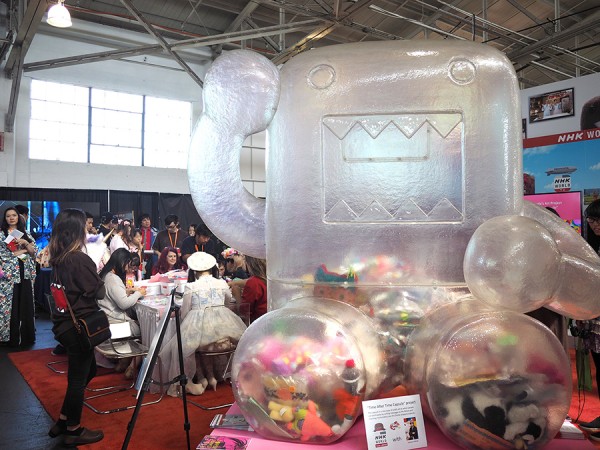 Overall, I personally enjoyed my experience at the NHK booth. This was my favorite event at J-POP SUMMIT with the great fans and lots of high energy. With the group earnestly leaving the hope that they will come back again soon, we really hope they come back next year as they're a performance that needs to be seen!