Yuya Matsushita Interview @ FanimeCon '11
Japanese pop sensation Yuya Matsushita made his first American live performance in San Jose, California at the anime convention, FanimeCon 2011. Matsushita is probably best know for his music featured in several anime series including Durarara! and Black Butler. More recently, he has made appearances in Japanese television dramas and movies. See what this young rising star had to say about his rise to stardom!
T-ONO: Thank you very much for coming to the U.S. and doing your first performance. Were you excited to perform? What was it like?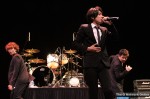 Matsushita: I didn't expect the audience would be so energetic. This is my first time coming to America, and the first time coming to San Jose so I was nervous for several days before the live. However, once I went in, and even before I did, everyone was excited and pumped that I couldn't even hear myself sing. It wasn't a scene that I would see in Japan, so it surprised me and made me happy.
T-ONO: Were there any type of preparations you may have done for the American performance physically and mentally?
Matsushita: [laughs] For preparation, I can't exactly speak English therefore Ryu-san [handler] helped me prepare with the English for the MC. In Japan, I never had to do a MC in English, so this was my very first attempt!
T-ONO: You had an autograph session and a panel yesterday. What was it like to meet your American fans?
Matsushita: There were numerous people who knew about Japanese culture, and everyone seemed so kind. I felt very close because everyone understood the Japanese culture. I was very glad to interact with all those people.
T-ONO: Changing gears a little bit, you're a relatively young musical artist that just started a few years ago. How has life changed now that you've established yourself in the industry compared to when you began?
Matsushita: Compared to a few years ago (when I first made my debut), I feel like I can deal with all the pressure better. I think I was able to improve from all the live performances I have done. For example, I don't think I would have been able to perform last night if it was two or three years ago. I think my old self could not have been able to handle all the pressure because I wouldn't have had the courage to challenge this. I think it was thanks to my previous experience and efforts that changed me.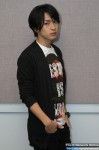 T-ONO: We know there's been a lot of information about your musical talents, but very little about your acting career. How did you get started or involved from singing to appearing in drama and movie roles?
Matsushita: I started music around sixth grade and made my debut at the age of eighteen. For acting, it was around the same time when I made my debut, where I was offered to play a role in the movie. Because I participated, my acting career started, which eventually led to getting an offer to be in the Black Butler musical. My opportunities kept on adding on and naturally evolved to where I am now.
T-ONO: Can you tell us a little bit about the role you played in Black Butler? What was it like performing in a live stage show? How was it different from your musical career?
Matsushita: If I really think about it now, playing the role of Sebastian on a live action stage would be impossible. He may appear to be human, but he is a demon. During the play, there would be singing, dancing, and acting that would make one sweat and exhausted; however, for Sebastian, he would never be allowed to do that! During my own performances, I can just naturally be Yuya Matsushita with my own style opposed to a musical play, where I had to actually act as someone who was just so inhumanely perfect. Keeping that role throughout the musical was the most challenging part.
T-ONO: In a way, we could say it was a good training opportunity for your career?
Matsushita: Definitely, it did give me a lot of courage and was very much a positive experience for my future career. I didn't have much experience on stage, but I played the main role. Playing this role, until the end, gave me a lot of confidence to my musical and acting career. In addition, Black Butler is a very popular work, so portraying Sebastian as a perfectionist -despite myself being a normal person- was very challenging. However, I was able to receive a lot of positive feedback from different places that led to, perhaps, my performance here at FanimeCon. So it definitely gave me a lot of courage.
T-ONO: Any plans to maybe pursue an acting career in the future?
Matsushita: For now, I don't plan to stick only to music or only to acting. However, music is the fundamental and that's what I've been doing for the longest time, so I would to cherish music and continue with acting. I don't really have any priorities whether it's acting or singing, but I would like to put 100% of my effort to continue challenging both music and acting. I want to keep it on a very professional level and everything on the same level without dividing my efforts.
T-ONO: Going back to FanimeCon, were there any surprises while meeting your fans?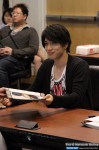 Matsushita: It was very surprising to visually see how the Japanese culture is being popular and accepted here in America. That being said, I grew up looking up to American culture with music, R&B and hip-hop, all that stuff as well, so vice-versa was just weird and it was just interesting to see how my culture, like where I'm coming from, is being so accepted here. Since it's an internet society right now, it makes me think that American may even know more about Japanese culture than the Japanese. As a Japanese person, this really made me happy.
T-ONO: I know you have been very busy the last couple of days, but have you gotten a chance to look around the convention at all?
Matsushita: Just on the first day I was able to walk around a little bit, but I'm planning on doing it later on today.
T-ONO: I don't know if it's much of a surprise, but all your merchandise in the dealer's hall has been completely empty for days!
Matsushita: [laughs] So yeah, again I mean it was just such a surprise to see all of my fans in America. I think, my staff and I may have underestimated the number of people who are interested in my music or me. I wish we brought more for the fans! I REALLY admire America and the American people and appreciate that they would listen to my music! Also, the bracelets I brought in from Japan was for charity purposes for what happened on March eleventh, so I was just happy to see all of this.
T-ONO: Do you have any message for American, and English speaking fans here?
Matsushita: Thank you for the support and thank you to the people who came out to attend FanimeCon. Although I am mostly active in Japan, I hope that my music and performance can be spread throughout America. America is really one of my favorite places to visit, I definitely would like to come back, perform in other cities in America, and meet everyone as well. Next time if I come back I'll definitely sharpen up my English as well!
Special thanks to FanimCon, Ryu Takahashi, and Sony Music Japan.
Transcribers: Stephen Bajza and Ken Ohata