Osman Numair
New Phantasy Star Portable Announced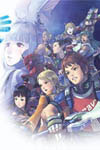 Sega has announced a new entry to the
Phantasy Star Portable
series,
Phantasy Star Portable 2 Infinity.
The new installment looks like it will be bigger and better than its predecessor,
Phantasy Star Portable 2
, including more story, characters, and online features.
Infinity will continue the story from Phantasy Star Portable 2, which centers on new character Nagisa, an 18-year-old Duman girl. The Duman are humanoids with white skin and they all wear eye patches. The game will probably give us more insight into the race's origins. Dumans also are great attackers due to their tremendous strength. This new race looks like an interesting and mysterious addition to the Phantasy Star Portable series.
Infinity will include a new difficulty setting, Infinity Rank, for more experienced Phantasy Star players. Similar to other RPGs, the game will also feature a rebirth feature, which can be used at level 50. Rebirth mode will reset characters back to level one, but still allow characters to retain their stats. Through rebirth, players can max out their stats at a quicker rate than previous Phantasy Star entries.
Additions for Infinity are not limited to its single player experience. Fans of Phantasy Star Online (PSO) will be treated with some throwbacks to the classic Dreamcast game, such as the redesign of the virtual lobby, which has similarities to PSO. Another addition to the multiplayer experience is tag-mode. Tag-mode allows players to exchange character data and various mission codes. Player will also be able to take screenshots while on multiplayer mission. It's no surprise Sega has added new features to the online experience, since Phantasy Star carries a big emphasis on the online experience ever since its appearance on the Dreamcast.
Infinity looks to be a great entry into the Phantasy Star series. The game is about half way complete and is set to hit Japanese shelves this winter. There has been no word on a North American release at this time. If Sega truly loves American fans, they will waste no time in bringing Infinity stateside.
Note: Screenshots are from Phantasy Star Portable 2 and not Phantasy Star Portable 2 Infinity.
[Source: andriasang.com]
Latest from Osman Numair