Brian Lee
MIKU EXPO Concert in San Francisco
Hatsune Miku needs no introduction for most fans of Japanese culture. For those who aren't fans of Japanese culture, or are fans but have somehow been living under a rock for the last half a decade, she's a virtual voice given life by fans. Her teal twin ponytails and futuristic appearance hide within them a surprisingly versatile voice. On April 30, 2016, Hatsune Miku would make her northern California debut at San Francisco's Warfield theater.
This is not Miku's first time in the United States. She played at the 2011 Anime Expo in Los Angeles when Vocaloid was at a fever pitch. That show sold out the entirety of Nokia Theater (now Microsoft Theater) and remains the only concert in Anime Expo history to do so. Three years later in 2014 Miku would hold concerts in two venues; the first would be in Los Angeles, again at the Nokia Theater, and the second at New York's Hammerstein Ballroom. The 2016 MIKU EXPO takes things to an even greater level upon its return to North America and boast a total of fifteen concerts in ten cities (including a stint in Canada and Mexico). Most of the locales holding concerts, and some which aren't, will also hold satellite events like a film festival and drawing sessions. For more on these, please look here.
Before we get any further I'd like to address the "what/who is Miku?" question. Miku is everyone and everything. Miku is who you want her to be. Miku is a collaboration. She's a character with a voice and that voice sings and says whatever you want it to. Everything starts with a musician or producer needing a vocalist and that's where Miku fills in. Once you have a complete song someone is bound to create a visual in the form of a character design. After that, a music video. Many musicians, producers, artists, and editors have never met each other in person but they come together under one word, one name: Miku.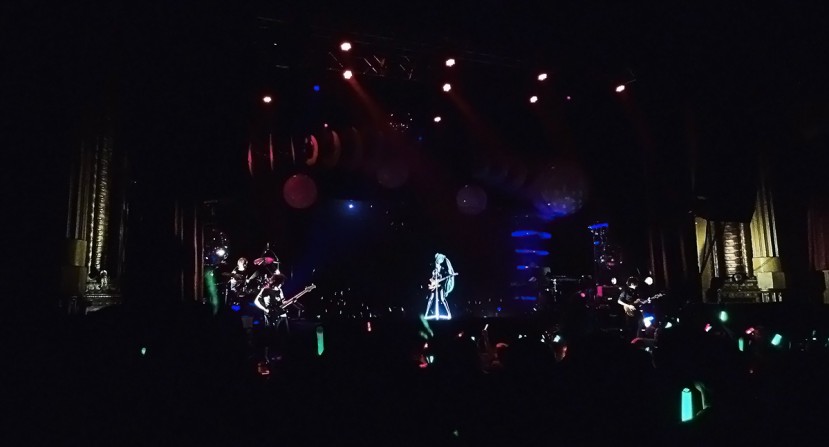 That's what gives Vocaloid its strength.
Today the historic Warfield theater in downtown San Francisco would hold a daytime concert followed by an evening concert. Only two other cities would receive this treatment and I'm glad San Francisco was one of them. This gave you flexibility; if you couldn't make the daytime show because it was too early and you were coming from afar the evening show was your choice. If you were like me and packing your weekend (and the surrounding days) with events then the daytime concert helped spread things out. Unfortunately my DSLR would have to stay home (no photo passes are available for any of the shows) and that means calling in a five year old point-and-shoot camera. I probably could have just taken the DSLR anyway as there were people spending the whole show with one arm holding a camcorder in the air, though...
The weather was bright and sunny with temperatures in the 70s. Perfect day for a concert. Electronic band Anamanaguchi would serve as the opening act for the digital diva and their music fits very naturally with each other. If you can time it correctly, you can jump out of the room and hit the merch table towards the end of their set and avoid the oncoming rush of people during the break. This is probably the best time to buy because before the show, during the break, and after the show were absolutely packed with people. I walked out with the Miku-on-a-Negi shirt and San Francisco poster. Each concert will have its own unique poster and yes, they do give out poster tubes!
The heart of a Hatsune Miku concert, besides Miku herself, is the holographic display screen and the whole reason Miku can appear on stage. It's set up in the middle of the stage and this is how Miku and her compatriots appear. Viewing angles are roughly 140 degrees but towards the sides the fact you're looking at a psuedo-3D image on a 2D plane becomes evident. Stay out of the extreme sides and you should be fine. One fun thing about the display screen is that glowsticks reflect off it which has the effect of effectively doubling the number in the room.
In Japan, the use of glowsticks at anime concerts is a core tenet. In America that's not really the case but there's an easy fix for that. Every attendee who walked through the door of the Warfield theater was granted a glowstick or two (gotta have one for each hand!) to join the rest of the crowd. Veterans either brought their own King Blade LED wands or bought the official ones. Official ones were available online for a short period of time as well as a small quantity at the venue. The official ones were tuned to the program and automatically changed color depending on the song (that or everyone is really good at quickly color syncing and I didn't notice). As for what you do with the glowsticks? Pump your fists in the air to the beat and have fun. Every song has its ebb and flow and that's what you'll work with. If in doubt, follow the crowd. A more advanced set of movements involve complex twirls, arm swings, thrusts, and jabs but you should leave those for later. For those who wish to go down that rabbit hole look up "wotagei."
First up was an intro for the whole Vocaloid cast that would be joining us this afternoon. Vocaloid is not just Hatsune Miku. She has compatriots in her forebears Kaito (themed blue) and Meiko (red), siblings Rin and Len (yellow), and contemporary Megurine Luka (pink). The Vocaloid would not be the only ones on stage and a live band would provide the music, although with a more rock-oriented slant thanks to the band's instruments. That's part of what makes a Miku concert different than just listening to the songs at home. The arrangement is different when it's live and you get to be amongst hundreds of others who love the same thing you do. You could tell the crowd were fans from the chants of "Miku! Miku!" and "I love you, Miku-chan!"
There are hundreds, thousands, of Vocaloid songs out there that makes selecting a set very difficult. Safe bets would be on hyper popular songs like "World is Mine," "Love is War," and "Magnet." Some English songs were sprinkled in like "Ten Thousand Stars" and "Glass Wall." Each of Miku's fellows also showed up with selections like "Remote Control" performed by Rin and Len and "Change Me" performed by Meiko. Many fans knew the words to the songs and even the scant opening bars of a song could trigger an outburst from them as they recognized a favorite. The selection heard tonight is only a fraction of the whole and there is enough material for dozens of concerts. Miku could easily perform a completely different set at every single Miku Expo stop without breaking a digital sweat.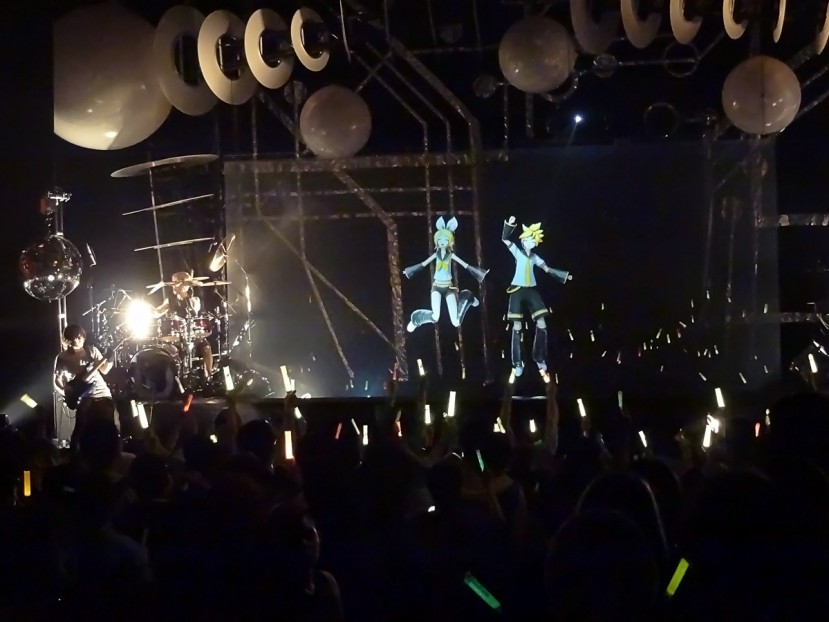 The theme for the 2016 MIKU EXPO is "Blue Star" by HachioujiP and would mark the end of the main set. A few unfortunates walked out during the break between that and the encore. Lesson: never leave until the lights turn on and they're trying to kick you out. Fans chanted "An-core-ay!" (the rough pronunciation of encore in Japanese) and "Miku! Miku!" until she reappeared on stage. The three-song closer included the 2014 MIKU EXPO theme "Sharing the World" by BIGHEAD and a couple other songs. The very final song would have Miku, seated at a piano, playing a somewhat somber tune. All good things must come to an end and this was ours. Just as easily as she appeared in a cascade of color and light Miku exited the stage in the same manner, this time for good. Thankfully she is an ideal that lives on in the hearts and minds of millions and can never truly be gone. Chances are we will meet again. After today's showing, I hope we have made an impression on Crypton to come back to San Francisco in the future.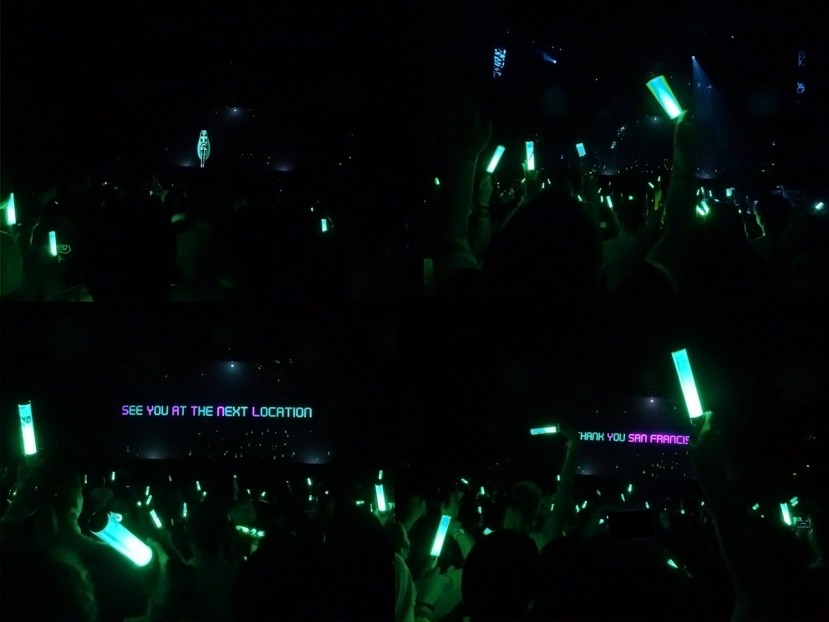 Bottom line? If you're nearby, you owe it to yourself to go see it. You're in for a good time. Los Angeles, you're up next.
LIVE BAND:
Drums: Kensuke Itou
Bass: Tsuguhito Konno
Guitar: Takahiro Misawa
Keyboard: MEG.ME
SET LIST:
1 World is Mine feat. Hatsune Miku (by ryo/supercell)
2 The Disappearance of Hatsune Miku feat. Hatsune Miku (by cosMo)
3 Two-Faced Lovers feat. Hatsune Miku (by Wowaka)
4 Unhappy Refrain feat. Hatsune Miku (by Wowaka)
5 World's End Dancehall feat. Hatsune Miku & Megurine Luka (by Wowaka)
6 Magnet feat. Hatsune Miku & Megurine Luka (by Minato)
7 Weekender Girl feat. Hatsune Miku (by HachioujiP and kz(livetune))
8 Deep Sea Girl feat. Hatsune Miku (by Yuuyu)
9 Glass Wall feat. Hatsune Miku (by Guitar Hero Piano Zero)
10 Snowman feat. Kaito (by halyosy)
11 Change Me feat. Meiko (by shu-t)
12 Tokyo Teddy Bear feat. Kagamine Rin (by neru)
13 Butterfly on Your Right Shoulder feat. Kagamine Len (by noripy)
14 Remote Control feat. Kagamine Rin & Len (by JesusP)
15 Love is War feat. Hatsune Miku (by ryo/supercell)
16 Last Night, Good Night feat. Hatsune Miku (by kz(livetune))
17 Ten Thousand Stars feat. Hatsune Miku (by CircusP)
18 Just be Friends feat. Megurine Luka (by Dixie Flatline)
19 Secret Police feat. Hatsune Miku (by BuriruP)
20 The Singing Passion of Hatsune Miku feat. Hatsune Miku (by cosMo)
21 Sekiranun Graffiti feat. Hatsune Miku (by ryo and Dixie Flatline)
22 Tell Your World feat. Hatsune Miku (by kz(livetune))
23 Blue star feat. Hatsune Miku (by HachioujiP)
Encore 1 Sharing the World feat. Hatsune Miku (by BIGHEAD)
Encore 2 39 feat. Hatsune Miku (by Deco*27 and Sasakure.UK)
Encore 3 Star Fragment feat. Hatsune Miku (by Eiji Hirasawa)
FULL EVENT SCHEDULE:
MIKU EXPO Concert Series
4/23 Seattle, WA - WaMu Theater
4/30 San Francisco, CA - The Warfield (day and night shows)
5/6 Los Angeles, CA - Microsoft Theater
5/14 Dallas, TX - The Bomb Factory
5/17 Houston, TX - NRG Arena
5/20 Toronto, ON (CA) - Sony Centre for the Performing Arts
5/25 Chicago, IL - The Chicago Theater
5/28 New York, NY - Hammerstein Ballroom (day and night shows)
6/1 Monterrey, MX - Auditorio Banamex
6/4 Mexico City, MX - El Plaza Condesa (day and night shows)
6/5 Mexico City, MX - El Plaza Condesa (day and night shows)
MIKU EXPO Digital Stars
4/22 Seattle, WA - FRED Wildlife Refuge feat. Mark Redito, Pete Ellison, Meishi Smile, Boaconstructor, Hojo
4/29 San Francisco, CA - Codeword feat. Qrion, Airynore, Grimecraft, Seimei
5/5 Los Angeles, CA - The Lash feat. Mark Redito, Meishi Smile, Φrkestrate, 2ToneDisco, TDoyle, DZZ, B&L All Stars
5/27 New York, NY - Littlefield feat. Hachiojo P and others
MIKU EXPO Let's Draw!
4/24 Seattle, WA - Northgate Mall
4/26 Portland, OR - Clackamas Town Center
4/28 Emeryville, CA - Emeryville
5/2 San Jose, CA - Stevens Creek Boulevard
5/4 Los Angeles, CA - Huntington Beach
5/8 San Diego, CA - Mira Mesa
5/10 Austin, TX - Arboretum
5/12 Dallas, TX - Lincoln Park
5/15 Houston, TX - River Oaks Shopping Center
5/23 Chicago, IL - Old Orchard, Skokie (with Hachioji P)
5/27 New York, NY - Tribeca (with Hachioji P)
MIKU EXPO Short Film Festival
5/1 San Francisco, CA - New People Theater - 12PM/130/3/430/6
5/21 Toronto, ON (CA) - Jackman Hall at the Art Gallery of Ontario - 1130AM/130PM (with Crypton CEO Hiroyuki Itoh)
6/3-6/5 Mexico City, MX - Cinemex Reforma - 1PM/3