Salvador Mateos
Cowboy Bebop Jazz Cat Experience @ Anime Expo 2016
Anime Expo may be more than a month ago but the Cowboy Bebop Jazz Cat Experience was something I will remember for years to come. This year, fans of Cowboy Bebop had a chance to attend the Cowboy Bebop Jazz Cat Experience featuring Alice Underground, brought in by Bang Zoom, Funimation and Anime Expo. This was a treat to all those Cowboy Bebop Jazz loving fans.
From the set playlist to the spectacular cheorography, it was nothing but a true Cowboy Bebob fan experience. As a bonus, the English cast of Cowboy Bebop, Steve Blum (Spike), Mary Elizabeth McGlynn (Julia), Wendee Lee (Faye), Beau Billingslea (Jet), and Melissa Fahn (Ed) were invited as special guests at this event. A Q&A for fans was held with the cast and they talked about how Cowboy Bebop not only influenced their career but their personal lives as well.The main act, Alice Underground brought not only the music that many fans from around the world have fallen in love with, but a genuine theatrical jazz experience to the audience as well. On top of the music, the costume, make-up and hairstyle that the performers wore made it feel as if fans were sitting in a real jazz nightclub.
The show started with a few words from Spike. The show took off with this famous line "I think it's time to blow this scene get everybody and their stuff together. [Okay], three, two, one let's jam!". If by the time fans heard these lyrics and were still not following along to the beat, then the bass solo followed by the drums at the beginning should already have had them hooked. Fans of the series should be familiar with this line from "Tank" [written by Yoko Kanno and originally performed by 'Seatbelts'], the opening song to Cowboy Bebop. It is a classic jazz fusion that is upbeat and exhilarating from the start to the finish and the Alice Underground cover was on par with the original by Yoko Kanno and Seat belts. The crowd was following along by bobbing their heads or keeping rhythm by taping their feet. The band was dressed like performers in an authentic Jazz club, and along with live dancers, it was a show in itself. While the band performed, the screen behind played footage from the anime. Song list included: 'Tank', 'Cat Blues', 'Too Good Too Bad', 'Farewell Blues', 'The Real Folk Blues [English version by Alice Underground]', and 'Rain' along with some others like 'Carry that weight'[Beatles] and 'Superman' [Alice Underground]. Each song was perfectly accompanied by selected scenes from the series, representing a particular character or to convey actions and emotions within an episode.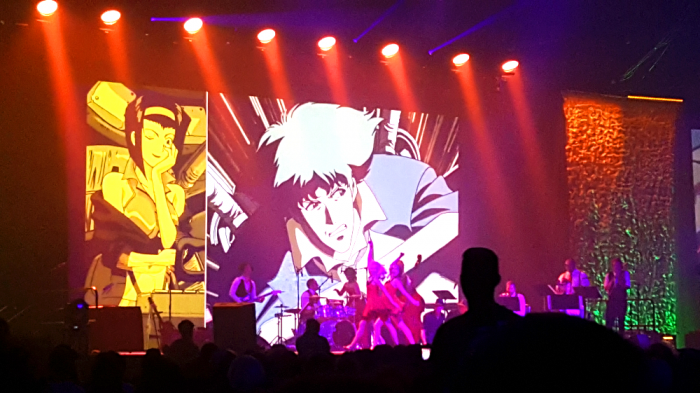 During intermission, the band held a Q&A session with the English cast of Cowboy Bebop. One by one, the cast were introduced by Tony Oliver and Melissa Fahn (Ed), Beau Billingslea (Jet), Wendee Lee (Faye), Steve Blum (Spike), and Mary Elizabeth McGlynn (Julia) were welcomed on stage. The cast spoke about how this series was the first role for most of them and how it has been deeply rooted into their lives.
Tony then asked the cast to describe what instrument or music would describe their characters and they replied:

'Julia would be a lonely sax wrapped in black leather slowly playing "row row your boat" as she goes along her life' - Mary Elizabeth. 'Faye classic rock girl with some throw back roots that are progressive and she would put on buds today and just crank it and do a lot of shadow dancing' - Wendee Lee

Jet is the jazz blues kind of guy because as a saying says 'when you looking good in your clothes you looking clean as a board of health' - Beau Billingslea, but he considers the Bebop crew to be his family so when they are gone he is sad but once they are back he is happy so the blues fit his personality

'Spike would be dirty jazz' - Steve Blum

'Ed she is a party, she would be listening to Taylor Swift but then at the same time she be conducting symphony in her head….something like bubble-gum Mozart' -Melissa Fahn

Tony then asked which was their favorite episode of the series and they agreed on episode 11, 'Toys In The Attic' being their favorite. 'Aliens and the movie 2001 [Space Odyssey] with the shot of the fridge spinning in space at the end…...but it [was a self] contained episode [in which you would get into mind of each characters] with each one learned a lesson with Faye cheating Jet out of his shorts literally' said Mary Elizabeth. Steve Blum said he loves the episode where Spike talks about being like water and loves how Bruce Lee was the influence behind the character Spike.

Steve Blum emphasized on how much the series means to him because without the series he would not have met his wife [Mary Elizabeth]. "So just like Spike had his Julia in the series I literally found my Julia [Mary Elizabeth]". He also said that Cowboy Bebop holds such a special place in his life that he has the image of the sound file of "Bang" tattooed on his arm 'I literally have bled for Cowboy Bebop' said Steve Blum 'so if there is the technology to read my tattoo as a sound file it would play "Bang" so it will forever be with me'. At the end of the Q&A the cast took a selfie from the stage and uploaded it to twitter.

Alice Underground returned to the stage after the Q&A and ended the evening with a reprisal of "Tank". The audience stood up and cheered. The night came to an end and just like an episode of series we end with ...See you Space Cowboy.