Yuki Takano Interview
Amongst some of the all star artists and character designers that MangaGamer brought to Anime Expo 2010 who were available to accept commissions on sketches, there were a few lesser known illustrators to the American public including Yuki Takano, a relatively new artist working for the popular visual novel company, CIRCUS.
T-ONO: Could you briefly introduce yourself?
Takano: My name is Takano Yuki and I work as an illustrator for CIRCUS.
T-ONO: How did you get started with CIRCUS?
Takano: I started illustrating for CIRCUS about 3-4 years ago. I love to play galges (bishōjo games) and Suika, a galge produced by CIRCUS, was one of my favorite games! That particularly made me want to work for CIRCUS.
T-ONO: Did you go through a basic interview or did you know a friend from the company when you applied? What was the process of getting into the company?
Takano: There was no official relationship with CIRCUS. I simply applied to work at CIRCUS because I love to draw galge and the games they produced. At that time, CIRCUS was producing a style that I liked: sad, love stories.
T-ONO: You mentioned you like to play galge, but what about creating galge do you find attractive or enjoyable?
Takano: When making games, the scenario writer gives us a detailed description of the story. I will use that description along with my imagination to create the scene with the best angle. The most enjoyable part of galge is that I can use my imagination, which makes it more interesting.
T-ONO: Out of the games you worked on, what particular character that you designed are you most proud of?
Takano: My most favorite character is the main heroine, Hakuoen Ayaka, from Princess Party because this was my first time working on a game as the main character illustrator. The character is very fashionable and her expression change every time, which was very interesting for me to draw.
T-ONO: For first time players such as Americans, do you have any recommendations who have never played galges before?
Takano: I would recommend Dies Aries. It is an action bishojo game that integrates battles and the characters are really cool!
T-ONO: What was your reaction seeing American fans coming up to you?
Takano: This is my first time coming to America, but I was surprised that there weren't many people coming to see my drawings. In the future, I want to make a lot of games to have the American people see my illustrations!
T-ONO: Can we expect to see any of your games released in English?
Takano: I am currently working on Uni. It is a visual novel created for all-ages. I believe this game will be translated into English and I hope that a lot of people will play this game. The game will come out in Japan on September 2010.
T-ONO: Thank you for the interview, we wish you the best.
Takano: Thank you!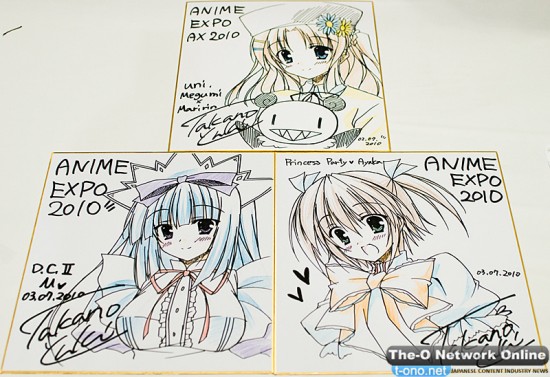 Sketches by Yuki Takano at Anime Expo 2010. (Commissioned orders by fans)