Brian Lee
GARNiDELiA Concert Impressions @ Sakura-Con 2015
What do you get when you combine a Vocaloid veteran with a model/designer/singer? The answer: GARNiDELiA. Seattle's Sakura-Con 2015 played host to the duo as part of the event's 18th iteration. The group consists of Maria, real name Mai Mizuhashi, and Toku, real name Yoshinori Abe. The two are signed to Sony Japan's Defstar Records. Remember April 4, 2015; this is the date of GARNiDELiA's first American concert and what a night it was. Just a few months earlier GARNiDELiA released their first album, "Linkage Ring," and now fans in America would get to see them live.
Toku, formerly known as TokuP, has a rich history as a Vocaloid producer with many famed songs. He now composes for GARNiDELiA while Maria handles the lyrics. The two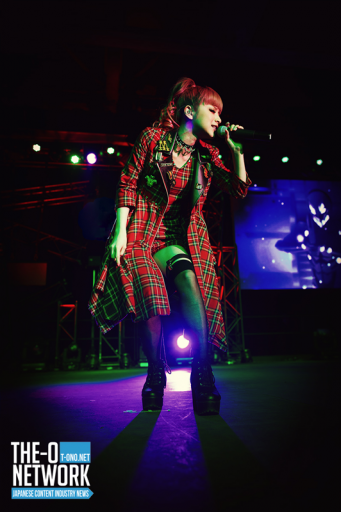 make a great combination and has quickly become a popular choice for anime series like Kill la Kill, The Irregular at Magic High School, Freezing and Gundam Reconguista in G. Their music bounces back and forth between rock and electronica, sometimes mixing the two.
People lined up for hours, which when you're at a convention with a stellar guest lineup and numerous attractions is an impressive feat. Fans spoke with their actions "I want to see GARNiDELiA up close!" Attendees entering the hall were greeted by volunteers offering free earplugs. GARNiDELiA was about to unleash a sonic assault and fans would be wise to use them. I am a big proponent of using ear protection and wanted to make sure to wear it religiously when at concerts. Of course, there is no greater honor than to show your willingness to permanently lose some hearing listening to someone...
The motif for the day is decidedly tartan. Maria, as the group's visual designer and go-to fashionista, goes to great lengths with the group's outfits and carefully selects GARNiDELiA's official look for every appearance. She has an addicting stage presence that draws your eye to her and never lets go. She moves and grooves all around the stage, a stark contrast to Toku and his station behind an array of keyboards and synthesizers.
The duo started with "grilletto," the opening for The Irregular at Magic High School. This is the perfect song to demonstrate the rock/electronica mix the band is known for and Toku seamlessly blends guitars with synths. This was followed closely by the songs "COLOR" (from Freezing) and "Ookami Shoujo."
For the fourth song Maria asked fans to dance with her to the song "Lamb" as the official video played in the background. Maria, alongside dancers Miume and Kamen Liar 217 (Niina), showed off their moves onscreen while on-stage Maria followed in sync. This is one of the group's heavily electronica-based songs and allows TokuP's skills to shine through.
The stars were the next stage; "ORiON" and "Spica," two slower paced songs gave the crowd a well-deserved break. "Spica" is actually a song from Toku's Vocaloid past but now featuring Maria in Miku's stead. This song, in one form or another, has been featured as part of multiple concerts (including the 2011 Mikunopolis in Los Angeles) and games.
This proved to be just an interlude and Maria kicked things back into gear with a couple of covers: the first was "Go Tight" from Sousei no Aquarion, freshly turned a decade old. They decided to go even older and lead into a cover of the classic "Zankoku na Tenshi no Teeze." English-speaking fans probably know this better as "Cruel Angel's Thesis" from Neon Genesis Evangelion. Toku sets the pace with a booming bassline making it much more danceable and truly GARNiDELiA's own. By the end of the song most of the hall was on their feet and clapping.
"Blazing," from last year's Gundam Reconquista in G, had some big shoes to fill after that, and did so admirably. The combination of strings, guitar, and keyboards are well-balanced and a treat to hear. The group's "Ambiguous" closed the night as the tenth and final song. It's arguably their most well known song as the opening to 2014's hit anime Kill la Kill.
All in all a fun night and a great way for GARNiDELiA to be seen by fans both new and old. It's one thing to listen to an album; it's another to see a live. The cheers of the crowd, being able to throw a few new bits into the arrangement, and all the symbiotic energy between artists and fans all make for a better experience. Maria shares my sentiments and said as much during a press conference the day after. I really enjoyed the "Cruel Angel's Thesis" cover and it helped turn the tide on my flagging endurance (it had been a long day). I needed to hear that version.
Fans called for an encore but unfortunately (or fortunately?) it was time for autographs in a neighboring hall. The line quickly stretched two aisles deep and GARNiDELiA made sure to accommodate everyone. You could tell Maria and Toku were thrilled to meet their fans from their faces and reactions. Some brought gifts and Maria and Toku were happy to take photos. This is great contrast from the rigid signing sets that usually make up a convention. It's always nice when a guest stays till there are no fans waiting. For me it's a sign of a great guest.
Special thanks to Sony Music for bringing this all together.
Here's the setlist:
"grilletto (The Irregular at Magic High School)"
"COLOR (Freezing)"
".オオカミ少女"
"Lamb"
"ORiON"
"SPiCa"
"GoTight!(GARNiDELiA Ver) (Sousei no Aquarion)"
"残酷な天使のテーゼ(GARNiDELiA Ver) (Neon Genesis Evangelion)"
"BLAZING (Gundam Reconquista in G)"
"ambiguous (Kill la Kill)"