Ken Dubois
E3 2016 Sword Art Online: Hollow Realization Hands On Impression
We managed to get a sneak peak at the new upcoming game, Sword Art Online: Hollow Realization with the publishers at Bandai Namco. Sword Art Online: Hollow Realization is a new action RPG developed under the eye of the creator himself Reki Kawahara and is set in a game-original Virtual Reality Massively Multiplayer Online game (VRMMO game,) called Sword Art: Origin, which is based on the servers from the original Sword Art Online.
A ten-minute demo of the game for PlayStation 4 was available for me to play. The demo took place in a lush green forest, joined by familiar faces such as: Asuna, Leafa, and Sinon. I was free to explore and hunt the various monsters that were roaming around the area. Visually the game looked gorgeous and felt very populated, with lots of trees and detail, but it looked much more like a forest then just a field with trees around it.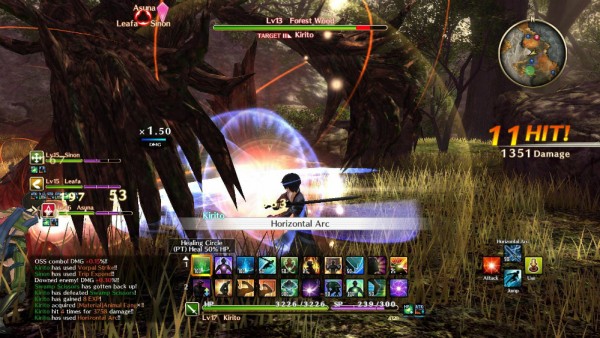 Compared to Sword Art Online: Lost Song, the game has had many improvements. There were noticeable features that were inspired by some of my favorite MMO games. One of the biggest features is the new MMO style hot-bar. While some skills are assigned to buttons, you now have full access to your available skill set via a palette in the middle of your screen. Using the D-pad you can select any available skills and quickly activate them. Skills range from various attack combos, de-buffs or defensive abilities. Combat was fast and fluid and you no longer have to wait for your turn like in Sword Art Online: Hollow Fragment. You are able to move freely around during battle. Enemies will now display different telegraphs indicating where they are going to attack next. I quickly acclimated to this and really enjoyed the smoothness of the action.
One thing I did like was the way the in-game quests worked, players of Final Fantasy XIV might find this familiar. As you are exploring in the world, you will see a small highlighted area on the map. As you enter one of these areas you will be thrown into a quest and in the demo, it was usually just to defeat certain nearby enemies. As far as boss fights go I did manage to find a NM or Notorious Monster which took me about 3 min to defeat and dropped some nice loot. As a big MMO fan of games like Final Fantasy XI and Final Fantasy XIV, I am definitely looking forward to playing Sword Art Online: Hollow Realization with its new MMO style game play, original story, and tons of quests and missions, I could easily spend over 50+ hours playing this game. Players who are fans of the Sword Art Online series or enjoy MMORPGs should definitely check out this game when it's released this fall in North America.