Jason Young
Wolf Children (Blu-ray/DVD) Review
For fans of the Twilight Saga, Mamoru Hosoda's exploration into the world of lycanthropy in Wolf Children may be the movie to grant your wish of seeing what would have happened if Bella ended up with Jacob. After all, the entire synopsis revolves around a college student named Hana who meets a tall, dark and mysterious classmate named Ookami whose rough exterior hides his true identity- that he's the last descendant of the Japanese werewolf. However, to start comparing Hosada's latest work with the aforementioned title would be doing a vast injustice to the brilliance of the award-winning 2012 Japanese animated film. After all, lying beyond its first fifteen minutes is a tender and heart-warming story about the sacrifices mothers make for their children and watching them grow up in an imperfect world.
After dropping out of college to raise her children, the widowed Hana decides to move to the countryside as she realizes that society might shun her children due to their true nature as "wild beasts." As such, there are also plenty of moments in the film where the audience witnesses Hana devoting herself to her children without knowing much about how to raise her half-human/half-wolf beings. In one of my particular favorite moments, Hana is caught trying to decide whether she should bring her children to the veterinarian or if she should bring them to a regular doctor after they got sick from eating silica gel. This scene represents one of the more absurd moments in the "slice-of-life" flick and is a thorough representation of what Hana has to go through on an everyday basis. It also brought a very human element to the fairy tale parts of the story making it easier for me to identify with the characters and their plights.
Upon reaching the countryside, Hana continues to study how to raise her children independently, despite all of the hardships that involves leaving the city. Despite wanting to keep her and her children's identities away from society, her indomitable spirit captures the attention of the neighboring village as they aid her in her quest to raise her children. While I don't want to go too much into detail about the rest of the story, what follows this point is an absolutely gorgeous experience to watch as we watch Hana's and Ookami's children grow up. The film is filled with all of the emotions you can think of from laughter, worry to tears. The story's central message easily helps make Wolf Children a very memorable and human film without ever feeling overwrought or overbearing.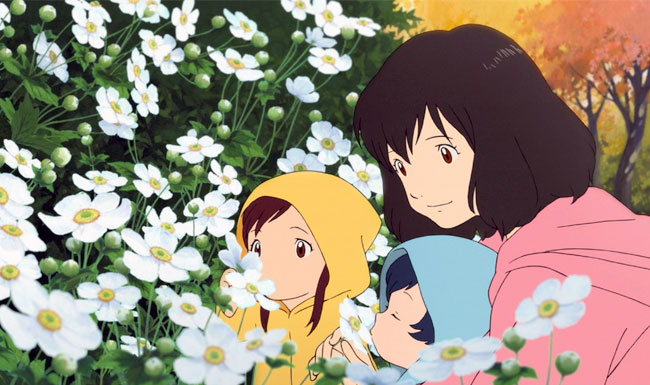 What makes Wolf Children standout from the rest of supernatural genre is that there's no central antagonist. There's no end of the world plot or crazy corrupted politicians in the film. Instead, it's about Hana and the extraordinary circumstances she finds herself in and a real and honest portrayal of the hardships of raising children in an imperfect world and then learning how to let go. Adding to the realistic feel of the movie is the photorealistic artwork from Studio Chizu and Madhouse. As the team primarily responsible for bringing other Mamoru films including the Girl who Leapt Through Time and Summer Wars to the silver screen, their artwork again is impressive and is easily their best looking film to date. Each fiber, leaf and light was painstakingly crafted and looks absolutely gorgeous with its 1080p Blu-ray transfer.
Often unpredictable and beautiful, Mamoru Hosoda's latest film is a masterpiece. It's a timeless tale about motherhood and an amazing look at how children find their place in the world. So come for the werewolves and lycanthropy, but stay for the human side of the film. It's an easy and worthwhile recommendation for anyone looking for something different in their anime.

---
Things I Loved:
Gorgeous 1080p Transfer
Wonderfully whimsical cast of characters
Fantastic and often unpredictable storyline
Things I Hated:
The premise relies heavily on the suspension of disbelief.
Disclosure: A review copy was provided by the distributor.
Last modified on Sunday, 08 November 2015 16:04
Latest from Jason Young