Brian Lee
Wagakki Band's 1st US TOUR -DEEP IMPACT-
While Anime Expo is coming up fast music fans in California won't be done just yet. Wagakki Band will be coming soon after for their "DEEP IMPACT" tour. We last saw them on the west coast in 2015 at the previous year's Anime Expo where they played to a sold-out crowd and rocked Club Nokia. Earlier this March they appeared at both SXSW and New York. This will be their first multi-date tour in America.
The "wagakki" of Wagakki Band refers to the traditional Japanese instruments they play. There are a total of eight members each with their respective instrument. They are led by Yuko Suzuhana whose unique voice provides main vocals as well as singing in the shigin poetry style. She is accompanied by the Japanese koto, shakuhachi flute, tsugaru shamisen, and wadaiko drums alongside the standard guitar, bass, and drum set.
Their most recent work includes the opening song "Valkyrie -Ikusa Otome-" for the anime series "Twin Star Exorcists" and "Hangeki no Yaiba," the theme for the "Attack on Titan" web drama. Their second album "Yasouemaki" was released last September. The band has a history of working with anime and other Japanese pop culture; their cover of the popular Hatsune Miku song "Senbonzakura" catapulted them to stardom almost immediately.
The San Francisco show will be at the historic Fillmore auditorium near Japantown. We plan to cover the live event for those unable to come in person. Tickets are still available and a steal at $25 for general admission and $75 for VIP. Doors open at 7PM and show starts at 8PM. The San Francisco show on the 16th is also the same day as the San Francisco Anime Festival, also in Japantown, featuring famous cosplayer Reika and more.
The members of Wagakki Band are:
Vocals: Yuko Suzuhana
Koto: Kiyoshi Ibukuro
Shakuhachi: Daisuke Kaminaga
Tsugaru Shamisen: Beni Ninagawa
Wadaiko: Kurona
Guitar: Machiya
Bass: Asa
Drums: Wasabi
Tour Dates:
7/12 Los Angeles, CA - Club Bahia
7/14 San Diego, CA - House of Blues
7/16 San Francisco, CA - The Fillmore
For more information about Wagakki Band please check out the following:
Official site: http://wagakkiband.jp/wagae/
Fanclub: http://global-fc.net/wgb/
Facebook: http://www.facebook.com/WagakkiBand
Twitter: http://twitter.com/WagakkiBand
Instagram: http://www.instagram.com/wagakkiband/
For tickets:
Los Angeles: Ticketweb
San Diego: Livenation
San Francisco: Livenation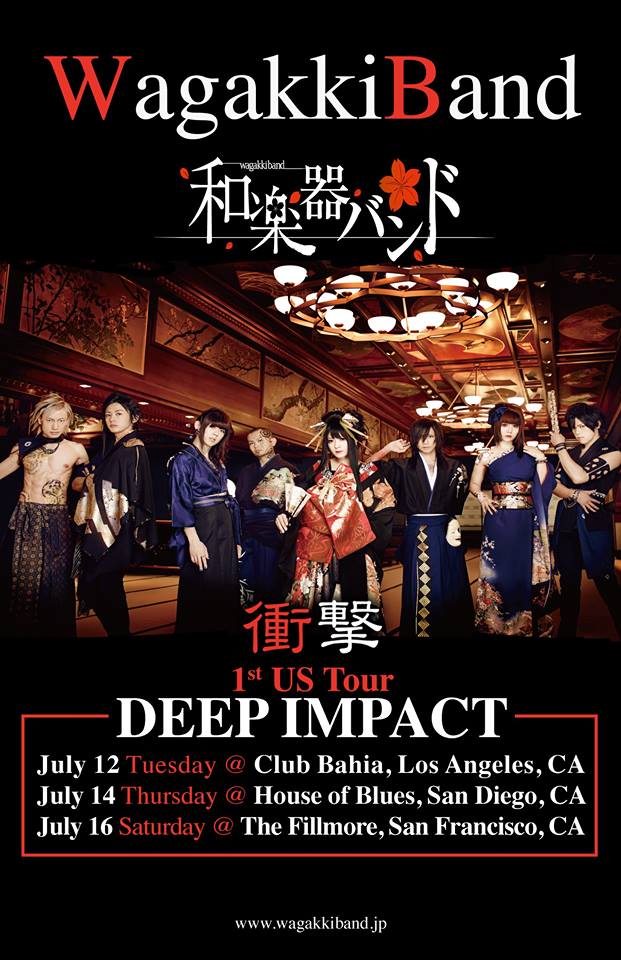 Related items