Brian Lee
Love Live Sunshine at Anime Expo!
Anime Expo 2016 had yet another US first to its name. The super-franchise Love Live has, til now, never graced American shores to a meaningful degree. July 2 would mark the date that six of the nine members of Aquors (pronounced "aqua") walked the stage and said hello, in person, to America.
Almost every ticket for the event was sold out. Love Live fans came dressed in costumes and Love Live t-shirts. The snaking line that funneled attendees into the hall was a myriad display of fans of all kinds as men and women came in their regalia. Upon entering the hall I took my seat and noticed that there was a theme to the room. I was surrounded by no less than a dozen attendees with light emanating from their hands.
I felt a little out of place.
It's not that I'm not a fan of the series; I've watched the anime and have played the game for over a year now. I watched the movie in theater and did a bit of wheeling and dealing to get the shikishi of Nozomi, my favorite girl. I bought my ticket to the event within the first hour of the start of general sales. No, the problem was that I was without a glowstick.
In the far flung past I was one of those with glowsticks in hand and dancing to the music (Japanese fans call it "wotagei" or "otagei") When I became a member of the press corp my weapon of choice became the camera and when you're busy shooting it's a bit hard to join in. While I've been gone, times have changed and glowsticks are much less prevalent. Where once you needed multiple glowsticks or a variety of colored inserts to tint a flashlight you have the King Blade LED wand. A large portion of the room is filled with this light.
The show hasn't even started and people are hyped. You can imagine the roars of the crowd the moment the Love Live introduction video started playing on screen. While the video is for the benefit of those who aren't too familiar with the franchise I have a feeling that most of the people in this hall didn't need it.
Of course a video is not what we're here for; the six girls who came out on stage are the stars. As stated earlier the entirety of Aquors is composed of nine but the other three were absent, most likely due to scheduling conflicts. That also meant there would be no live singing; it'd feel a little odd missing a third of the group and I don't want their first American performance to be like that (and I doubt they would too!).
Those present were:
Anju Inami as Chika Takami
Rikako Aida as Riko Sakurauchi
Nanaka Suwa as Kanan Matsuura
Arisa Komiya as Dia Kurosawa
Kanako Takatsuki as Hanamaru Kunikida
Ai Furihata as Ruby Kurosawa
Missing were:
Shuka Saitou as You Watanabe
Aika Kobayashi as Yoshiko Tsushima
Aina Suzuki as Mari Ohara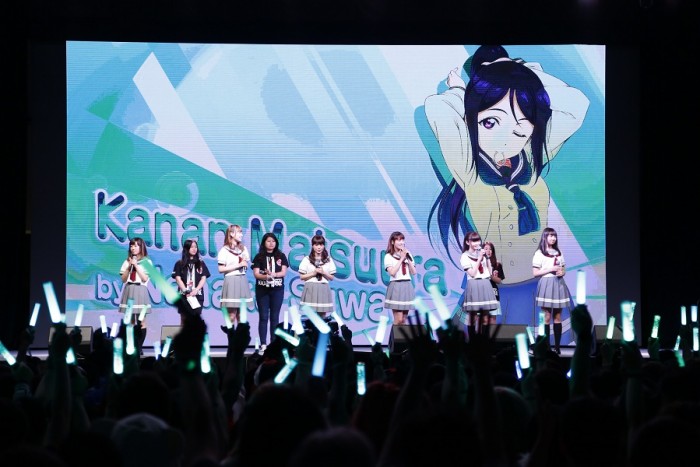 They each introduced themselves as well as the character they help bring to life. This is where the LED wands really shine, by the way. Remember people having stocks of different colors of glowstick? Push a few buttons and tada, you've now got a different color. Each of the girls has a theme color and fans were quick to switch upon each introduction. If you've ever watched concert footage from Japan you'll see a rainbow ocean that sometimes changes into a uniform mass whenever certain characters or songs appear. There was a bit of question and answer so fans could learn a little more about the people behind the voices.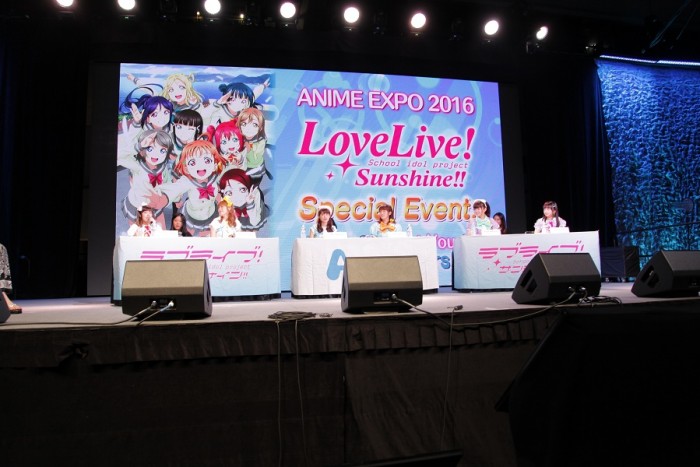 The playback of the music videos Aquors' first two singles would be the closest we'd get to a performance this year and the LED wands really came into play during them. Fans were pumping their fists in the air and performing different motions throughout the song. It's a little hard to describe in words; you have to see otagei to really get the full effect.
Part of the event was the screening of the first episode of the Love Live Sunshine anime. This is another American first; at this point no one else in America will have seen the footage. It was immediately available for streaming afterward though! The story is somewhat similar to that of the original Love Live anime. A girl wants to start an idol club and is met with resistance. Eventually things happen and the group is formed in full, including those who originally provided resistance. We know the beginning and the end and the anime is there to fill in the journey.
Every attendee was given a raffle ticket upon entering the theater and a variety of goods like signed posters and CDs was up for grabs. Each of the girls picked a couple of lucky fans as winners. Memorably Dia's voice actress seemed unable to pick a winning ticket for at least a dozen tries. The closest I got to winning was one of the people in my section two rows in front of me. Congratulations!
But with every hello there must be a good bye. In Japan "goodbye" is "sayonara." You actually don't use "sayonara" unless it is a true parting. When you know you'll be seeing someone again the more light-hearted "mata ne" or "jaa ne" (roughly "see you later"). I really do hope that it is a "mata ne" for American and Aquors. Please don't let this be the only time we meet.
So Anime Expo... now that you've had six girls, how about all nine? And a Love Live concert to boot? That would be the next level and a fitting part of a spectacular 25th anniversary.
Photos provided courtesy of Anime Expo.