T-Ono Staff
Relive the Magic of the Little Witch Academia Fan Event @ Anime Expo 2013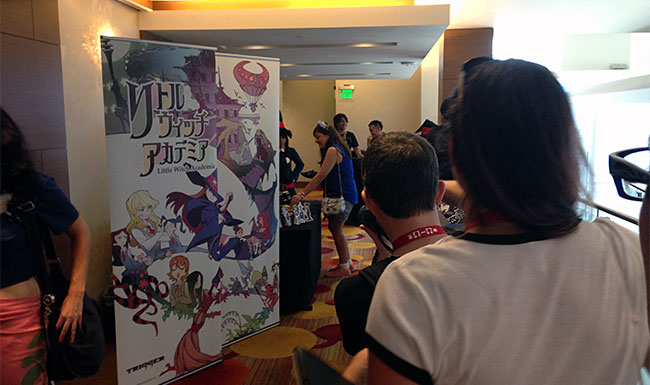 For fans of Studio TRIGGER's Little Witch Academia, Anime Expo 2013 was something magical. From the guest appearance of Akko's famed voiced actress, Megumi Han, the announcement of the Little Witch Academia 2 Kickstarter campaign, and the presence of Akko and Shiny Chariot cosplayers casting their spells on other attendees, it was a wonderful time all around for fans of Yoh Yoshinari and Masahiko Otsuka's animated feature. On Day 3, fans were treated to a special Little Witch Academia Fan Event hosted by Acttil and Studio TRIGGER at the JW Marriott in Los Angeles.
Starting with the screening premiere of the making of Little Witch Academia, fifty select fans were entertained by the sixty-six minute thorough examination of the animation pipeline and the camaraderie that was built between the animators during production. The sheer amount of effort and work placed into the show was simply amazing. The backgrounds in the show were handpainted and took roughly nine hours each. In the final cut, the background only appears for four seconds!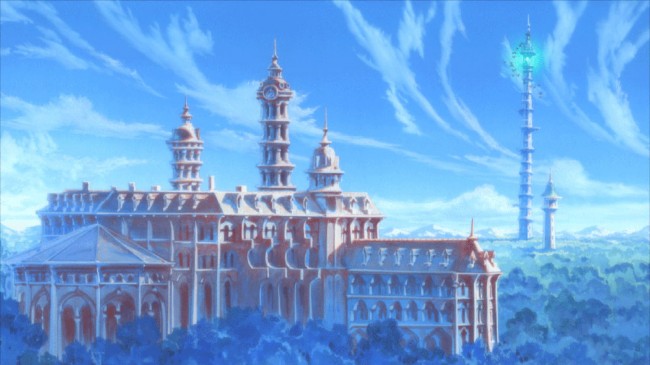 For fans who weren't able to make it to the fan event, rest assure that Little Witch Academia lovers will have something to look forward to when the Blu-ray comes out later this summer. Besides the animated feature and documentary, the release will also include an original soundtrack, a 112-page art book (with illustrations, character art, etc.) and the original Japanese soundtrack including English, French, German, Italian, Spanish and Chinese subtitles.
After the screening there was a Q & A session with Little Witch Academia screenwriter Masahiko Otsuka, and Manabe Yoshiro from Ultra Super Pictures, where fans who attended could directly ask him questions. Here is a brief summary of the answers Mr. Otsuka gave to the questions that the fans asked:
Regardless of how well the KickStarter campaign does, Studio TRIGGER has already started exploring the possibility of turning Little Witch Academia into either an anime series or full-length feature film.
When asked if Studio TRIGGER was afraid at any point during production that Little Witch Academia would be seen as an all-girls Harry Potter, Mr. Otsuka's reply was that at that time the director (Yoh Yoshinari) had not seen or read any Harry Potter material beforehand. However, Mr. Otsuka on the other hand had seen the movies and read some of the books. Obviously, there are a few similarities and inspirations that both Harry Potter and Little Witch Academia share; especially their use of magic. To Mr. Otsuka, the fact that the feature is set at an all-girls academy makes it different from Harry Potter.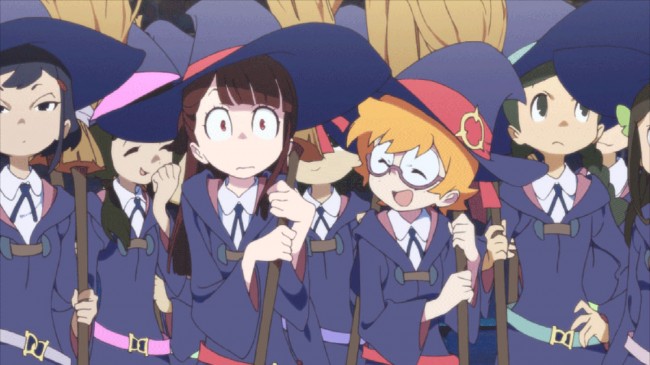 Mr. Otsuka confirmed that they will be adding new characters in Little Witch Academia's sequel. He also revealed that both the character designs and the different character styles were a team collaboration.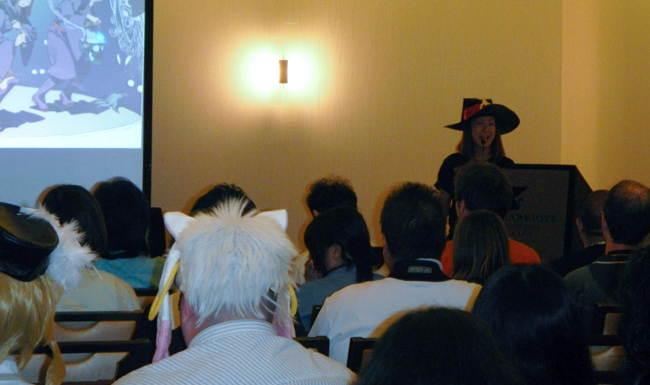 When asked what kind of anime he watches for inspiration, Mr. Otsuka stated that he often finds it better if you read books than watch anime. This way you are actively using your imagination to create new ideas. However, in terms of anime, he is a fan of the Studio Ghibli films and the Gundam series.
Later, he was asked if Little Witch Academia was a metaphor for the animators who participated in the Anime Mirai project. He said that one can look at it in that light, showing how the academy is like the anime industry, and that the magic itself can be connected to the belief the animators had to have in themselves to achieve their goals as well as that the project would succeed.
There are currently plans to release the Blu-ray of Little Witch Academia simultaneously worldwide later this summer.
In addition, there were two anime trailers were shown during the fan event. One of which was Kill la Kill, which was shown in a previous panel at Anime Expo. The script for Kill la Kill is already completed and will be completely hand drawn. Mr. Otsuka promised that it would be more over-the-top than Otsuka's and Manabe's last collaboration, Gurren Lagann. The same staff that worked on Little Witch Academia is currently working on Kill la Kill, which will start airing this fall.
They also screened a trailer of a new project called Arpeggio of Blue Steel by Studio Sanzigen (Black Rock Shooter, 009 Re: Cyborg, Kill La Kill). While Kill la Kill is going to be completely hand drawn, Arpeggio of Blue Steel is all CG.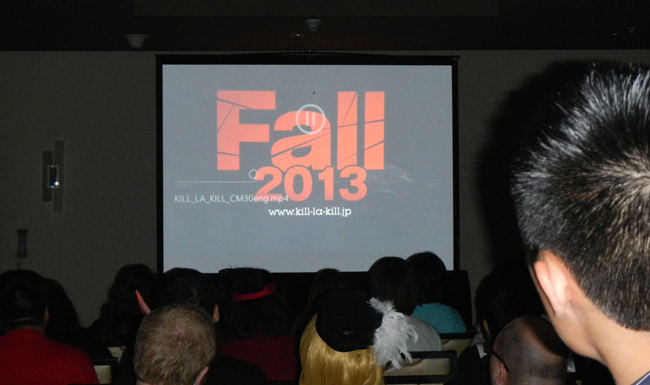 Of course, the biggest announcement came the previous day where not only was it revealed that Little Witch Academia 2 was in the works, but that they currently only had enough funding for a short twenty-minute episode. As a result, they decided to turn the power over to their fans through Kickstarter to help fund an additional fifteen plus minutes. The initial goal was revealed to be $150K, which would add more time for the screenwriters and animators to concentrate on developing an original story and characters.
Once the Kickstarter campaign went live, it only took less than five hours for them to reach their initial goal. This showed Studio TRIGGER that the "magic comes from the power of believing" and that the fans really do believe in them. As of this article they currently have raised over $400K+ through crowdfunding. The latest announcement was that they will be including audio commentary and a making of Little Witch Academia 2 documentary on the standard edition Blu-ray, and an original soundtrack and line art collection book with the limited edition Blu-ray if they reach their stretch goal of $500,000.00.
If you would like to donate, while receiving some goodies at the same time, you can visit their Kickstarter page here:
http://www.kickstarter.com/projects/1311401276/little-witch-academia-2
The campaign ends August 7, 2013.
fan event images courtesy of acttil
Coverage by Salvador Mateos and Jason Young