Jason Young
Oblivion Island: Haruka and the Magic Mirror (BD/DVD) Review
At first glance, Production I.G.'s first 3D production, Oblivion Island: Haruka and the Magic Mirror, is easy to dismiss as a wannabe Studio Ghibli film that tries to be the next Spirited Away and Laputa. Using an almost paint-by-numbers approach to family films, all of your basic ingredients are present including a spunky teenage female lead named Haruka, cute dancing critters, and fantastical hullabaloo that might have some anime and cinema fans rejecting it right out of the box. However, to do so would discredit what makes Japanese storytelling so great: somewhere in the midst of the film's exotic setting, predictable plot, and dancing dolls is a film filled with a lot of heart.
Revolving around the simple storyline of Haruka, a teenager who has a dysfunctional relationship with her dad, the film follows her as she tries to retrieve a lost mirror that was stolen. She is transported to Oblivion Island after she visits her local shrine to pray for its return. In a seemingly apparent homage to Alice in Wonderland, she follows a masked creature named Teo who leads her down a magical well and into the stunning land of Oblivion Island where the entire world is built of items that humans have neglected. Although the concept may seem similar to Mary Norton's the Borrowers, items are repurposed on the island to give them a new life after humans have discarded or forgotten about them. Through the use of magic, the citizens on Oblivion Island are able to see the memories contained within each item giving each object on the island a touch of humanity and value.
Just like Alice, much of Haruka's character development comes through her sense of wonder and foolhardiness as she interacts with the citizens of Oblivion Island. From the moment that Haruka crash lands on Oblivion Island, her steadfast goal of trying to recover her mirror from the evil ruler of the land gives the audience something easy to relate to and to instill sympathy towards her plight. Everyone's lost something that they wish they could get back at some point in their life, and it's the focus on this aspect of coming-of-age where the story shines. When the film finally reveals Haruka's memories behind the mirror and the memories that she seemingly forgot with her father, the resulting climax is a sweet, evocative, and sentimental montage that lifts both the story and Haruka beyond their initial simplicity as she learns to accept her father for whom he is.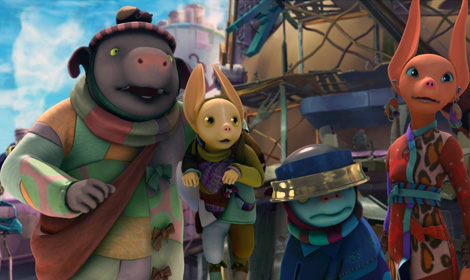 Visually, the movie is a bit of a mixed bag. Where at times the film looks gorgeous in 1080p high-resolution, the 3D anime art style occasionally conflicts with the traditional hand-drawn textures, mattes, and designs that Production I.G. is renowned for. As someone who's had experience doing 3D production, it was easy to pinpoint between what was a hand painted matte, specifically in the richly dense forest in the beginning, and what was generated using a computer. Although this might just be nitpicking, I found the discrepancy interrupted my viewing experience at times. The film's soundtrack, although pleasant, was largely forgettable other than the poignant use of the classic country tune, "You Are My Sunshine," throughout the film.
Available in both a Blu-ray/DVD combo pack and DVD-only package, the award-winning 2009 film by Shinsuke Sato (Gantz live action, Princess Blade) includes special features such as a behind the scenes look at the movie, a visit to Fushumi Shrine and Battleship Island, an interactive game, and a few other interesting features that makes it stand out from the usual basic FUNimation fair.
Just like Alice in Wonderland and Spirited Away, Oblivion Island: Haruka and the Magic Mirror is a simple coming-of-age story about a teenage girl who undergoes a dramatic transformation as a result of her adventures. Although it doesn't quite reach the lofty heights of the aforementioned films that it was seemingly inspired from, Oblivion Island: Haruka and the Magic Mirror is still a lovely film that's easy to recommend to people looking for a solid, even if generic, fairy tale that they can share with their loved ones.



---
What I Loved:
• The film is a highly creative endeavor that will have you comparing it to classical traditional animated films such as Toy Story and Alice in Wonderland.
• Haruka is a perky lead that's easy to relate to.
• The last fifteen minutes are very satisfying and raise my overall grade of the film.
What I Hated:
• The story is a bit generic and has been done better in other features.
• The heavy use of matte painting during the film's opening sequences conflicted with the 3D world.
Disclosure: A review copy was provided by the distributor
Images copyrighted: FUNimation/Production I.G.

Last modified on Sunday, 08 November 2015 16:24
Latest from Jason Young