Sekiranun Graffiti CD Review
Sekiranun Graffiti is the second American musical release which featured the virtual idol, Hatsune Miku after the first album, Supercell Feat. Hatsune Miku, topped the iTunes chart back in May 2011. Sony Music smartly chose to release Sekiranun Graffiti simultaneously in Japan and in the US in late August 2011 to to the delight of Miku fans. Sekiranun Graffiti has a total of 5 tracks (2 songs, 1 remix, and 2 instrumental) making it more than just a single, but falling short of a full album, thus categorized as an extended play (EP). The EP is a collaboration project between Supercell member Ryo and producer Dixie Flatline.
The cover art for the ED was designed by Atsuya Uki who created the 2009 animated short, Cencoroll, which Ryo's "Love & Roll" was used as the ending theme song. "Sekiranun Graffiti" also received a fully animated promo video directed by Macross Frontier Character Designer Yuichi Takahashi which you can view at the bottom of this article.
The first song, which the title of the EP is named after, "Sekiranun Graffiti," was selected as the opening theme for the highly anticipated PSP game, Project Diva ~Extend~, and with good reason. The song features the typical style Supercell fans are accustomed to with a drum and guitar combination with a gradual upswing in tempo. While I wasn't blown away when I first played the song, I quickly found myself unconsciously tapping my foot until I was swept away altogether. Though almost all of Ryo's songs since late 2009 has featured a human singer, he has significantly improved on making Miku sound more human while retaining some of her signature robotic qualities.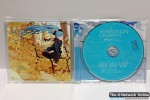 The second song on the EP, "Fallin' Fallin' Fallin'" by Dixie Flatline, has a bit more of a technopop vibe to it. While some may have never heard of Dixie Flatline, he did produce the popular song, Just Be Friends which was played earlier this year at the Mikunopolis concert at Anime Expo in Los Angeles. The pitch is a little higher than I would have liked, but the real highlight is the music itself. The song is catchy enough and was added to my iPod playlist. The third song is a remix of "Sekiranun Graffiti" by Baker that has a eurobeat vibe to it. The last two songs are simply instrumentals of the first two songs.
The entire EP can be downloaded from iTunes or Amazon for $4.95 or each song individually for $0.99.
Special thanks to MediaLab for the sample copy.
Images and video copyrighted Sony Music Entertainment Japan Inc., Sega, Crypton Future Media Inc.
Last modified on Sunday, 08 November 2015 16:36