Brian Lee
A Look at Anime Expo's Youth Protection Program
As part of their 25th anniversary event Anime Expo and parent organization the Society for the Promotion of Japanese Animation has announced a new initiative titled the "Youth Protection Program" (YPP). On the surface its intent is to provide a fun, safe place for its attendees but it has raised a number of issues including actual effectiveness, timing, and cost. We will take a look at some of the benefits it brings about as well as some of the potential pitfalls.
UPDATE 5/20/16:
The SPJA has just announced an amendment to the Youth Protection Program making the requirement for background checks for press, artists, exhibitors, guests, etc optional. The only persons required to undergo background checks are now SPJA employees and volunteers. Undergoing the youth protection training is still encouraged.
SPJA has laid out three goals for their Youth Protection Program:
• Increasing awareness about potential risks and recognizing each individual's ability to help protect SPJA's youth participants;
• Inspiring confidence and competence in identifying dangerous situations and behaviors; and
• Creating a safe and fun environment for SPJA's youth participants.
The most obvious benefit of the Youth Protection Program is the creation of a safe place for attendees where they are able to enjoy themselves without worry. SPJA states that they view the safety and security of all attendees as a top priority and has created a policy that is set to support this goal. As part of these widespread reforms AX is requiring the following groups of people to undergo background checks:
1. Employees and volunteers (both staff volunteers and attendee volunteers)
2. Panelists, Performers, Guests of Honor & Guest of Honor or Performer Entourage (including managers, handlers, translators, drivers, assistants, etc)
3. Artist Alley Participants and any helpers
4. Exhibitors and anyone working their booth or assisting with setup/teardown
5. Press
6. Vendors
Note that there are two groups missing from the above list: industry attendees (non-guest/guest of honor - those who are guests or belong to exhibitor companies are covered in their respective groups) and general attendees. In addition to these background checks the first three groups are required to complete mandatory youth protection training. Exhibitors, press, and vendors are encouraged but not required to take these courses.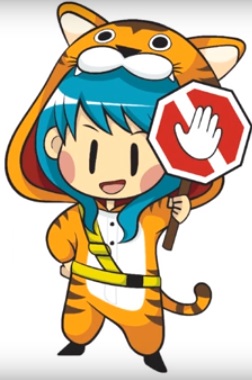 The SPJA introduces Chikara as the mascot for the Youth Protection Program. She would fit easily into any convention while clad in a tiger kigurumi onesie and having blue hair. Chikara will be featured at all of Anime Expo's Safe Space locations and represents safety for all.
As part of the research for this article I have spent a great deal of time studying the various facets that involve the program including reviewing the Youth Protection Program and policy itself, going through all eight training courses (which is not required - different groups are only required or encouraged to take certain courses and not all of them), and searching for public reactions online. I desired to learn as much as possible about the Youth Protection Program and its effects on both those attending and those working Anime Expo.
The idea of a background check is nothing new and virtually all of us have been subject to one upon reaching gainful employment. Anime Expo has chosen the National Center For Safety Initiatives (NCSI) as their background check provider of choice. The NCSI is commonly used for groups like the coaches of youth sports and gymnastics where it makes a lot of sense. Coaches are people who build rapport with youngsters, become authoritative figures, and have extended personal interaction with children. They gain the trust of the kids who hang on their words so making sure they are not criminals who would take advantage of that trust is important.
Anime Expo has decided to take things to a whole new level and becomes the first anime convention in the United States to require background checks on not only direct representatives of the convention but exhibitors, press, and independent artists who are traditionally not considered as being official parts of the convention or its parent companies. It's reasonable to expect SPJA employees, AX staff volunteers, and AX attendee volunteers to receive background checks. The choice to include exhibitors, press, and independent artists in background checks is an unprecedented one.
Many of the reactions to this requirement for almost all attendees to undergo background checks has been met with disdain. Artists have been especially vocal about the situation and more than one has questioned their participation in the event: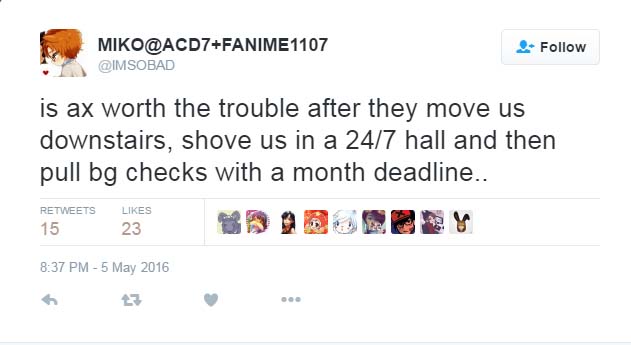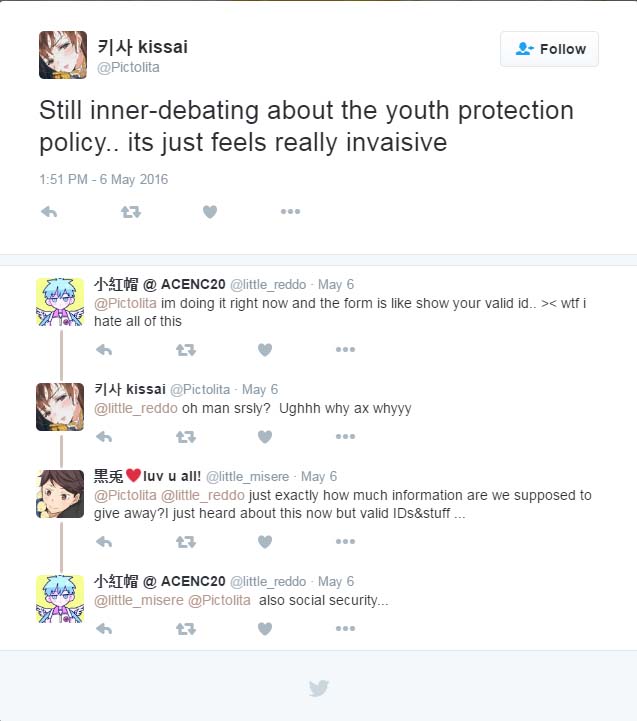 Artists are seemingly caught in dilemma - their privacy and morals are pitted against the prospect of money. At least one artist has decided to use the introduction of the Youth Protection Program as a means by which to exit the convention. Submitting to a background check goes against something many of us have been taught: never volunteer information unnecessary. Even if you have nothing to hide information freely given may be used against you by those who would do you harm.
Speaking of information, let's review what you are required to submit as part of the NCSI background check. The NCSI's website is not that forthcoming and I could not locate the information on it but by searching through other organizations who also use NCSI background checks it appears to require the following:
Social security number
Legal name and pseudonyms
Date of birth
7-year address history
Contact information
Gender
(In most cases) Government ID
That's a lot of information that many are not comfortable with sharing and none of this is mentioned by the SPJA. This list should be correct as it is echoed by artists who have looked at the background check first hand: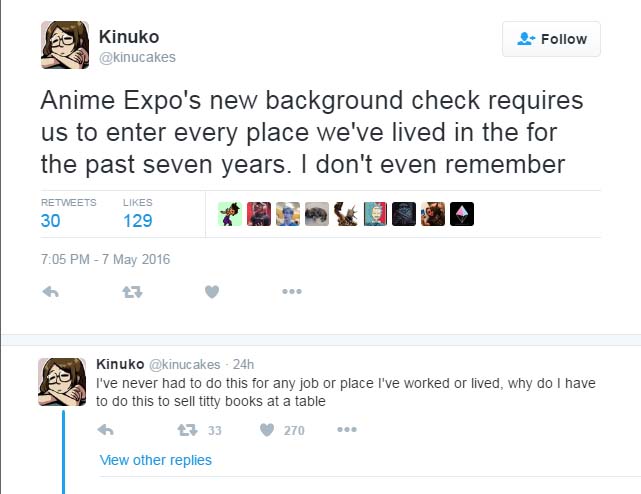 What they do with your information is search through the following:
National criminal database
All available state sex offender registries
Social security number validation and address verification
OFAC federal terrorist database
County courthouse databases
This is a very thorough check.
One of the biggest complaints and issues seen is the timing of the Youth Protection Program and the absolute requirement that any of the groups who are listed as requiring background checks do so. According to the Youth Protection Program the following will get you disqualified: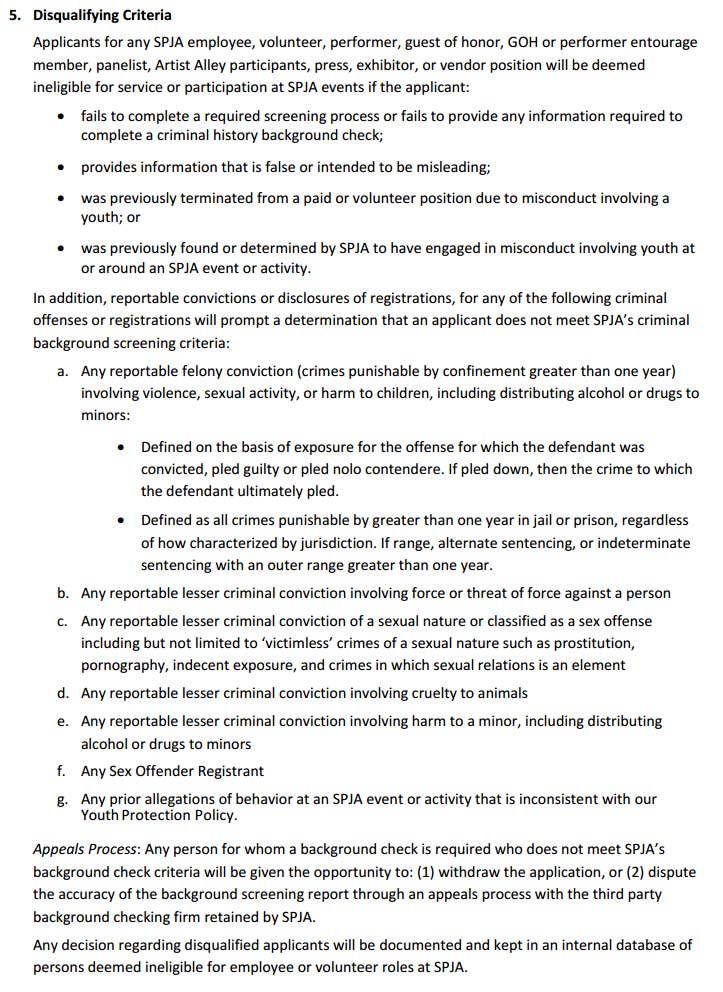 This means the background check should weed out anyone who would be a danger to youths. For many who have clean backgrounds the important part is the very first section. In short, no background check, no application approval. For many of the groups such as artists and exhibitors they are already financially tied to the event. Some have committed great resources and are forced to attend or be in the negative. Others have already paid great sums and had their checks cashed by SPJA; they are locked in whether they like it or not.
Everyone has been surprised by the addition of the YPP and the demanded compliance. Some may not have bothered if the YPP was known long before they signed contracts or selected tables. Interim SPJA CEO Ray Chiang offers only the following apology: "We understand that we are asking you to take on a significant burden during the busy season for events and we regret to have to make this request with such short notice." This is common between emails received by two different groups, may be the same for all groups, and serves as little solace to those affected.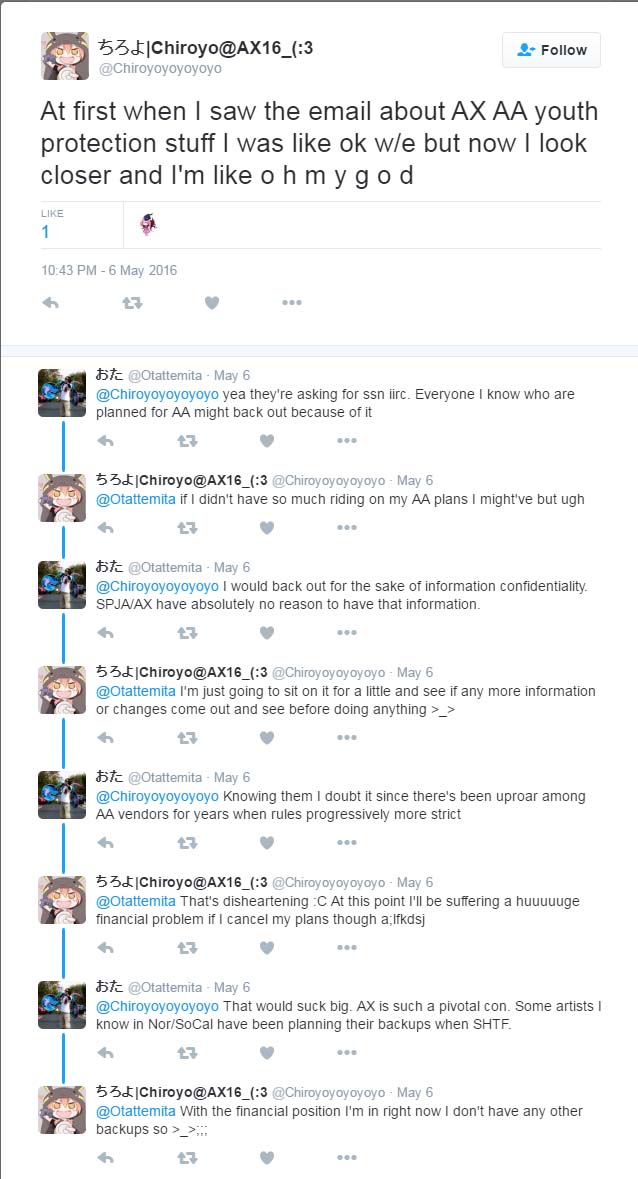 Why not announce the Youth Protection Program and have everything go into effect this year but the background check requirement? This would allow everyone who does not agree with forced compliance an opportunity to choose not to attend without monetary loss or prepare properly without being rushed. It would also allow exhibitors to carefully plan how many personnel they would require as each one who enters the booth must be cleared via background check.
Communications from multiple exhibitors has stated that they are being quoted from $40-50 per background check. This adds up quite a bit especially when taking into account the initial price of the booth space itself which is $1000 or more depending on the size of the booth. Here are two examples: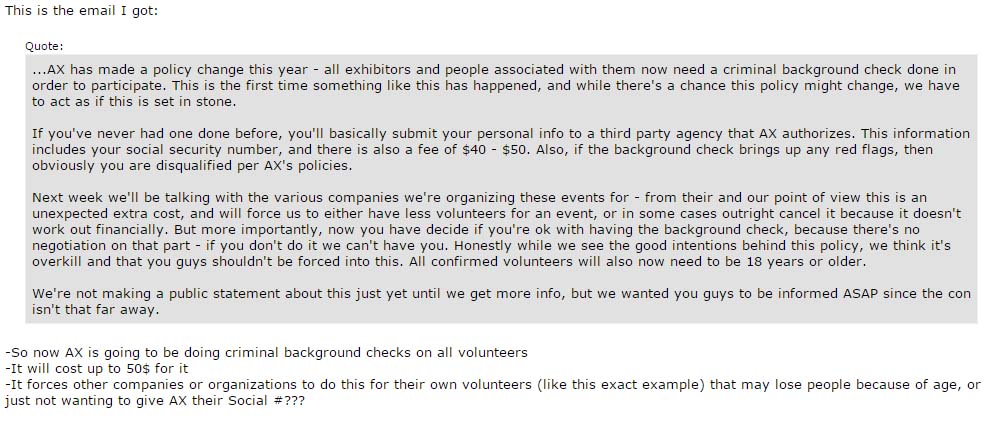 Posts by artists have stated that they have not been asked for payment information when submitting their information for the background check. This does lead to a discrepancy: why is one group being charged and not the other? They both help bring a lot to Anime Expo and make it the premier convention it is.
Just a few hours prior to this post AX finally clarified that staff, volunteers, and guests also have their background checks paid for by the SPJA. Unfortunately the reason why this information came to light is because a twitter user confronted them about it. The user then goes on to bring up some very valid points about the temporary staff that exhibitors gather for conventions: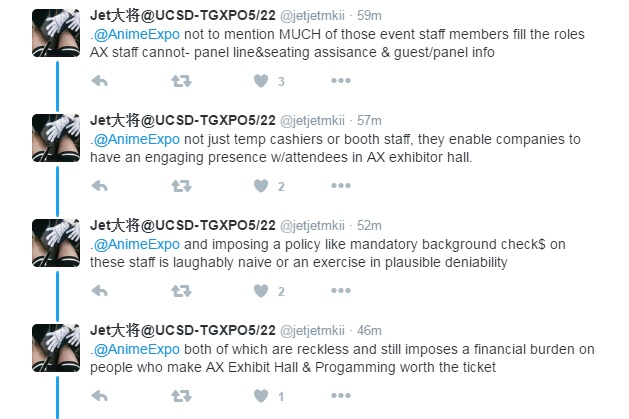 Exhibitors are currently tangling with the decision to shed or limit temporary staff as each one means another background check and the money required. This will impact attendees and their enjoyment of the exhibit hall and convention as a whole. Friends and colleagues are often used as impromptu line control,
It is currently unknown if press will be required to pay for their background checks but it is possible as the wording in the press section of the YPP is similar to the wording for SPJA employees/AX staff/AX volunteers, artist alley participants, and guests. With so many independent and small-scale press outfits that count themselves among the AX press corps this would be a greatly appreciated gesture of goodwill by the SPJA.
A recap on our currently possessed information:
| | | |
| --- | --- | --- |
| GROUP | BACKGROUND CHECK? | WHO IS PAYING? |
| SPJA employees, AX staff, AX volunteers | YES | SPJA |
| Guests (and entourage) | YES | SPJA |
| Panelists and performers | YES | UNKNOWN |
| Artist alley and helpers | YES | SPJA |
| Exhibitors and all workers | YES | EXHIBITING COMPANY |
| Press | YES | UNKNOWN |
| Vendor | YES | UNKNOWN |
| Industry (non-guest, non-member of exhibiting company | NO | N/A |
| General attendee | NO | N/A |
As you can see there still a few unknowns on that table. Hopefully AX will answer these questions in the near future as this can make or break many people's enjoyment when surprise fees that they did not budget for appear. For groups like panelists they may even choose to forgo hosting a panel if it involves having to pay an additional fee along with undergoing the background check itself.
It is important to note that general attendees, one of the groups who do not receive background checks, are some of the most difficult to deal with. This is a fatal flaw in the YPP: someone who believes they would be red flagged via background check can simply attend as a member of the general public and no one will be the wiser.

Exhibitors, press, and vendors do however have the following option available to them. They may:
"represent and warrant that all people, including themselves, that they designate to be present at SPJA events and activities on their behalf have been subject to a screening process that includes a criminal history background check ("Screened")"
AND
"represent and warrant that after having been Screened, all people that they designate to be present at SPJA events and activities are deemed eligible to work at an event where youth are present, and would not be disqualified from service or participation at SPJA events under Section 5 (Disqualifying Criteria)."
We have been unable to locate information that specifically states what the above two statutes mean for their respective groups and what actions will prevent violation of the Youth Protection Program. After carrying out the necessary checks, is the signing and submission of the form sufficient? The emails that have been received by groups so far do not clearly indicate what to do.
UPDATE: We have received word from our affiliates that signing and submitting the affadavit/contract addendum will be sufficient in the eyes of the SPJA and they will not follow up past this. If you say you have done checks, you have done checks. This should hold true for all three groups with this option (exhibitors, press, and vendors) and I'm sure this brings a sigh of relief to all groups. Freelance press, independent press, and press who cannot obtain an affadavit from their outlet will still have to undergo the background check.
While we have gone through a number of the issues people are having with the introduction of the YPP's introduction, let's return to the YPP itself.
You may remember that the YPP has three goals. Let me recount the first two:
• Increasing awareness about potential risks and recognizing each individual's ability to help protect SPJA's youth participants;
• Inspiring confidence and competence in identifying dangerous situations and behaviors;
Another section in the YPP is titled "Responsibilities and Expectations." This section states that SPJA Representatives (which is not clearly defined in the YPP - are all of the groups - SPJA staff, artists, exhibitors, etc - receiving background checks considered representatives?) are required to "be aware of their surroundings" and know the locations of all safe spaces" so that you may escort attendees to them. It has not been revealed how many or where these safe spaces will be located.
The SPJA also has a variety of training courses available to its different groups. There are eight courses and they apply to different groups and situations. No group is required to take every one of the eight courses. The course range from topics like an introduction to the SPJA Youth Protection Program, staff code of conduct and expectations, how to handle situations and escalate them to the proper authorities, and what is expected of guests of the SPJA. This array of topics should hopefully equip staff, volunteers, and attendees with the information necessary to help provide for the security and safety of other attendees.
One part of the Youth Protection Program extends to online interactions and denounces bullying, causing emotional distress, and transmitting content of an adult nature. This is an answer to a more modern problem. Social media is a powerful thing and smartphones allow them to be connected 24/7. There are even children who have never known a life without a smartphone. The smartphone and social media with it is their life and there have been cases of cyber bullying across the globe. While I can see where they are going with including the internet (predators can use it too) it does leave a lot for interpretation. Does the "transmitting content of an adult nature" include content that the receiver has sought out on their own? Let's be honest here - people know how to find things on the internet. Some of the people who attend or exhibit at AX have content that would definitely be against the aim of the program. Are they automatically in violation? Will they be barred from exhibiting ever again?
At least one training module requires that you keep an eye out and report any activity that goes against the YPP. This goes not only for staff and volunteers but includes exhibitors and artists, two groups who do not traditionally take on that role. The YPP also suggests that you report any infractions by other booths to SPJA staff.
In practice I do not think the program will be anywhere as effective as hoped. It is a decent attempt by the SPJA on raising awareness on an ongoing, and potentially serious problem in the community. As a bonus, SPJA will also be protecting itself from possible legal ramifications.
In closing the overall idea of the Youth Protection Program is admirable in raising awareness of serious issues in the community; the execution and scope, flawed. There are a lot of questions that needed answers and introducing the program on a Friday when questions and concerns would go unanswered for the weekend was a poor choice. When some of those questions involve money or a deadline it's even more important to have the answers available before release. The bulk of the information available to myself and to others in the public has been a combination of second-hand gathering, searching other websites, and posts by other outlets.
With any luck we will be able to better provide you with information as soon as the SPJA releases more.
For more information on the Youth Protection Program please visit http://www.youthprotectionportal.org/SPJA
In order to view the courses you must register (it is free) but the policy itself is available on the resources page or at http://shiftboard.s3.amazonaws.com/sites/865793/docs/5716b05452d8b413.pdf
To see the SPJA's release on the Youth Protection Program (sic) please go to https://www.spja.org/youth-protection-program/