Star Trek Panel @ WonderCon 2009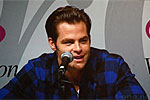 WonderCon's special guest turned out to be famed director and creator J.J. Abrams himself (and members of the cast) taking the podium as he addressed the overfilled room. Abrams noted he had just flew back in the country after a visit to Tokyo, Japan and is "so excited and can't wait for you to see the film." Abrams took a step back to show a special world premiere of the brand new Star Trek trailer that will also be shown at the Watchmen opening on March 6.
The clip was so actioned pack I can vaguely remember the specifics, with incredible CG battles and graphics. Notably near the end of the trailer, the Enterprise is shown taking significant damage in an epic space battle. This is one film you will have to see for yourself.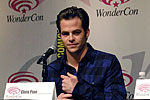 After the clip, Zachary Qunito (Spock), Zoe Saldana (Uhura), and Chris Pine (Kirk) made a surprise appearance.
Pine called William Shatner "incredibly funny," noting some of Shatner's previous performances in the original Star Trek series. He mentioned, along with Abrams, that apart from using the previous actors as references, they also incorporated their own interpretations of the characters.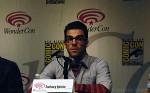 Quinto noted that he had not watch the series prior to the production of the movie, but fortunately he was able to work directly with Leonard Nimoy (old Spock) who "made himself open and available." During the production, Quinto became more involved, watching old episodes of Star Trek in his trailer and reading a lot about the story and characters. Quinto described Abrams in two words, a magician, and a wizard with a clear vision in his work.
Abrams discussed that some of the reasons to his successful ideas happened to be making his characters seem real and believable. Through that, he would plunge the characters into utter madness gradually increasing the unbelievable situations.
One fan asked if if some of Abrams brillant works had any involvement with drugs? Jokingly, Abram responded yes multiple times.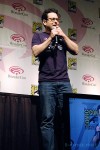 Another fan mentioned that her friend happened to be an extra in the movie, and noted that apparently on set, Abrams did a little rap sometimes. Laughing, Abrams started up a beat with him microphone and Chris Pine jumped in with the assist.
The final and most interesting topic arose when a fan asked in regards to the possibility of a Cloverfield sequel. Abrams became excited and mentioned quickly about an awesome idea they are working on that may or may not come to life, but it will be probably tied into Cloverfield.
Video found courtesy of youtube
Related items