Brian Lee
Anime Expo 2016 - Japan Super Live Report
This past Anime Expo was a banner year for musical events organized as a joint project between AX and Daisuki/Anime Consortium Japan under the name "Anisong Matsuri." The crown jewel of the event was Saturday night's Japan Super Live which combined the efforts of eight different singers and groups to put on a spectacular show in downtown Los Angeles' Microsoft Theater. This theater has been the Anime Expo home for names like Hatsune Miku, AKB48, and Momoiro Clover Z, among others.
The lineup of Jam Project, Luna Haruna, Sphere, Minami, Yoko Ishida, Eir Aoi, and TM Revolution reads like a who's who of anisong superstars. At most concerts you might see just one or two (last year's J-Pop Summit in San Francisco had both Eir Aoi and Jam Project) but definitely not eight.
The Microsoft Theater has a maximum capacity of 7,100 and almost all the seats were filled. My seat was back in row CC. The vast majority of close-up seats had been sold either during the presale for premier fans or in the blitz after public sales started. In a compromise I picked an aisle seat so I would at least have an unobstructed view of the stage. That plan did not work as intended as fans were dancing in the aisles and I cannot blame them. It's hard to stay confined to your seat with a show this big.
As part of the pre-show entertainment DJ Kazu manned his turntables and played a variety of anisong remixes. People trickled in slowly as they got their tickets; it took about an hour to get mine from will call and another 15 minutes or so to actually get inside. You may remember me mentioning the sea of LED wands from the Love Live event. Microsoft Theater wasn't even full yet and it was putting that to shame. It did help that Daisuki was selling them at their booth in the exhibit hall but I consider it a plus. People who have never participated in otagei or waved a glow stick at a concert had them in hand.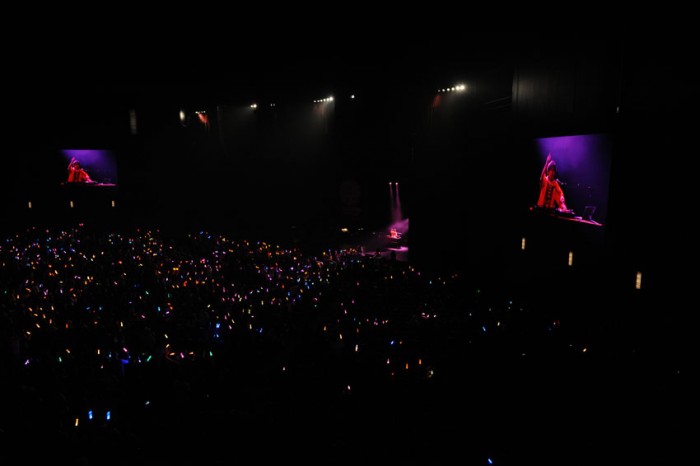 Jam Project took the stage first. The group is composed of five members: Hironobu Kageyama, Masaaki Endoh, Hiroshi Kitadani, Masami Okui, and Yoshiyuki Fukuyama. Each member is fully capable of singing on his or her own and they each sang a song before exiting the stage and calling on the next member of Jam Project. This format is not new (having witnessed it before at J-Pop Summit) but what followed is: they didn't come out to do their group songs. I was a little confused at this point but all would be made clear later.
A short video played announcing the next singer: Eir Aoi. Eir's been very busy in America. She played at 2014's Anime Expo as part of Kill la Kill, 2015 at J-Pop Summit in San Francisco, earlier in 2016 in New York, and now returned to Los Angeles for Japan Super Live. It was a given she would sing Kill la Kill's "Sirius." "INNOCENCE" from Sword Art Online, and "Ignite" from Sword Art Online II were included too.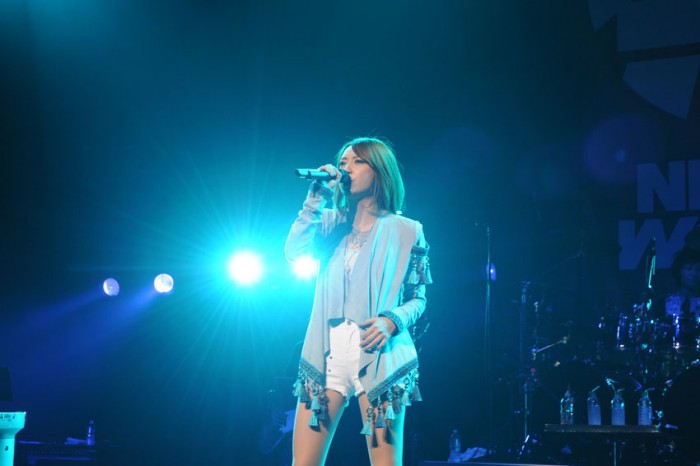 The roulette's next result was Luna Haruna. She's been a huge fan of anime and manga ever since she was young and now she's on the stage with some of the same stars she grew up listening to. Following Eir in the Sword Art Online theme was Luna's song "Overfly" which was used as the second ending theme. Most recently Luna sang the ending for High School Fleet titled "Ripple Effect" and included it as part of her set. She wasn't quite done on stage as Eir Aoi came back out on stage and the two sang a cover of "Melissa" from Full Metal Alchemist.
Veterans Minami Kuribayashi and Yoko Ishida would follow the two relative newcomers. Between the two of them they have more than four decades of experience. The two have sang theme songs for anime series like My-HiME, Strike Witches, Infinite Stratos, Fairy Tail, and Shirobako among others. For me the highlight of the show was their duet singing "God Knows" from The Melancholy of Haruhi Suzumiya. It may have been nine years since I first heard it but I'm as blown away by it now as I was then. The guitar opening was replaced by an electronic synth version and once people realized what was going on the theater damn well exploded. I've listened to this song quite a bit as sung by Aya Hirano. Hearing it live with Yoko and Minami was transcendent.
Thinking of it, this show is one big nostalgiafest. Not that I'm complaining.
One person that a lot of people were looking forward to is Takanori Nishikawa, better known as T.M. Revolution. He hasn't put on a show in America since PMX 2004 more than a decade ago. Some of my friends were there but I hadn't even gone to a convention yet (my first was San Diego Comic-Con in 2005) at that point so seeing him live is new to me too. I best know him for "INVOKE" from Gundam Seed. Others might know him better from Soul Eater's "Resonance." Whatever you know him for, chances are you were on your feet and pumping your fist.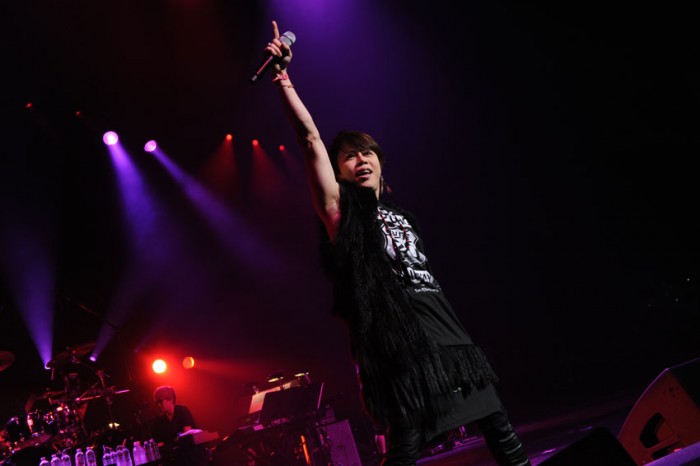 If you were hyped up during TMR's set then Sphere gave you a chance to come back down to earth. The group is composed of four voice actresses: Haruka Tomatsu, Minako Kotobuki, Ayahi Takagaki, and Aki Toyosaki. As voice actresses they all have flexibility when it comes to singing; one might have a more operatic voice and on the other side of the spectrum another sings in what can only be described as an "anime voice." I'll be honest, I don't know too much about them when it comes to music but it was fun to listen to.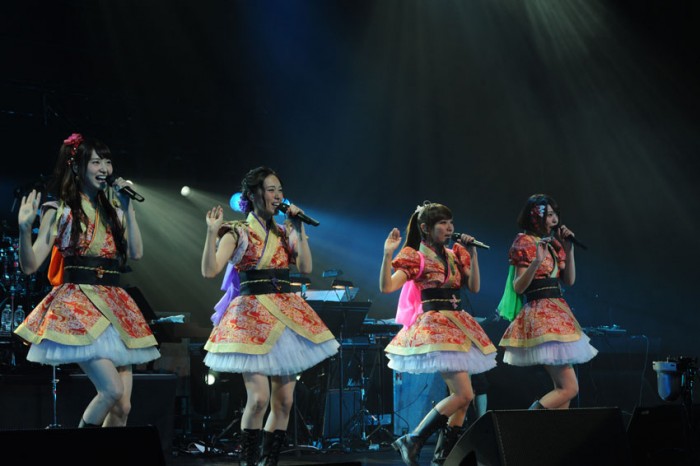 As Sphere's set ended the clock struck 10PM. The entire show was billed as four hours from 7PM to 11PM. "What could take up the last hour?" wondered me and my friends. Perhaps more duets and collaborations like other festivals have? I'd be open to that. The answer was quite simple, actually: Jam Project, this time as a group. Their most recent work is "The Hero," the opening to One Punch Man. Jam Project has quite the catalogue spanning a couple decades and they brought out some of their best like "Rescue Fire," "Gong," and "Skill." That last one, "Skill," has a chorus that goes like this: "I can fly! You can fly! We can fly!" and everyone was compelled to jump in the air along the group. What a way to end the night.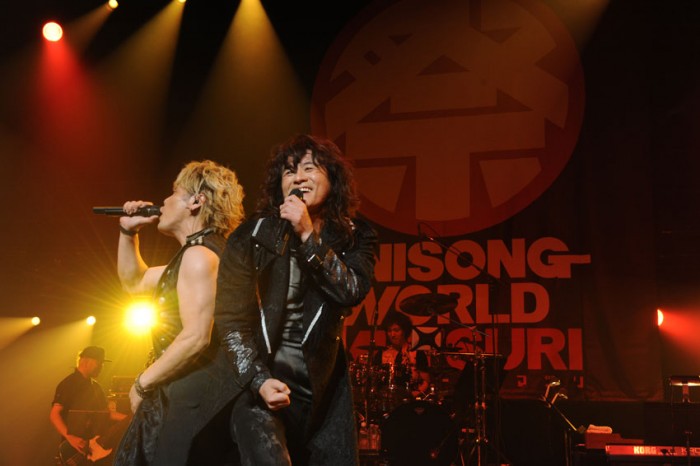 With Jam Project's set ending that marked the end of the show. Four hours had passed in a flash. All that was left was to call all the participants on stage (which took up the entire breadth of the stage, mind you) for final calls and bows. Each person was asked to give a message to the crowd and the crowd responded with cheers and applause. It was hard to believe that this was only day two of Anime Expo.
It's going to be really hard to top this year. I said it once and I'll say it again: Love Live concert.
Photos provided courtesy of Anime Expo.