Davis Fan
Portable Gaming Case at E3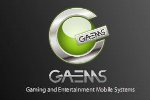 Hidden within one of the corners of E3 was GAEMS, or Gaming and Entertainment Mobile Systems. GAEMS is working on a portable case, which will include everything needed for a gaming session, for the Xbox 360. GAEMS representatives demoed the first prototype for us and we have the details for you after the jump.
First of all, the external case looks professional and gamers would not be embarrassed to carry it at all. It resembles a suitcase, meaning that gamers won't have to advertise to the whole world that they're carrying a portable game station. Furthermore, the case opens up to reveal a 15-inch HD LCD display outfitted with speakers and an Xbox 360 that fits snugly beneath it. There's no need to move anything around; once open, this case is ready for play. This is important because it minimizes setup time and maximizes play time.
The quality of the monitor itself was great as well, displaying 720p on a 15-inch monitor. This isn't a drawback by any means, considering that the difference between 1080p and 720p on a monitor that size is negligible. By choosing a 720p monitor, GAEMS has effectively cut the cost of production and trickled that down to consumers in the future.
Speakers present at the show were acceptable. GAEMS representatives told us that the full production model will feature better speakers, perhaps even a subwoofer to boot. In addition, considering that most gamers may use this to play in public place, GAEMS will also include headphone jacks. This will greatly enhance privacy and be helpful if surroundings are too loud, as in the case of E3.
The prototype at E3 did not feature a power supply to go with the case. However, GAEMS is trying hard to find ways to include one. At the moment, GAEMS representatives told us, technology cannot provide satisfactory playtime for gamers they surveyed, who said they would want a minimum of three or more hours of battery life. In order to have that right now, the portable case would have to include a large battery to go with it, defeating the purpose of a portable gaming rig. Instead, the prototype included cables so that players can find a power outlet and start gaming.
While the prototype only supported the Xbox 360, GAEMS representatives were looking into building an adapter or separate model to support the Playstation 3 as well. They also seemed very interested in meeting gamers' needs, citing many lag tests for hardcore gamers and working with MLG to possibly make another model.
For more information, visit GAEMS' official website here. They even have a contest where entrants can try naming the case, where the winner will win both the prototype case and Xbox 360. Look forward to more updates about this product in the future when it nears its release date in the holidays.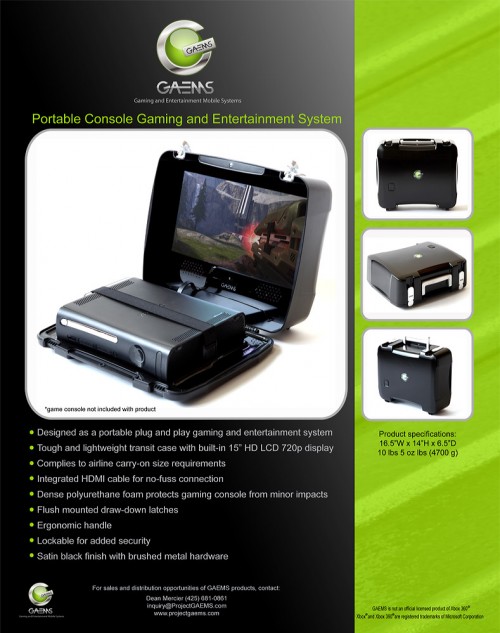 Related items
Latest from Davis Fan