Jason Young
Kylee JPOP Summit Festival Report
We recently had a chance to check out up-and-coming Asian American JPOP sensation Kylee Saunder's (Kylee) show at the JPOP Summit Festival in San Francisco on Sunday, August 26th. Before catching her live, we found out about her professional history and how it felt for her to perform in Japan through a short interview*.
*Editor's note: The original audio recording of the interview was lost. We have done our best to faithfully recreate her general answers.

Hailing from Arizona with a Caucasian American father and Japanese mother, Kylee was raised under strict and rigorous academic expectations. Her parents wanted her to balance an esteemed student career with her singing career in Japan. Kylee's singing started with the influence of her father and brought her to such achievements as performing the national anthem for an NBA game in front of President Obama in her home state of Arizona. Her passion turned into her profession when her first single, "Vacancy," was used as the ending theme to Studio Bones' Xam'd: Lost Memories in 2008. A casual watcher of Japanese animation, she has written and performed six singles for a number of other series including Heroman, Memoirs of a Teenage Amnesiac, and Mobile Suit Gundam Unicorn.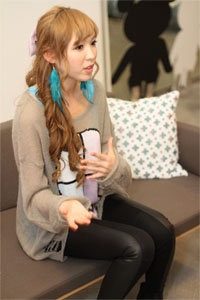 As though her musical achievements weren't impressive enough, Kylee's hard work at school has paid off and she will be attending her first semester at Stanford University this Fall. Although she has yet to choose her major, Kylee is hoping to learn more about international business in order to help bridge the gap between Japanese and American pop music. Currently, she largely stays out of business negotiations when interacting with the various animation studios in Japan. The process often includes her and her manager being approached by animation studios hoping to find commonality between her music and their needs. Kylee also expressed an interest in pursuing a more active role in producing her music, and making the transition from singer to artist.
Kylee's unique background has provided her with wonderful cultural insight and professional opportunity. When asked about the difference in sentiments and attitudes regarding romance between Japan and America, she said that while Japan focuses on an innocent type of love, America is much more proactive; if you want it, you have to go and get it. One interesting fact that she mentioned was that although a number of her most popular songs, including "missing/It's You," feature love as a theme, she herself doesn't have a lot of experience in the realm of romance and has worked with another songwriter to find inspiration for her top hits. When asked about the singers that she would like to perform with, she mentioned both American and Japanese artists such as Avril Lavigne and Utada Hikaru.
Later on in the day, fans were treated to her first concert in California as this year's most illustrious guest at the festival. She brought her band from Los Angeles along with camera crews as she performed a number of her greatest hits. This was her first time attending the JPOP Summit Festival in Japantown, and she found it to be an extremely entertaining experience and was pleased to meet some of her American fans. During the interview she mentioned that her favorite part of being on stage is bringing joy to her fans through the power of her voice and making the experience memorable for them, and this definitely came through in her performance.
While Kylee is choosing to focus on her music career in Japan for now, I can't wait to see what the future has in store for her. Balancing her personal and school life in America alongside a busy singing career, this real life Hannah Montana has both the drive and determination to make herself a huge success. As the interview came to an end, Kylee thanked her fans for supporting her, and let them know that they should never give up in anything that they do, and she hopes her music continues to inspire them.
Latest from Jason Young