Davis Fan
Metal Gear Arcade Loktest Details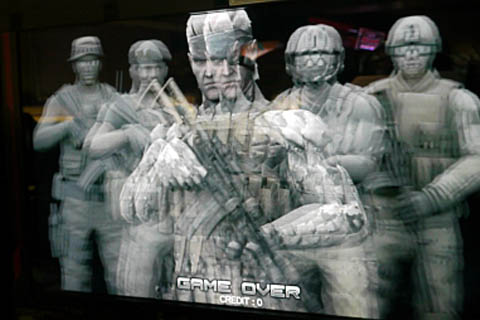 Despite the dwindling arcade industry, Konami still has its sights set on Metal Gear Arcade, running a couple of location tests this weekend. They're being held in ROUND1 in Yokohama and Shibuya Adores in Tokyo. The game was first announced back in February at the Arcade Operator's Union show, showing great promise and using Metal Gear Solid 4's online mode as the basis. For those who couldn't travel to Japan for the location testing, we have the details for you after the jump.
Starting off, the game will have two modes: a 4-on-4 online mode against other players in Japan or a mission mode where players can cooperate with others, which was unveiled for the first time at the location tests.
As players may have seen before, control consists of a gun, like those in other light gun shooters, and a pair of 3-D glasses. Reports say that the hardware has substantially improved from the AOU unveiling; there are several design changes and the hardware is lighter overall.
Most interesting of all, there are two control types: gun and head type. The gun movement is best described as an effort to make this game as close to an FPS as possible. While the head type uses the 3-D glasses as a way of tracking the player's head movements and the gun's movements will be represented by the crosshair on the screen. If players are not used to this, they can switch back to third person by aiming the gun off the screen.
It's a shame that American arcades are doing even worse off than Japanese arcades, meaning we will probably never get to see this on American shores, although if we're lucky, Dave & Buster's might always carry interesting random titles like this. One more reason to go to Japan if they don't!
[Source: 4Gamer.net]
Latest from Davis Fan