J. M. Alcala
Porno Graffitti Press Panel Report @ Anime Expo 2013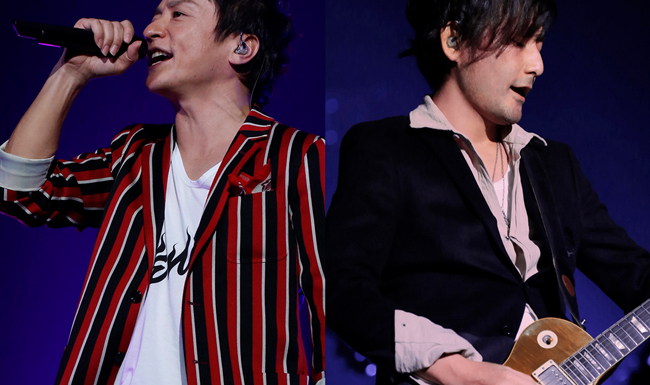 Famous for their classic anime hits, including "Melissa" from Fullmetal Alchemist and "Hitori no Yoru" from GTO, Japanese rock band Porno Graffitti shined at Anime Expo 2013 leaving their mark on the raucous crowd with an ecstatic performance at their sold-out Nokia Live concert. Discover what the legendary duo, Akihito Okano and Haruichi Shindo, had to say when they invited members of the media to their press conference to celebrate the band's appearance in Los Angeles, sharing with them their musical inspirations, influences and their journey towards stardom.
Do you write the [anime] song lyrics?
Akihito Okano: We generally know that our music will be used for an anime before I write and compose, so a lot of the times I try to integrate a lot of the "taste and flavor" of the show's story into the music. Like the anime Bleach, there are a lot of samurai themes and Japanese themes so I really wanted to integrate some Japanese sound and melodies, and tap into those roots and weave that into the music itself.
Haruichi Shindō: Also, when we recently sang for Magi, generally what happened is that I wrote the lyrics and then they would send me some opening scenes context. I'd look at them and then maybe tweak the lyrics a little bit. So there was some back and forth a few times so that was one of the benefits in working really closely with an animation studio.
You did a song called "Saudade" (pronounced "Saudāji") and it was a Brazilian concept, about longing, like longing for romance or longing for 'beauty eternal' [sic]. We were wondering if you were influenced or inspired by Brazilian music like the bossanova?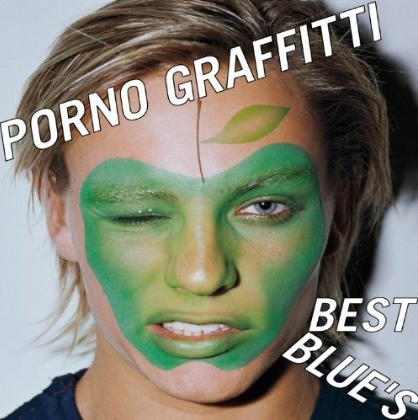 Shindo Haruichi: There was a period where I was listening to a lot of bossanova-style music, and I didn't know what the meaning that word, Saudade, which kept coming up over and over again. I got interested in the word and looked up what it meant. I saw its meaning and said, 'Huh that's really fitting for the song I'm writing right now...' so I picked it.
You've enjoyed a great amount of popularity here in the United States and outside of Japan. What does that say about the popularity of not only your music, but of anime/manga outside of Japan that's global now? (What's their stance on popularity of Japanese pop culture?)
Akihito Okano: I am really proud to see my culture be spread here in America, especially because, as you know, Japan has been influenced by America a lot. If we can continue this trend and create a deeper relationship with whatever medium we convey, that would be really amazing.
Do you have any future projects lined up? Any new albums, gigs, or anything you want to promote [that you can comment on]?
Haruichi Shindō: It's been fifteen years since our major debut and, as you know, we're becoming an older, veteran adult group. As among the adult group, its a challenge to see what kind of rock, or what kind or pop music we can compose from here. We like to use our ripened experience to push the boundaries and explore new types of sounds.
The sound of Porno Graffitti has been evolving through the years. Do you have any influences from foreign artists and Japanese artists?
Akihito Okano: To simply answer the question, I'd say yes. When he [Haruichi] and I thought about our roots, we wouldn't specifically say that there is a single style or artist that we really wanted to bind ourselves to. Rather we'd like to think that there are several artists who influenced us with various aspects. There has been a lot of influences from not just foreign artists, but also from Japanese artists. I'd like to think that there's a lot of flexibility in our sound and by moving forward, I want to continue to explore what we can do.
Your band has sung a lot of songs for anime series over the years but is there a particular anime that you enjoyed working on the most?
Akihito Okano: We worked on the music for the Bleach full-feature film and [with] Tite Kubo-san, the creator of the series. Kubo-sensei was very please with our music, enough to mention this on Shōnen Jump. Off course we've worked on other anime titles, and when we feel that our work was able to collaborate and emerge well with those creation, it really becomes one of the more memorable projects related to anime that we've worked on.
Were you influenced by any sort of anime that you watched or like certain types of anime while growing up that influenced your decision to do what you do?
Haruichi Shindō: Yes, if I began to list all of the anime that I really liked, and the ones I grew up with - the list would just go on and on. I was a part of what we call the 'Gundam Generation' and I also of course read everything that was in Shōnen Jump at the time such as Kinnikuman, Fist of the North Star, and Dragon Ball. Those were all series that I watched growing up, so I feel like I have a connection with all of the guys that are out there on the floor who love, watch, and grew up with anime. In addition to that, I also watched series that came in from the West, like Tom & Jerry and the Roadrunner.
Akihito Okano: A lot of children I think, who are exposed to anime music for the first time, they try to memorize the song and frantically sing the music. I think this is how music starts off with us. And for me, I also frantically memorized and sang the Gundam theme song. But it was specifically Saint Seiya that I'm actually pretty good at remembering, especially "Pegasus Fantasy", and I am still good at singing the theme song right now.
You already know that you have a lot of fans overseas but what do you think about your fans in Latin America. And what would you say to them in wanting to do some events down there in order to bring you there?
Akihito Okano: As you mentioned, some of our music does have Latin American influence and we try to integrate a lot of that sound into it so I'm glad to hear that we do in fact have fans down there. I feel like it is physically quite far, but the fact that the music has made it down there it's really nice. I'll take all of that in and now that I'm able to meet you like this, maybe I'll be able to take that into consideration next time I'll compose more songs and bring more and more songs to listen to. And maybe, next time I'm here in LA and maybe next time I'll be in South America.
Was there ever inspiration to promote your music through anime? Was that one of your goals?
Haruichi Shindō: While we were still an amateur band, we wouldn't say that there was any particular kind of anime we wanted to work on. As an amateur band, we didn't expect ourselves to do any tie-ups at that time.
But after our debut, we were offered an opportunity for a tie-up. This really opened up a new horizon, where it was not only just expanding our music but realizing that there's a whole new audience that we could reach and communicate with.
Through that, I feel like we've also kind of transcended generations by reaching out to the others. If I have more opportunities to do more collaborations, I think I would take that offer.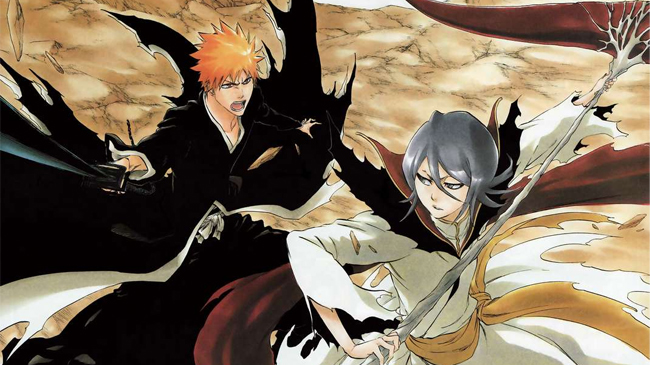 Were there any songs that got you into the industry (potentially Latino influences?)
Akihito Okano: I would say that we were influenced by quite a few artists but I would say that if I had to chose one that really got us into the industry, it would be Guns 'N Roses. When we saw them perform [on TV], I thought that it would be cool if I could make a band like them. It was really kind of the trigger that got us into this world. I think that he [Shindō] can elaborate on this, but he was also influenced by Eric Clapton and artists like him.
Haruichi Shindō: You know Rodrigo y Gabriela, the Mexican artists? I love them.
It's going to be your first overseas performance here in Los Angeles, but is there anything that ties you or is there a reason why you chose Los Angeles first?
Haruichi Shindō: In middle school and through high school, there was something we called "LA Metal Boom", where we would listen to a lot of music from Western music. Thinking about this about it now, it was around this time when we first listened to Western music. Our first image of western rock was long blond-haired, skinny tights-wearing hard rocker. I think that this was one of the kind of connection we had of LA.
I think it's safe to say that unbeknownst to us, we've had a lot of LA influence throughout our lives, even including such movies as Terminator 2. As I landed, I saw the scenery and realized that 'Oh wow. That's what I saw in the movie'. After getting off the airport, I would recognize certain places where the movie portrayed. I think we already had a connection to LA before coming here as we were already influenced through movies and music.
Speaking of the West and being in LA for the first time. this was a holiday weekend for Americans. Were you guys caught in the festivities?
Haruichi Shindō:Yesterday, for a photo shoot, we went to Santa Monica Beach and on the way back I got stuck in some pretty heavy traffic. I think that was a pretty good indication of the festivities.
Is it true that you've gotten your name from Extreme's album 'Porno Graffitti'? Could you also tell us a little bit about of your beginnings? Did you ever dream that you would come to this place?
Haruichi Shindō: Yes the name did in fact come from them. We borrowed it I would from Extreme's second album 'Porno Graffitti'.
The reason we chose that name was because at the time, we had a lot of amateur bands [to compete against] and wanted a name that would stand out, so we readily chose it. We ended carrying that name when we went straight to a major debut. We found out that lot of adults didn't like "porno" in the name. Now that we've finally got more Japanese people used to our name.
We came here to LA and we realized that 'porno' can mean all sorts of things. So now, I'd say that there's a little bit of regret as had we known we would get this big, I'd have chosen a different name, especially now that we've been on national television here in LA. I would say that I didn't expect to get this big first of all and if I did, I would have gone with a different name.
Latest from J. M. Alcala