Salvador Mateos
AKB48: To Be Continued (DVD) Review
In Documentary of AKB48: To Be Continued presented by New People Entertainment, we are taken behind the scenes and into the lives of the all-female Japanese idol group, AKB48. As we follow them throughout their 2010 tour in Japan, we see them rehearse and we see them cry, but most importantly we see them bond.
The documentary opens up with a brief history of the group along with the origin of their name. We are introduced to Yasushi Akimoto, who also created the AKB-voiced anime ICE, and founded the all-female idol back in 2005. Akimoto became the backbone of one of the highest grossing musical acts in the world. After the brief history we are treated to a scene with six of the members eating together at a restaurant, which seems to be a common theme throughout the documentary. It's reassuring to know that they aren't starving the girls. The length of the DVD is approximately two hours and is told through fourteen personal interviews with selected members including: Tomomi Kasai, Yuko Oshima, Sae Miyazawa, Mayu Watanabe, Tomomi Itamo, Minami Minegishi and Minami Takahashi.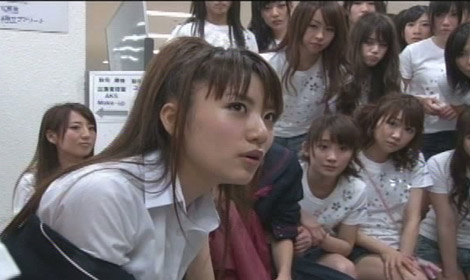 The DVD follows them for all of 2010 as the girls share their joys, triumphs and heartfelt moments with the viewers. A particularly heartfelt moment was when Sae Miyazawa tells us that she regularly cries ever since her grandmother passed away especially when things get hard. Sae Miyazawa gets really personal which makes me feel like the idols are really opening themselves to the viewer, which gives fans a new perspective of the group.
One of my personal favorite moments was when Minami Minegishi looks to the documentary crew after her interview and says with a serious face "I'm free after this, wanna go out somewhere?" and they burst into laughter. Another moment that stood out was when Tomomi Kasai talks about how she sees herself as the type to marry someone whom is probably wrong for her. She also says that she has appeared to be twenty-one since high school, but just now her age has caught up to her looks.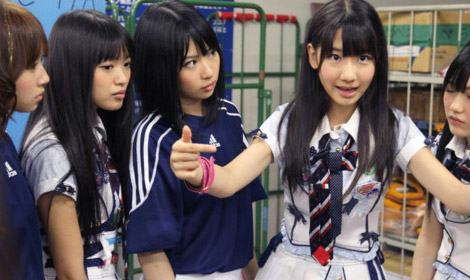 The interview with Yuko Oshima, who was recently chosen to design two costumes for Final Fantasy XIII-2, is filmed when she is snowboarding. She touches on the fact that before she joined AKB48 she would snowboard more frequently, but is now only able to do it once a year during New Year's with her family.
There is a lot of footage taken from behind the scenes of rehearsals, music videos, live concerts, celebrated birthdays on stage and much more. On the DVD they state they filmed over one thousand hours of footage which I would have liked to see a few clips in extra features also an extra features section. As you watch the DVD, it is almost like this was a time capsule video that was meant to be watched by the girls in the future. I wonder what kind of reaction the girls will have when seeing themselves a few years from the release of this DVD.
To sum up this DVD is like having a private conversation with the girls, they allow us to see what makes them tick and that makes the fan feel special. As a fan of the group, it's an easy recommendation to add to your collection and for those that aren't fans it will helps them understand why the group is so popular. I hope they will make more documentaries as the title says, "To Be Continued." We can only hope they do.
Disclosure: A review copy was provided by the publisher
Images copyrighted:New People Entertainment