Samantha H.
Zakuro (DVD) Review
Based on the series Otome Yōkai Zakuro by mangaka Lily Hoshino, Zakuro is a romance revolving around the struggles of spirits living in a world where they were once revered and respected. NIS America announced their acquisition of the series in March of 2012 and released their premium edition package in June 2012.
Human and spirits clash in an alternate Japan where the Westernization of the country has begun. A special unit is set up between spirits and the military called the Ministry of Spirit Affairs. Zakuro, Susukihotaru, Bonbori, and Hozuki are half-spirits that team up with their male human partners Kei, Riken, Ganryu to resolve incidents involving spirits in the human world.
The characters of Zakuro show some character development, but nothing overly deep. We get to see Kei get over his fear of spirits and Zakuro fall in love with him. Meanwhile, all the other characters follow suit with improving their own insecurities. The voice cast for this particular anime is filled with many well-known voices such as Kana Hanazawa (Oreimo, Angel Beats!) and Yui Horei (Kanon, Valvrave the Liberator).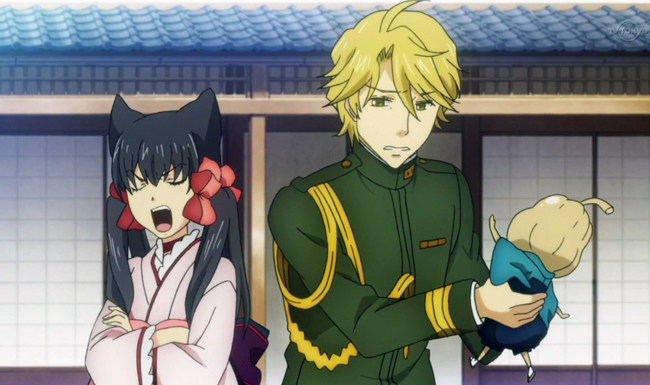 The series plot starts off fairly well, with different cases popping up and needing to be solved. Despite being a romance-type of anime, Zakuro has a bit of action in it, but not enough to probably satisfy fans of the genre. Zakuro's plot is, regrettably, not very memorable. The characters also don't stand out in terms of personality. Unfortunately, the series also suffers from pacing issues towards the end when the plot finally gets rolling. Seeing as how the series has only thirteen episodes, it felt like the last two episodes were trying to finish everything in a rushed way. I would have like to have maybe an episode or two more to help out with pacing. Perhaps the most frustrating aspect was having the plot spoiled by the English credits played at the end of the DVD disc. It revealed that Hanadate is also Omadaka, the main antagonist of the series. This was before I could even get to the episode where this twist was revealed. The credits for the cast are also a bit incomplete, as the only credits that are shown are for the Ministry of Affairs and main antagonists.
The Zakuro premium edition package comes complete with an artbook and a nice hard cover case. The two DVDs contain all 13 episodes of the anime as well as a few bonus items such as picture stories and clean openings. Similar to every other premium edition the quality of the art book is great, I always enjoy reading them and looking at the character designs. This particular book comes with interviews of the Japanese cast, which is always a pleasant read.
Overall, Zakuro is a fairly decent anime, despite its lack of an intriguing story and memorable characters. Those of you who are looking for short anime full of romance might want to look into this particular series, but action fans be wary. The bonus items that come with the premium edition are fantastic. You can pick up your copy at the NIS online store.

---
What I Loved:
-good quality artbook
-cast interviews
-some action
-good cast list
What I Hated:
-odd pacing
-unmemorable characters/plot
-incomplete/spoiler credit list
Disclosure: A review copy was provided by the distributor.
Last modified on Sunday, 08 November 2015 16:09
Related items
Latest from Samantha H.