Ken Ohata
Arakawa Under the Bridge Review
Arakawa Under the Bridge is an anime adaption of Hikaru Nakamura's ongoing work in Young Gan Gan. It was produced by studio Shaft and broadcasted in Japan on April 2010. Nakamura Sensei is known for her previous work, Saint Young Men, which was the tenth best manga series in 2009 and received the 2009 Tezuka Osamu Cultural Prize for short work manga. Arakawa Under the Bridge will have a live action film in the spring of 2012 in Japan. Hit the jump for the full review!
The story starts from the perspective of the protagonist, Kou (Ko) Ichinomiya. He is the heir to the Ichinomiya Company, the world's top enterprise. Not only is his background excellent, Kou graduated from Tokyo University with straight A's and paid for his apartment and school expenses without help. You can say he is practically a natural born winner. He lived his whole life with the family principle of never relying on anyone else. He always followed this motto and plans to continue doing so, even if he's bare legged on the bridge, where his pants dangle a few feet above his reach.
Why is Kou pants-less on the bridge? They were stolen by a group of kids and he tries to retrieve them; however, he accidentally falls off the bridge and nearly drowns. A girl named Nino saves him and in return, Kou practically owes her his life. Living by his family principle, Kou is unable to tolerate that he is indebted to her, and asks her for a way to pay her back. Nino comes to the conclusion that Kou can repay her by being her lover, which starts his life under the Arakawa Bridge.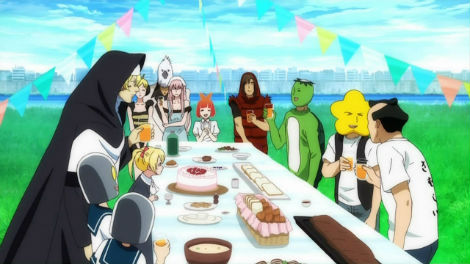 You may think the story seems similar to other generic boy-meets-girl plots, but I assure you, you are dead wrong. As Kou starts living under the bridge, he discovers that Nino claims she is a Venusian, an alien from Venus, and his neighbors are also nutcases: the village chief is a self proclaimed 620-year-old kappa, the neighboring priest is a war veteran cross-dressing in nuns clothing aptly named Sister, his rival-in-love is a horrible singer wearing a mask in the shape of a star, and more.
The story is unique and rich in comedy. It is entertaining to see how Kou deals with the surrounding neighbors, where his position as an "elite" no longer stands. No common sense exists while living under the bridge, which is the funniest part of the series. The eccentric and unique characters are the main source of Arakawa's comedy. Come on, if you found an ex-soldier cross-dressing as a nun scaring away the locals with an M-16 rifle and grenades, could you find a proper way to approach him?
The comedy in the series is mostly situational where we can laugh at how Kou reacts to the strange behavior of his neighbors. In addition, it uses a few plays on words so it may be hard to understand for those who are not fluent in the Japanese language. Don't worry: you can probably get the general idea. Nevertheless, you can look forward to some cultural and pop references the series will make, and test if your knowledge is out of date.
In terms of story, the series is a mix between comedy and romance. It is not like current love-comedy where the romance is based on the protagonist having courageous or sympathetic-to-girls scenes, but rather, it's based on the characters understanding each other. Kou and Nino are in completely different planes since Kou is an elite upper-class rich guy and Nino is a denpa1 (電波) girl with mysterious origins. They begin to understand each other and Kou starts to question what is it to be "normal", which is what society wants us to be.
What also grabbed my attention are the cast and staff. The director is Akiyuki Shinbo, who was in charge of Bakemonogatari, Zetsubou Sensei, and Maria+Holic. It's hard to say no when you find that this guy was the person who directed several well-known, popular, landmark series. The voice acting casts are also incredible; it consist of several famous voice actors often heard. The series has Hiroshi Kamiya, Maaya Sakamoto, Keiji Fujiwara, Tomokazu Sugita, Yuko Goto, Chiwa Saito, Yuichi Nakamura, Miyuki Sawashiro, and a lot more (I am serious, a lot more!). The voice actors matched the individual characters really well, which added a new depth making them feel more than just simple nigigen2 (二次元) characters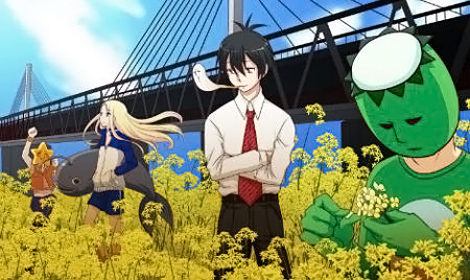 One of my disappointments was that that I did not see what you usually find in a Shaft production. The animation was mediocre, and we don't really see all the crazy stuff that Shaft usually does like using random scenes and kanji. Rather, I felt that the scenes were forced to be mediocre, and that limited both Shaft's art style as well as the mangaka's original intention behind her work. I am not saying that the animation was bad, but it could have been better which would make the show epic. Soundtracks were pretty average and stale, which doesn't seem to be any different from any other series. Nothing really stands out in terms of sound, but the opening and ending songs are catchy and a lot better compared to the usual anime music. The ending theme song is performed by Suneohair, who did the ending for Honey and Clover I & II and the opening theme song by Etsuko Yakushimaru (Natsu no Arashi! Akinaichuu, Yojouhan Shinwa Taikei, and Denpa Onna to Seishun Otoko). In addition, Miyuki Sawashiro sings for one episode for Arakawa (which had more Shaft-ness compared to the average episode in Arakawa) so keep an eye and ear for it.
Overall, I highly recommend the series to anyone who's interested in sitting back and enjoying some comedy. The series is pretty deep when it comes to realizing what social norms are and comparing what society really expect us to be versus what you actually want to do. In addition, the romance is really great between Kou and Nina, and I would also recommend it to anyone who's looking for mature (not to mean X-rated) romance compared to the usually galge3-romance (ギャルゲー) or adolescent romance. If anyone is a fan of Nakamura sensei's work, famous seiyuu, or Shinbo's work, I highly recommend the series, but if you're interested in some "Shaft-ness" I wouldn't recommend it. Arakawa Under the Bridge is available for sale in the United States and published by NIS America.
---
---
Last modified on Sunday, 08 November 2015 16:37