Nightow / Nishimura (Trigun) Panel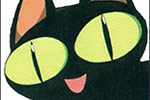 After our previous live blog of Nightow and Nishimura's Trigun Panel, we would like to present to you the full transcription of their panel at Anime Expo 2009. Please note that the transcription is based off of the translation done by an Anime Expo staff member and some liberties were taken.
Nightow: Thank you very much for coming I know it's a project that happened 10 years ago and it's great to see you here. My relatives weren't even born ten years ago, they're just watching it right now. I'm very fortunate to have great fans that are very passionate about my work so thank you.
Nishimura: Hello everybody my name is Nishimura. I heard that it's a very special day today, July 4th, and on that special day I'm grateful that you guys have come to see me. Trigun is definitely an old project but it's overwhelming but I can't express in words how grateful I am that you guys are still fans. I know most of you already know what we're going to be airing a new project today, so I hope you'll enjoy it.
Jinguji: I'm the mechanic designer for both of them, I tagged along for both of them, my name is Jinguji. I'm definitely the mechanic designer for the new screening project that we worked on too. To be honest with you I want to go on and talk for at least 30 minutes but you guys are getting antsy. Just wait another minute.
Nightow: The story starts three years ago, a company from the US asked if I wanted to work on a movie for the American audience. The offer was made because of the gratitude from all the fans in America that loved Trigun for such a long time. This project is for all the US fans [audience cheers]. There has been a lot of trouble in these past three years, but we didn't give up or stop. We kept on working on the project. There's something that I truly don't want each and every one of you to forget, I want you to remember this. There's going to be Wolfwood and Vash, this is going to be an on air movie from ten years ago. I want you guys to know that the characters that are created, the characters that are designed and moving are all alive thanks to you guys. It's you guys that created it, and it's for you [roaring applause by audience].
Nightow and Nishimura: Thank you very much! Thank you. Really, thank you everyone.
Nishimura: Without further delay, to the much anticipated Trigun.
[Trailer plays]
Nightow: I'm overwhelmed! My hands were shaking as I was videotaping you guys. Thank you very much [applause].
Nishimura: I have no words to describe how happy I am for how much you guys have enjoyed the clip.
Nightow: I promise to deliver the video I just took of you guys to the staff that are working on the project. They're going to enjoy your warm welcome so thank you [applause].
Nishimura: It's not really becoming a panel, I have no words. The movie, definitely still in the making, so it's not complete just yet. After Anime Expo's done, we'll fly back to Japan and we're going work harder on this project.
Nightow: But before we do that we want to go pay tribute to Michael Jackson and go send some flowers to him [applause].
Nightow: To be honest with you this clip was finished just a week ago. We've already seen it about 45 times. You really brought back memories from when I had a TV screen and I saw Trigun for the first time ten years ago. It really brought back memories watching that clip. Personally I love all the things that Nishimura-san does as a director. I know that there's absolutely no mistake what's being made right now, and I know that the director's doing a great job. Are you guys getting antsy for the Q and A [audience cheers]?
The Trigun anime and manga are completely different. Did you intentionally try to distance yourself form the story that the anime presented, or is that something that just happened?
Nightow: The animation definitely was different, it was actually a project a few years later and I had to put in all my power to make something completely different. I wanted to express the animation completely different because I didn't want to make the same thing but to do that I was tearing around working really hard to make that film. And I think it's because of the difference that I wanted that it was completely two different subjects.
What was the inspiration or influence for Elendira the transsexual from the Gung-Ho Gun?
Nightow: When I make characters I try not to clash any of them, I focus on making them original, each and every one unique. When I was laying out all of the Gung-Ho characters, that was my goal to make each and every one different. Then when I thought, okay who's the next person I'm going to add? That's how the transsexual came along as a character. Personally through my opinion, I believe that having a man's strength and a woman's mentality is definitely very unique in a transsexual person and that's something I wanted to put in the character. That's why I think he's one of the strongest characters.
Is Tsuneo Imahori going to be doing the music and how was working with him in the past?
Nishimura: Thank you very much for the great question. I definitely asked Tsuneo Imahori to do the music again. Actually I met him a long time ago for a meeting, but right now he's too swamped with work. He's going to be making an even greater song than the TV series. I believe that Tsuneo Imahori is a unique character, he's a genius. To me he's like a god. I think thanks to him and his music we were able to really make Trigun what it is. I've actually asked him to do my other projects. I really consider him a life saver of my work.
Any new works other than Trigun?
Nightow: It's not out as a manga book yet, but I'm currently working with Shuiesha's Jump Square and I'm working on a lot of short stories. Right now the short stories takes place in New York which has become a different world in one night. It's about people who live in the other world. Something similar to the Shanghai melting pot, and the title is Kekkai Sensen. This is actually still in the works, they're all in Japanese there's no English translations yet. As it continues and it becomes a manga book, I hope you guys will enjoy it.
Can you comment on the Japanese reception, and how you found out about your American fanbase?
Nightow: When I first came to Anime Expo I couldn't imagine how many fans there are out here in America. When I first came in 1998, Trigun was still new, not many people knew about it. When I came here at Anime Expo, many people welcomed me and I was very grateful. I feel like after 10 years have passed with Trigun, we've gone to the stage where people just "know it." I'm very grateful that it's iconic and I hope that it stays that way. I hope to learn from you guys and I really want American culture and anime to collaborate so we can create something new together.
Is Vash and Wolfwood based on any real people?
Nightow: Vash is actually my original creation, but Wolfwood is somebody I did take an idea from. There is a band named  Ulfuls, and the vocal lead singer is Tortoise Matsumoto  and I took him as the image for Wolfwood. I really liked the shape of his nose. If you guys have noticed, I spent a lot of time making Woflwood's nose into that shape.
Why did Wolfwood have to die?
Nightow: He's alive! As long as I keep making new projects, he'll always be alive and will always be there. Don't worry about the death, it's not important!
Where did you get the idea for Kuroneko-sama?
Nightow: It's actually only in the anime series where he's always in there. In the comic he's only in it one or two times. Just think of the black cat as Wall-E.
How did you come up with the idea for Vash and the whole Western theme?
Nightow: To be honest with you, with Vash, before I made him, I myself was watching a lot of action movies. It always felt strange with how people are constantly dying in action movies. I always questioned why they died so quickly. It's okay that they do, but why is it so sudden? Because there's always so much death involved, I wanted to create Vash as a very strong gunman who said, "Hey, sorry, Love and Peace!"
What's it like to work on such beloved series? Do you feel any pressure at all?
Nishimura: Right now I'm feeling some pressure [laughs]. To be honest with you I'm not going lie, I do feel some pressure, but I've worked on a lot of big projects so I'm used to dealing with it.
Are there any of themes in Trigun directly based on any particular religious concepts?
Nightow: I actually have no religion for myself. When making the manga, I always questioned myself about moral values and ethics and I think that's how it's shown. Maybe if it means non-religiously the morals were good, it means that I'm a great person.
Which of all the mixed media projects that you've been involved with are you most proud of?
Nightow: I do work on a lot of projects but I personally think manga is what made me. The work I think that I'm most proud about is actually Wolfwood's death. Working on the final part of the storyline, I'm definitely proud of what it became.
Are there any direct American influences on your work on Trigun?
Nightow: I personally think the Star Wars : A New Hope is the best one. I wanted to live in the desert called Tatooine. At that time I really liked John Woo movies. I personally wanted to shoot guns like in his movies. I fused both of those aspects and that's how Trigun came to be.
Would you ever consider making a season 2?
Nightow: Personally with the TV series, when it ended as a project as a whole, I feel that it was complete and it was done. We may make the same Trigun but with different aspects. Despite whether I could or couldn't have, my main ultimate goal was trying to express everything: all the open ended questions into the movie itself. So unfortunately, I personally don't think I will be creating a second season for the TV series [crowd groans]. Aw, I didn't want you guys to feel sad, but if it's in me that I feel that there is something new I want to express in Trigun, I'll definitely start working on new projects.
Any advice for aspiring artists in America?
Nishimura For the aspiring animation creators, personally I want to tell you work on what you like and be the person who's proud and happy about what you do. In Japan, being an anime creator does not necessarily that they're good at drawing themselves. But despite the lack of greatness in their art, they work with other people to create something great. So I just want to let you know, don't give up just because you don't feel that you're good at drawing. The skill is not important, just keep up the passion in you to create something great.
Nightow: To be an aspiring manga artist, it's pretty easy. Pretty much all manga artists are people who create something that others will enjoy, and thus it becomes money. In Japan, or pretty much anywhere else in the world, there's no one who draws manga and doesn't enjoy it. So always brush up on your skills and work on a lot of projects. The more you do, the better you get. Always complete the projects, the more you finish the more skills you gain.
What would inspire you for a new Trigun project?
Nishimura We've actually always wanted to continue with Trigun and do something new, it was actually an American that offered us the job. The person who offered the job to us told us that there's a lot of anime in America but there's not a lot that's lasting or people love for a long time. Also, the person who offered us the job told us that once American fans love a certain anime, they'll always be loyal and they'll always love it.
Transcribed by Stephen Bajza