Jason Young
Little Busters! (PC) Review
What's your biggest regret? That's the central theme to Key's 2008 visual novel Little Busters! where a group of friends tries to overcome their dark past by wondering about the infinite possibilities of the future. The series centers around a group of high school students, as with the rest of the company's endeavors, who form a circle of friends known as Little Busters, and they experience the joys, pains, and surprises of everyday life. From playing baseball to all of the awkward social interactions that come with growing up in an imperfect society, Little Busters! perfectly articulates what it means to be human and retaining your precious memories.
And yes, for those "crying game" fans, it's just as, and arguably even more, heart wrenching than the company's previous endeavors such as Kanon, Air, and CLANNAD; but more on that later.
Written by visual novel mastermind Jun Maeda, Little Busters! follows a group of five childhood friends who grew up together and made up for each other's perceived weaknesses. Consisting of the main introvert heroine Rin Natsume, her elder brother Kyousuke, the muscle-bound "idiot" Masato, the kendo-loving Kengo, and the physically incapable protagonist Riki Naoe, each of the five has his or her own unique background and reason why they joined the group; something that is developed in great detail during the story. Primarily, they want to help Kyousuke accomplish his dream of playing baseball against the school's top athletes before he graduates to become a salary man, and are joined by a number of classmates whom they recruit: Komari Kamikita, Haruka Saigusa, Kudryavka Noumi, Yuiko Kurugaya, and Mio Nishizono.
Although this may not initially seem as though it would make for the most engaging story, the elementary storyline loans itself perfectly to letting the reader become attached to the characters by placing emphasis on character development over complex storytelling. Kyosuke's quirk of trying to make every day an adventure, by giving the Little Busters odds and ends missions and quests, adds to the overall realism of a strong adolescent friendship; it easily rivals some of Hollywood's best attempts including Rob Reiner's Stand by Me and JJ Abram's Super 8. Little Busters! produces some of the greatest examples of friendship, particularly within the five childhood friends, that I've come across in any medium.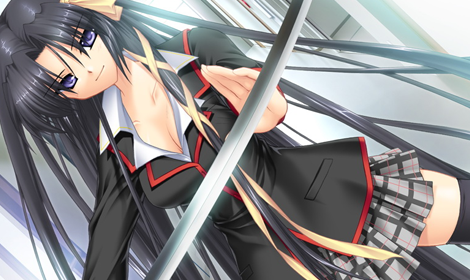 With a playtime of around fifty-plus hours, the coming-of-age tale is filled with two well produced addictive mini-games, baseball and fighting, and six compelling routes that will have you cheering, laughing, and crying in this gem of a visual novel. Each of the heroines has her own problem that Riki helps them solve throughout each of their individual arcs. Characters that I didn't initially warm up to had me cheering by the end, and although not all of the arcs ended with story lines that made 100% coherent sense or were conclusive, e.g. Kud's and Mio's, every single character was likeable.
However, to simply limit the appeal of Little Busters! to the attractiveness of each individual heroine would be doing it a great disservice. The main reason why you would want to play through this visual novel all the way through is the breathtaking true route: the Refrain arc. Not only does it provide reasons for literally everything in the game (including why the focus on baseball of all things) and each character's background and ulterior motives, but the emotional payoff at the end is outstanding. I was sitting at my screen, crying for an hour straight as I pushed myself through the heart wrenching whirlwind of events that transpired on screen. While the game may draw heavy comparisons to Angel Beats!, rest assured that it's superior in every way. So if the end of that series got to you, the ending to Little Busters! will make your very soul its personal plaything.
Harkening back to my days as a film studies student back at UCSB, I would use the philosophical term "mirror stage" from French psychoanalyst Jacques Lacan to describe how much this final route resonated with me emotionally. By bringing the knowledge and experiences of what's happened in my life to what was transpiring, being able to see Riki as a self-identifier shows the unique power of the visual novel as a medium. Maeda's masterful use of stream of consciousness to engage his readers firmly cements him as a modern day James Joyce, who first demonstrated the skill in Ulysses. By viewing Riki as a representation of myself, I was able to experience his fears, joys, and triumphs as though they were my own; it brought my own past to the forefront of my mind which is something that not a lot of other video games have been able to do.
Although this may have been a result of my four month playthrough, which I believe allowed each story and character enough time to marinate in the back of my mind, the lengthy journey of each of the individual arcs combined with an exceptionally well balanced blend of comedy and drama led to one fantastic cathartic release.
/***the following paragraphs contains spoilers***/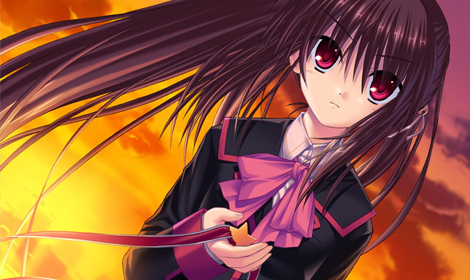 The end result of playing Little Busters! is something that I know will stay with me for the rest of my life; much like Kana: Little Sister and Ever 17, although on a much more personal basis. If you've ever grown close to a group of friends and then separated from them, regardless of the circumstances, this visual novel will shake you to your core. However, what's beautiful about Little Busters! is that its central theme is almost universally accessible. Whether you're still in high school and have been thinking about leaving everything behind to go to college, moved to a new place, or lost touch with a friend, the central theme of friendship will resonate within you and bring back memories of a time gone by.
Not only that, but the visual novel poses the question of whether or not the joys and memories that you create by interacting with people outweighs the potential pain and suffering that you might experience if you ever separate from them.
There was one particular scene in the game where the four male characters are playing a game of baseball in the rain, no relation to the vampires in Twilight, to help them come up with a solution to a huge internal conflict. Kyousuke pulls a move to help him win that would only be possible if the main cast were close to one another and knew enough about each other's strengths and weaknesses. There's a very real sense of pain that is experienced within the characters during the scene, but you know that they are conflicted about the results. It's their ability to recognize that they're all only trying to do what they believe is in the best interest of the others that adds to the devastation when the Little Busters break apart, hitting the reader with a 100mph rocket punch to the gut.
It's this game's ability to provoke a sense of the real that will help put some of your life experiences into perspective. It's life changing, thought provoking, and oh so awesome all at the same time.
/***end spoilers***/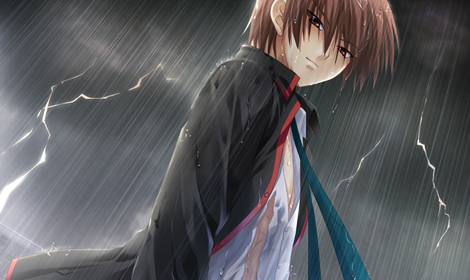 Although the characters and the true arc are absolutely fantastic, it wouldn't have been as impactful if the presentation wasn't top-notch; expect nothing else from the pens of longtime Key artist Itaru Hinoue and Angel Beats! artist Na-Ga. As the first game in Key's library to feature two artists, one of my initial concerns was that the styles wouldn't be consistent. Thankfully, they complement each other beautifully and have a nice consistent art style that can only be described as moe. Each character has an individual look and distinctive color that makes it easy for the audience to associate with them from the color of their hair down to small details such as bat hair clips and star-shaped ribbons. Almost every article of clothing has a reason why it's there, and it's thanks to a large collaborative work between the writers and artists. Additionally, the game's graphics are a wonder to behold, and reused images are only ever recycled to help illustrate an ordinary life.
Just as strong as the story are the voice actors, led by Tomoe Tamiyasu (Rin and Riki) and Hikaru Midorikawa (Kyousuke), along with the music. Composed by Key's signature composers Shinji Orito and Magome Togoshi, along with Manack and members of PMMK, each of the heroine's themes invoke a sense of who the character is while the background compositions are full of memorable pieces just like CLANNAD and Kanon. Of course a Key game wouldn't be complete without Maeda's excellent opening and ending compositions, and this time around there are plenty. The opening, "Little Busters!" was sung by Rita who also sang the theme, "Haruka Kanata," along with the three closing themes "Alicemagic,""Amenochi Hare" and "Songs for Friends."
For anyone who is obsessed with Adele's "Someone Like You," I found Rita's "Haruka Kanata" is just as if not more powerful than the Western pop-star's grammy-winning piece, which is true even if you don't understand Japanese. Using a similar musical formula that involves the placing of appoggiaturas to create tension and release, it's a beautiful emotional piece that will have you in tears when it's played in a certain context within the visual novel.
With evocative and compelling characters, an amazing final route, and strong presentation, there's only one huge flaw that I can think of in the game: you'll miss the cast once the entire thing is over. Sure there's going to be an upcoming anime adaptation from J.C .Staff as well as the game's spin-off Kud Wafter to inch through, but there won't be any further exploration of the human mind and the nature of friendship that made Little Busters! such a compelling piece. No more simply diving into the everyday, ordinary life between Rin, Riki, and the rest of the Little Busters gang. However, just like one of the critical messages that the game tries to impart, there's a time when you have to finally move on with your life and hold the memories close, which is something I plan to do with these memories of my playthrough. After all, Little Busters! isn't a game. It's an experience.

---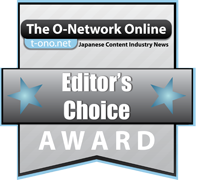 Two things I loved:
+ The Refrain arc was simply outstanding, from the backstories to the music the emotional payoff was easily worth all fifty-plus hours of reading.
+ Characters were written exceptionally well, setting a new standard for all the visual novels that have come after it.

Two things I hated:
- Kud's and Mio's endings were both relied too much on the suspension of disbelief.
- As with all visual novels, powering your way through Little Busters! is an exercise in persistence.

Images copyrighted: Visual Arts/KEY