Dawn Lam
Style Savvy: Fashion Forward (3DS) Review
Like the other Style Savvy games, in Fashion Forward, the player becomes a manager of a boutique through magical means. The aesthetics of this game is very feminine, but at the same time, I don't think that is all it has to offer. Taking away the girly elements, this game is a simulation game - managing stock and inventory of the store, attending to customer needs, and of course, withholding the reputation of a fashionista and top designer in a fictitious city. New to this franchise, Fashion Forward, there are other things to do than selling clothes. Become a makeup artist! A hair stylist! A room designer and even a model!
The first few tasks are fairly simple, and even if the wrong outfit is selected, there is no penalty. So in that sense, the game is very forgiving. The requests for specific clothing items are also very straightforward - a floral top, a striped shirt, black earrings, a casual dress in white. Silhouettes will appear in the boutique and around town, and it is up to the player to interact with them to advertise the business. Talking to them also unlocks more content in the game such as the streetpass or the dollhouse sharing function. Fashion Forward also employs a real time clock just like in Animal Crossing. At any time of the day, the player is able to return to the boutique to check up on their business, visit the nearby park to mingle with potential customers, head over to the dollhouse and design another room or restock on items for the store.
I got a kick out of selling the most expensive item as long as it fits the customer's request (they hardly say no, even if it is a bit over their budget). As a self-proclaimed fashionista myself, I have to admit, I thoroughly enjoyed playing dress-up with my in-game avatar. The avatar customization was also quite in-depth; at least much more involved than what I expected it to be. There were several pages of hairstyles, types of lips, eye shapes, face shapes and etc. Once that was all done and I gained access to my wardrobe, I must have spent another 20 minutes trying out different outfits and accessorizing to make the ensemble as expensive and aesthetically pleasing as possible. There are hundreds of jackets, shirts, skirts, pants, shorts, and an insane number of accessories to choose from and even more to unlock as the game progresses. There is an in-game camera where I am able to travel around town, snapping photos for my next designs. There is a lot packed in this seemingly simplistic game.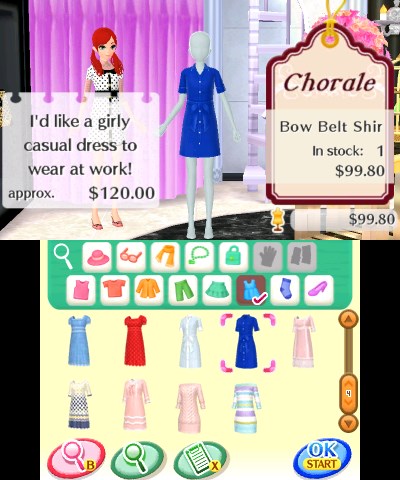 Overall, as an adult, this probably is not a game I would pick up for myself. However, I can see how Style Savvy: Fashion Forward would be pretty fun for younger girls in the 7 to 12 year old bracket. There is an astonishing amount of content packed into this game; I find it almost overwhelming, and I can probably spend hours and hours into decorating the doll house (or messing it up and still getting praised for my superior interior design skills). However, that is just it. Hours can be lost doing one thing and because of the real-time clock, the actual progress of the game slows to a crawl and can quickly get boring. On the other hand, this allowed me to play casually, such as on my commute to work or on my lunch break. In short, this game has lots of offer but is definitely intended for a younger audience.

---
Pros:
- Game UI is easy to navigate.
- Content rich.
- Important words and locations were highlighted in the text to show significance.
- Special perk after full completion!
- Amiibo & streetpass abilities.
Cons:
- Awkward translation and cultural differences because of the EU port.
- There seem to be a lot of women in this city….
- The art on the box seems to suggest this game is intended for an older audience.
- Real time clock - the progress of game seems slow and repetitive.
Review copy courtesy of Nintendo America
Last modified on Tuesday, 20 December 2016 12:21
Latest from Dawn Lam