Salvador Mateos
Servant x Service (DVD) Review
Have you ever thought what happened to your favorite anime characters after they graduated high school? Or just about what type of work they might have applied for if he or she didn't go to a university? Well if you have or just want to watch something else, then I think I might have the anime you've been seeking. So if you are used to the high school romance, this anime may not be for you as it is set a few years after that: namely, the great mysterious abyss many academic scholars have come to refer to the "real world."
Servant x Service is an anime that was adapted from a manga by Karino Takatsu, and released by Aniplex of America, which revolves around the lives of public service works in Japan. The anime begins with three new interns Lucy, Miyoshi and Hasebe. They come to Health and Welfare Division of The Mitsuba Ward to apply for work as a public servant (social worker). As you can probably tell, this anime is not like any anime you have probably seen lately. The closest comparison to this anime is the live-action comedy The Office, minus the cameras that follow the cast around, and that the cast works at a place like the DMV. Think of Pam Beesly, Jim Halpert, Michael Scott, Erin Hannon and Toby Flenderson working in a government office but with a few twists like the manager being a stuffed animal, along with other side stories and you get as close as you can to Servant x Service.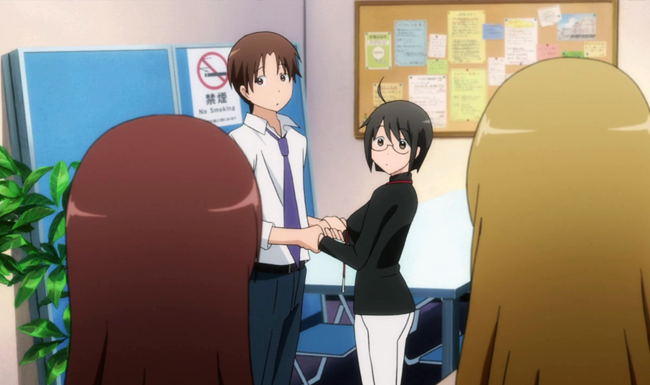 We start with three new recruits who are hired to work for a government office building in Mitsuba (fictional), Hokkaido. Each of the new recruits has their own story of why he/she applied for the job, but no one has a more unique story like Lucy (...) Yamagami. Well you noticed the (...), that's because her name is somewhat unique in length. When she was born her parents wanted to give her a special name but they couldn't decide on one, two or three. So they gave her the name Lucy Kimiko Akie Airi Shiori Rinne Yoshiho Ayano Tomika Chitose Sanae Mikiko Ichika ... Yamagami. So what does that have to do with her working at the office? Well you see she is seeking revenge against the public servant who approved her birth certificate. Definitely a logical plan wouldn't you say?
As for the other new recruits Yutaka Hasebe is a slacker and just has no real motivation, but he comes from a long line of public servants in his family. He teases Lucy for having her name and is seen going around to every girl he meets and asking for their email. While Saya Miyoshi is shy and quiet, she is twenty-four and just out of college. She is placed in the front desk, which is more like an information desk, where she has to listen to people talk and can't stop them due to her being shy and polite. Also there are other characters such as Megumi Chihaya who is working as temp due to her other obligations which mostly revolves around cosplaying and comiket. Then we have the supervisor Taishi Ichimiya who is supposed to be somewhat of a boss to the recruits, but he is more of a push over. Then we have the section chief of the health and welfare department, but the twist is he is shy to the point that he works in the office by remote access through a stuffed rabbit doll.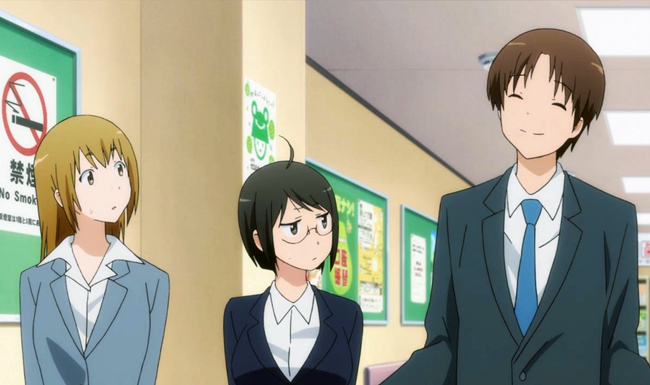 At the beginning of the anime it seemed to me like it would be closer to the anime Genshiken which was a good thing since that series was a fun all around "slice-of-life" series. I was also happy to read that the main character Lucy who is voiced by Ai Kayano who also voiced Menma in Anohana: The Flower We Saw That Day, which I enjoyed watching. Also one more voice talent that I was thrilled to see in this series was Mai Nakahara who voiced Saya Miyoshi, the shy college graduate, known from her role in Clannad as Nagisa Furusawa. I got excited when one of the characters showed interest in anime and cosplaying, thinking they will relate this series to the otaku culture, but no luck. So I was sitting there episode after episode hoping it would start to pick up or show a defined path it would take.
I understand that each series has its own style and pace, but Servant x Service was lacking a little bit for my taste. As for the development of the characters I think that thirteen episodes are not enough to try to develop the seven plus characters. I would really like to see a second season where we find out about all the questions and issues that were hinted or uncovered through the course of the series. The only thing this anime made me do was look into the manga since I know that manga usually feature storylines that don't make it into the anime for numerous reasons. So I guess I will start to read the manga and hope that this anime gets a second season.
Strictly speaking, Servant x Service doesn't have a clear plot like other animes that you might be familiar with and it seems like it isn't finished at the end. I place this anime in a category pretty much by itself as it is more along the lines of the typical American sitcom you watch once in a while on TV. I suggest watching this with an open mind and not to expect your typical anime story. With that said I don't recommend it for fans of action, magical or fantasy anime; this is for the fans of drama with a wide open plot.

---
Pros:
• Unique genre, comedy sitcom feel to it
• Interesting characters, reminds me of Genshiken
• Only thirteen episodes
Cons:
• Anime ended without a real closure ending
• Series ended with a sort of pause
• Needs more character developing plot (needs a second season)
• Pace of anime was somewhat slow paced
Disclosure: A review copy was provided by the distributor.
Last modified on Sunday, 08 November 2015 16:00