Administrator
Winter Holiday 2009 Giveaway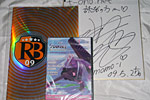 So we've stockpiled a small amount of goodies to giveaway this season including copies of the PC side scrolling shooter, SUGURI, copies of the Animelo Summer Live 2009 Booklet sold only at the event in Japan, and an autographed shikishi board signed by otaku pop idol, Halko Momoi! What are you waiting for? Full contest details inside!
(Thank you for everyone who entered contest! Entries are now closed. We will be announcing the winners shortly via email/the community network! If you didn't win, don't worry! Stick around as we will be holding more contests in the future!)
PRIZES:
1st Prize (1 Winner):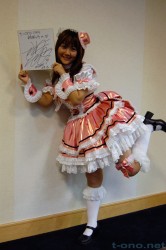 An autographed shikishi board signed by
otaku
idol
Halko Momoi
(You can find more info on the booklet here)
2nd Prize (2 Winners):
A PC copy of SUGURI
An Animelo Summer Live 2009 Booklet
3rd Prize (3 Winners):
An Animelo Summer Live 2009 Booklet
(Grand total of a possible of 6 winners!)
HOW TO ENTER:
Contestants simply have to be a member of The-O Network with a profile, and "Write Message" to Administrator with the subject header "Winter 2009 Giveaway." Contestants who do not have an account can sign up for one free. Unfortunately at this time, we can only ship prizes to residents in North America.
UPDATE: Non-members may now also enter the contest simply by replying to this post in the comments. Members who enter by sending Administrator a message are worth 2 entries, while non-members who reply to this post is only worth 1.

CONTEST DEADLINE: January 24, 2010
We will be holding additional giveaways in the future, look forward to them!
Signed shikishi board made possible by the staff of FanimeCon.

Latest from Administrator