Jason Young
Muv-Luv Kickstarter Campaign is now Live!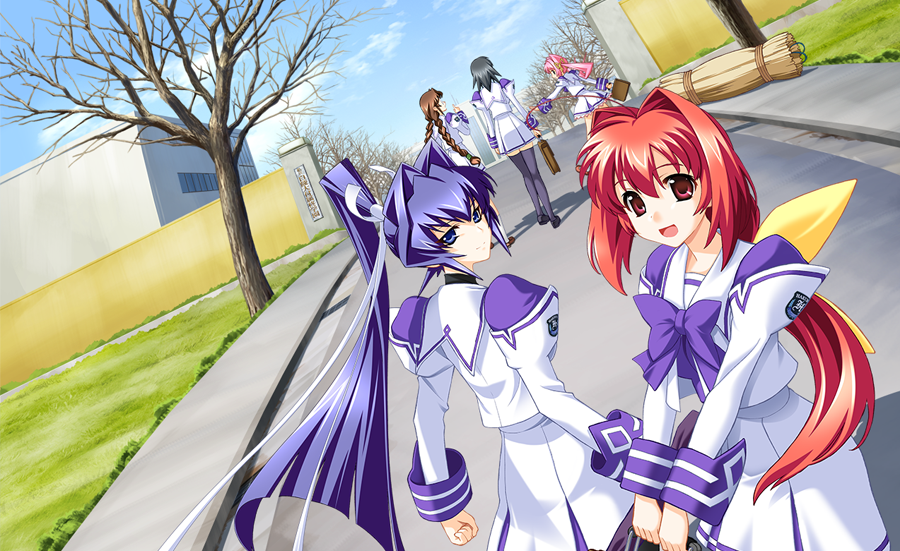 Earlier today, DEGICA and IXTL announced that the previously revealed Muv-Luv Kickstarter has gone live. Written by Koki Yoshimune in 2003, the campaign is hoping to raise $250,000.00 to by November 3rd bring the Muv-Luv universe to English shores. Additionally, the company announced that they will be inviting one lucky winner to Japan to meet the production team and hang out with them on an all-expenses paid trip for one week.
Full press release below:
DEGICA Co., Ltd. ("Degica") and IXTL are pleased to announce that the recently revealed Kickstarter campaign for the English translation of the Muv-Luv visual novel series is now live! Currently the highest rated visual novel series on vndb.org*, the story is penned by Koki Yoshimune, the author of the game Kimi ga Nozumu Eien (Rumbling Hearts or "Kiminozo"). Set in a fictional universe that has evolved from a timeless high school romance tale into an epic science fiction-based story, Muv-Luv features an alternate universe, giant aliens, intense mecha battles and a deep complex cast of characters. Thanks in large part to its popularity, the series has also gone on to form a spinoff and a number of adaptations including the 2012 animated hit, Muv-Luv Total Eclipse, and a serialized manga in Dengeki Daioh magazine.
After receiving feedback from fans during their appearance at Anime Expo 2015, DEGICA and IXTL have designed their Kickstarter campaign to provide fans worldwide with the definitive Muv-Luv experience. By reaching their goal of $250,000, it would allow the companies to
utilize the latest HD graphics from the PlayStation 3 version, updated assets directly from âge-soft and an enhanced user interface with full Windows 7, 8 and 10 compatibility as well as other never before seen functions to the series. Stretch goals will include a translation for the heavily demanded Muv-Luv side stories collection, an Android release and brand-new CGs and music from the visual novel's original creators.
"(We are) very happy for this chance to bring Muv-Luv overseas for the first time ever, and to present it fully localized to the fans." IXTL CEO Takashi Nakanishi adds "It is great to bring this series to the numerous fans overseas in a format they can enjoy to the fullest."
Degica CEO Jack Momose states that he is "very honored to be chosen to help bring Muv-Luv overseas and is excited to help Kickstart and publish the Muv-Luv series."
Working alongside the series' existing fans, DEGICA and IXTL have conceptualized a number of exclusive backer rewards including a physical and/or digital copy of the visual novels, a Kickstarter-only destroyer class BETA plush, hugging pillows, clothing and much more!
Win A Trip To Japan!
To coincide with the Kickstarter, the "Share The Luv" Giveaway has been launched. The grand prize is a one-week, all-expenses paid trip to Japan for two. The package will include an opportunity to attend a Comiket, or another similar event, as a special guest and a chance to explore favorite Tokyo hotspots (e.g. the Ghibli museum, a robot battle restaurant and Akihabara) with the team. To enter for a chance to win, please visit http://promo.muvluv.moe/share-the-luv/
About Muv-Luv (2003)
The first game consists of the first two parts of the trilogy, "Muv-Luv [Extra]" and "Muv-Luv [Unlimited]."
"Muv-Luv [Extra]:" Shirogane Takeru was living a peaceful life as a 3rd year high school student, with his childhood friend Kagami Sumika. However, one morning Takeru awakens to see a mysterious girl named Mitsurugi Meiya sleeping in his bed. Thus begins the start of a high
school love comedy where Takeru will have to choose between his childhood friend and the girl insisting they are bonded by fate.
"Muv-Luv [Unlimited]:" Shirogane Takeru finds himself stuck in a parallel world where mankind is on the brink of destruction after battling against alien invaders known as BETA for the last 20 years. Takeru soon finds himself enrolled into the United Nation force to fight these aliens and finds the parallel versions of all of his high school friends, with the exception of Kagami Sumika, who does not seem to exist. Soon he will have to fight to save mankind, and protect the girl he comes to love over the course of the story.
About Muv-Luv [Alternative] (2006)*
Three years after witnessing the tragic exodus of mankind, Takeru wakes up believing that everything that had happened was just a dream. The brief hope that he has at last come back to his world is dashed away as soon as he discovers that he is once more trapped in the
parallel world of Unlimited. Restarting on that fateful day he first came here, will Takeru manage to use his knowledge of previous events to change mankind's tragic future?
About IXTL
IXTL is the copyright holder of the Age Visual Novel games including hit games Kimi ga Nozomu Eien and Muv- Luv series which helped pioneer the nakige genre of adult games putting more of an emphasis on matters of the heart.
About DEGICA Co., Ltd.
Degica is an e-commerce and publishing company for software and games, both in and out of Japan. The company is mostly known overseas as the publisher of RPG Maker and the payment solution Komoju.
Latest from Jason Young