Brian Lee
Live report: Aquors First LoveLive! ~Step! ZERO to ONE!~ Concert Screening
So I'm in a movie theater surrounding by a bunch of people with glowsticks and penlights and we're watching a concert of girls who portray a group of anime high schoolers who sing and dance that also happens to be on a one-week tape delay. Basically yelling at a TV screen.
Sound absurd enough? Well, it would be, if it wasn't Love Live.
Love Live, if you have been living under a rock, is a hyper-popular mixed-media franchise with a group of nine singing girls at its core. This particular viewing is of the second generation of girls called "Aquors." I've been following the franchise for almost two years now and saw some of the members of Aquors at Anime Expo last year which you can read about here. The full title of the live concert is "Aquors First LoveLive! ~Step! ZERO to ONE!~."
These girls are the manifestations (or more accurately their real-life counterparts) of the anime characters they portray and are the targets of adulation and adoration of hundreds of thousands if not millions. There's a game, there's anime, manga, lots of goods to buy, and of course, concerts. At the beginning of the first generation they took place in small venues but now instantly sell out stadiums. The 17,000 person capacity Yokohama Arena would be the location of Aquors' first big show.
While many locations in Asia were lucky enough to have live simultaneous broadcasts America was deemed to be too far in both distance and time zone to do the same. A one-week delay was the best option available and that's what led me to the Lark Theater is Larkspur, just north of San Francisco. I'm glad that this theater was selected as a screening location because the next closest was six hours away in Los Angeles. A special giveaway postcard was included for every concertgoer. It depicts all nine girls with a simulated autograph from each in metallic gold ink.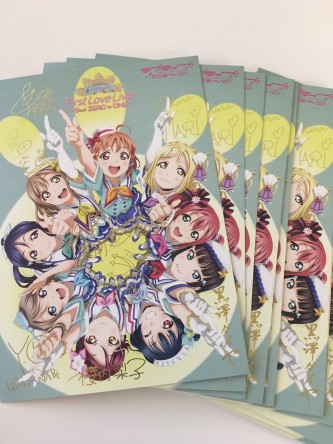 The broadcasts were of day one of the two-day concert series from Japan. The reason this is of note is because of an incident where Rikako Aida (the voice of Riko Sakurauchi) flubbed her piano playing during the song "Omoi yo Hitotsu ni Nare." The crowd here acknowledged this with chants of "Rikako! It's okay! It's day one!" As each girl was introduced the crowd in the theater broke into applause and cheers. Each girl has her own theme color and fans who were able to do so switched between them rapidly.
If you've never been to an idol concert there's a lot of crowd participation. The first thing you'll notice is the prevalence of light. At a normal concert in America the most illumination from the audience might be lighters in the air. In Asia, and carried over to America, are an abundance of glowsticks and multicolor pen lights. Songs have specific vocal calls by the audience and there are special motions with which to wave your lights in the air. The crowd becomes an ocean of undulating light and it's a lot of fun to get into it alongside so many others.
The concert would be split up into three sections: full group, sub-unit songs, and full group again. Aquors is split up into three subgroups called AZALEA, CYaRon, and Guilty Kiss. Each subunit sang their two specific songs and showed off their costumes. Being that Aquors is fairly new the setlist contained practically all of their current songs in one long block. My three favorite songs were sandwiched right next to each other: Guilty Kiss' "Strawberry Trapper" and "Guilty Night, Guilty Kiss" and the Aquors song "Mijuku Dreamer." I consider "Mijuku Dreamer" to be one of Aquors' best. It's a song about pushing forward, growing, and facing things together. It's very representative of the trials and tribulations both the anime girls and real-life counterparts face.
While I've seen previous Love Live concerts before this is the first time I've ever seen it in its entirety and in its correct order. The animated portions were fun to see even if I couldn't understand them all fluently. On videos they are usually separated out from the main bulk of the concert but during an actual live they help conceal costume changes and allow for breaks which for a physically exhausting multi-hour show are essential.
I had a great time and hope that someday I'll be able to see them perform live.

Set list as follows:
Aozora Jumping Heart
Koi ni Naritai AQUARIUM
Aqours☆HEROES
Kimeta yo Hand in Hand
Daisuki dattara Daijoubu!
Yume de Yozora o Terashitai
Genki Zenkai DAY! DAY! DAY! (CYaRon)
Yozora wa Nandemo Shitteru no? (CYaRon)
Torikoriko PLEASE!! (AZALEA)
Tokimeki Bunruigaku (AZALEA)
Strawberry Trapper (Guilty Kiss)
Guilty Night, Guilty Kiss! (Guilty Kiss)
Mijuku DREAMER
Omoi yo Hitotsu ni Nare
Todokanai Hoshi da to Shitemo
MIRAI TICKET
Kimi no Kokoro wa Kagayaiteru kai?
ENCORE:
Pops heart de Odorun da mon!
Yume Kataru yori Yume Utaou
Step! ZERO to ONE