Salvador Mateos
Yumiri Hanamori Interview @ Anime Expo 2015
Along with Tomoyo Kurosawa, PONY CANYON brought up-and-coming high school voice actress Yumiri Hanamori to Anime Expo 2015. Known particularly for her roles as Sachiko Umemoto in Ace of the Diamond, Chiaya Misono in The Rolling Girls, and Uri-tan in Etotama, Yumiri has provided a breath of fresh air to the voice acting community in Japan through her considerable talents as she looks to leave her mark on the industry. Join us in this sit down interview as we find out about her roles in the Yuki Yuna video game, as well as who the "Matcha Green" is in her life!
T-ONO: First off, we just wanted to say welcome to Los Angeles and Anime Expo!
Hanamori: Thank you very much!
T-ONO: Is this your first time in L.A.?
Hanamori: This is my first time, I am very nervous.
T-ONO: Are there any food in particular that you are looking forward to trying while in L.A.?
Hanamori: I want to eat frozen yogurt with lots of fruit on it!
T-ONO: You were in Yuki Yuna and Rolling Girls, and in both series you play as a teenager who finds hidden powers to help them overcome adversity. Can you relate to those characters in real life?
Hanamori: The characters I play in those series are also regular girls when they're not using those powers, so that's how I am able to relate to them and feel close to them.
T-ONO: In Rolling Girls your character Chiaya Misono is always eating Takoyaki, isn't that cannibalistic considering your character's true identity?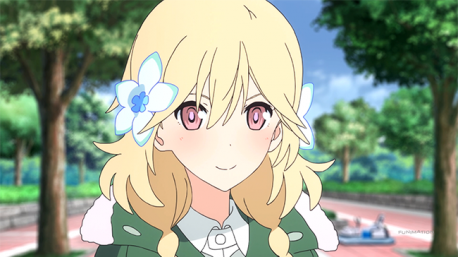 Hanamori: Chiaya Misono is actually eating an octopus made out of sausage, so that's not cannibalistic at all *laughs*.
T-ONO: In Rolling Girls Chiaya Misono tells Nozomi that she's her "Matcha Green." Who is your "Matcha Green" in real life?
Hanamori: I grew up looking up to and observing my dad. He is really smart even though I don't know what he is always thinking. Regardless, he still always supports me and accepts me for what I am and what I want to do. That's why he is my hero.
T-ONO: In Yuki Yuna your character is in a club that helps the community by doing good deeds, while in Rolling Girls your character joins a group of girls that go around trying to resolve other people's problems and issues through peaceful means. If you had that chance in real life, would that be something you would think of pursuing?
Hanamori: I would probably just join one of the clubs since I was in the tennis club when I was in middle school. However, I had to quit that, so if I was able to join another club it would be a flower arrangement club.
T-ONO: We see in a lot of anime that there are after school clubs, are they mandatory in Japan?
Hanamori: They are not mandatory, but if you are not in one you are part of the "going home club." Since I am working while still in school I'm not currently in any clubs.
T-ONO: What are the most popular clubs?
Hanamori: For girls, the most popular sports club is the tennis club. For cultural clubs it's the music band club.
T-ONO: Since you were in the tennis club, what is your best hand forehand or backhand?
Hanamori: While it's easier for me to perform a forehand, I have been told that my backhand is pretty good.
T-ONO: During the recording of the Yuki Yuna game for PS Vita, were there any interesting moments involving your fellow cast member Tomoyo Kurosawa that stood out?
Hanamori: While my character isn't really featured in the anime, I was able to attend some of the recordings for the game. In one scene our characters were at an udon shop and I was trying hard to make a good conversation, but Tomoyo was just kind of saying "um yeah..." and so I said "are you even listening" so that was my little ad lib.
T-ONO: In Yuki Yuna there are a lot of emotions that the characters have to express to fans, how do you prepare for those scenes in particular?
Hanamori: Since my character Gin-chan didn't have many fight scenes there was more of an emphasis on everyday scenes. I tried to make them as fun and as normal as possible so they would be like everyday life.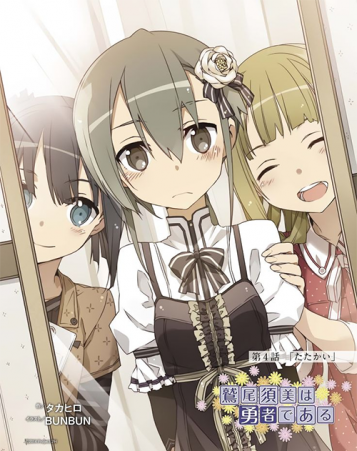 T-ONO: As a voice actress is there a ritual that you do before you go into a record session or afterwards?
Hanamori: Since I tend to get really nervous, I usually like to try and gather all my strength and make a fist then let it go.
T-ONO: Maybe next time bring a tennis racket.
Hanamori: Hmmmm….I wonder. Actually, I'm pretty sure that they won't let me bring a racket into the recording session *laughs*.
T-ONO: Are there any messages that you like to leave with your American fans?
Hanamori: Nice to meet you my name is Yumiri Hanamori and I'm really happy to have this chance to meet fans outside of Japan. Please continue to support the shows I am in, including Rolling Girls, Etotama and Yuki Yuna. Thank you very much I am very happy to be here!
All images published with consent from the publisher/distributor.
Images from Yuki Yuna is a Hero are copyrighted: PONYCAN USA/ Studio Gokumi
Images from Rolling Girls are copyrighted: FUNimation/ Wit Studio