Jason Young
Nobuhiro Kikuchi Interview @ Anime Expo 2013
As the universal phrase goes, "Rome wasn't built in day." Although the idiom was first coined by the French during the late 1100s, the meaning behind it has made it an ubiquitous metaphor that the fruits of labor pays off through hard work, persistence and dedication; three values that drive the up-and-coming Japanese animation studio, P.A. Works. Meet one of the chief visionaries, producer Nobuhiro Kikuchi, as he thoughtfully shares his own perspective and opinions chronicling the humble beginnings of the company to their rise in fame and prominence with the anime series True Tears, Angel Beats! and the recently released, Hanasaku Iroha.
T-ONO: Please introduce yourself for people who aren't familiar with P.A. Works, please tell them a little bit more about the company and how you got involved with them, starting with True Tears.
Kikuchi: P.A. Works started in the year 2000 and was originally called Ecchu Douga Honpo. Ecchu is the name of the location in Japan where P.A. Works is located in the Toyama Prefecture. The CEO and producer of P.A. Works, Horikawa, felt that we should have an English name and that was how the company's name changed to P.A. Works.
To touch up a little bit on Kenji Horikawa's profile, he originally became interested in animation when he was in college. After college, he started working for Production I.G. Now 90% of P.A. Works is located in Tokyo, but the main headquarters is in Toyama. This is going to be our 13th year, but until 2008 we were primarily a contract company that would only work on partial projects such as Fullmetal Alchemist and Ghost in the Shell. In 2008, we created our first full animated series True Tears.
During college, Kenji Horikawa and I attended the same club despite me being older. He told me that he was seriously contemplating quitting college and going into animation. I remember telling him at the time that he should at least continue with college then going into animation. Horikawa thinks that I said that if you are very passionate you shouldn't just quit it (in this case college). We're still arguing over it until this day. Considering that P.A. Works still exists, I think it's needless to say that the right choices were made at the time. In the thirteen years we've been in the animation industry, our thoughts on the way we approach making things hasn't changed. We really want to continue making things that people will love for a long time.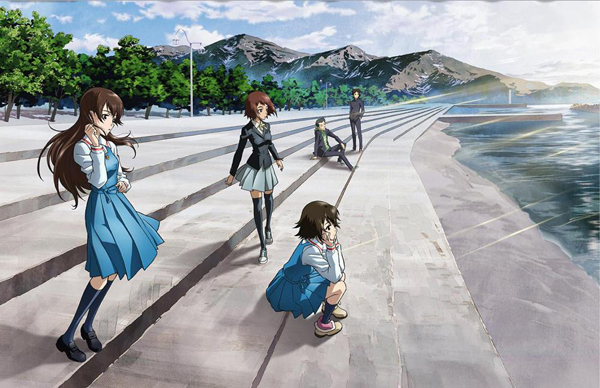 T-ONO: P.A. Works often adapts a lot of visual novels and novels into series involving heavy slice-of-life series, would you say that this helps differentiate your company from the rest of the Japanese animation industry?
Kikuchi: While we have done quite a bit of slice-of-life and visual novel adaptations, it's not like we're only focusing on doing those. For the most part, Kenji Horikawa has been picking projects based on how strong the story is or whether or not it could help strengthen the staff and extend their skills. Then he'll decide to do one particular project over another.
T-ONO: What are your opinions on the current state of the Japanese animation industry right now? Is there anything you could change what would it be and why?
Kikuchi: Hmmm...that's a hard question. It really all depends first on what part of the industry you're talking about. Is it the animation industry or purchasing market?
T-ONO: Production.
Kikuchi: Haha, that's still a difficult question so let me think about it for a minute. First this is just my personal opinion, but let's see. It's not like the animation industry uses any particular resources where you need to be in a specific area. Anyone can make Japanese animation, anywhere in Japan if they want to.
For me, I think it's a bit of an eccentric saying but I like to believe that you can start an animation as long as you have pen, paper, and a computer. So I believe that not being located near our studio isn't really a problem.
I previously touched upon this at our panel, but I think that the production studio is the primary place of creation for anime; however, I don't think that it has to be really limited to that. I think that the interactions between the fans and creators could be a little bit closer. So to me, I think that the studios could definitely be doing much more interesting things with the fans together.
Since we're a production studio, it's often very hard to do other extravagant things but, we would like to do as many fun things outside of animation within our power. Since our company is located in such a unique place compared to other studios, I think we have the ability to collaborate within the local community. If we have the support of the community, then there's definitely things we could do to help bring more exposure and awareness to it.
Since (our headquarters) is located in such an outskirt, it was a difficult proposition to reach out before, but now people are starting to realize what kind of company P.A. Works is and the type of work that we do. It's become significantly easier for us to not only reach out within Japan, but across the world as well. I think it's going to be a very exciting time for P.A. Works.
T-ONO: On that note, how does it feel to know that one of the series you worked on, Hanasaku Iroha, served as the inspiration to the annual Bonbori Festival?
Kikuchi: As you know, there wasn't a Bonbori Festival until about three years ago. The first time it was held, there was only about 5,000 people. The second year, increased to 7,000. Since the third one will be this year, we aren't quite sure about how many people will be going.
Since there's so many big and fun events these days that focus around Tokyo, a lot of people from the outskirts often go there which leaves a lot of other local businesses as "shutter malls" which is when they are basically closed with their shutters down. While I don't think that we're quite influential enough to attract people on a regular basis, but we hope to give these local communities a chance through our work.
I believe that animation fans are very pure hearted people and that if we introduce these new things, like the Bonbori Festival, then they're likely to try it out. I think by merging the local community with anime fans that it definitely helps revitalize the area and that it might actually serve as a catalyst for new types of events.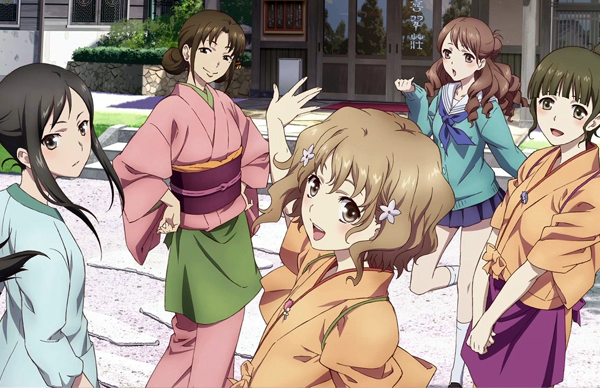 T-ONO: Can you tell our readers a little bit more about your own personal role within the organizational committee for the Bonbori Festival?
Kikuchi: As for the animation and the production committee, I'm one of the members since I'm part of P.A. Works. For the Bonbori Festival, I'm part of the Yumako Onsen Travel Committee. I'm sort of a middle man that tries to find a common ground between the interests of the two parties. So I listen to both sides of the parties and try to find something for them to agree upon.
T-ONO: Where do you personally see P.A. Works headed in five years?
Kikuchi: Haha, that's another difficult question. Hmmmmmm....let's see here, I do have some things in mind, but things that we aren't ready to share just yet. So hmmm...
First, let me just say that this is my personal opinion again. At P.A. Works, our personal belief has been to train our staff and to have a strong relationship with the local communities. So that definitely will not change. As with all things, I think that there will definitely be things that various studios need to change from their current stance in order to survive. P.A. Works will need to adapt as well of course, so it will be a very good place to meet those upcoming challenges that lie ahead.
I personally believe in the foundation of animation and that it has a very strong future up ahead. Normally, it's the animation itself in addition to the merchandise and characters. Nowadays however, it seems like the 2D animation is starting to seep into the realm of reality. So there will probably be changes there as there are currently these non-anime fans that enjoy these types of events and conventions such as Anime Expo. The medium itself has a lot of potential to become more mainstream in society itself, and this is something that I would personally like to explore as much as possible.
T-ONO: Just as a final comment, we think it's very fascinating how P.A. Works is using real-life locations and environments where it brings people to gatherings like the Bonbori Festival. This is probably part of the charm that a lot of fans, American and worldwide, see in series like Hanasaku Iroha that makes it so uniquely Japanese. Series like these more than likely attract a lot of foreign fans to visit those places featured.
Kikuchi: It's really great to have this type of interview where we can talk more about the company's mission and aspirations. I mean, making animation will always be important, but my role in the project is to connect to people with different places. While I can't say that all of our work will be like this, but we do want fans to look at our work and leave them with the inspiration to visit that place someday.
T-ONO: Thank you again!
Interview conducted by Jason Young and Theodore Mak of The-O Network Online.

Latest from Jason Young