Artist Kazue Yamamoto Interview
Amongst the various guests that appeared at Anime Expo, illustrator Kazue Yamamoto, who is also President of visual novel company Denbonosu, made a surprise visit at MangaGamer's booth. Yamamoto-san is probably best known for her works on the Izumo series. She was also a Guest of Honor previously at Anime Expo 2005. We got to briefly chat with her during her break and hear what she had to say!
T-ONO: Thank you for taking the time to talk to us.
Yamamoto: Thank you too.
T-ONO: What brings you back to Anime Expo?
Yamamoto: I have been to Anime Expo as a Guest of Honor when an anime call Izumo came out. This time, MangaGamer invited me to come here, so here I am!
T-ONO: We noticed you were accepting donations for autographs, were those for the disaster relief in Japan?
Yamamoto: Ah, yes it is for charity.
T-ONO: Were you surprised to see people who recognized your work?
Yamamoto: I didn't mention that I would be here, but still people showed up to my booth and that was really nice. I was also surprised there were a lot of words saying to come again. There were people who didn't know me but it was nice to see those who still bought my works.
T-ONO: Would you talk a little about your company?
Yamamoto: I left the company that made Izumo and made my own company [Denbonosu] and here I am as the representative of the company. It's the third year since I made this company. I got together with some people I had worked with in the past. Hopefully in the future with MangaGamer, I can do something in the US too.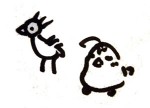 T-ONO: Can you talk about your company's mascot?
Yamamoto: It was originally a monster from the second game I designed. The monster is called DeboSuzume.
T-ONO: How did you come up for the idea for the monster?
Yamamoto: First, when I thought about it, it was like this, but it wasn't cute and was too skinny, so I decided to make it fat which turned out to be cute! [laughs]
T-ONO: Which game have you worked on is your favorite?
Yamamoto: Izumo, this game became an anime, and also three games from this series was release. It's one of the work that I have been working on for a long time, so I am attached to it. Also, it was my first time making a role-playing game with a school as the setting, which is also my reason why I am attached to it.
T-ONO: When you design a character, which part do you design first?
Yamamoto: The director designs the personality and the background. I design the clothing first and then decide the color that best describes the personality. From that I start designing the clothes.
T-ONO: How about the character's body type?
Yamamoto: We get the description of the character from the director, and it will say if the character is skinny or not, so before deciding on the color, we already know what body type the character has. Also, based on personality, if she sounds like the type who should have big breasts, we give her big breasts.
T-ONO: What kind of clothes do you like to draw on your characters?
Yamamoto: I like gothic Lolita style, furi furi (lot of ribbons on cute clothes). So if I have a choice, I would prefer to draw cute girls with gothic Lolita style clothing. Also, I like the miko (shrine maiden) look. I would love to keep on drawing that for the rest of my life!
T-ONO: What do you think is the future of visual novel games in American Market?
Yamamoto: The internet has been popular and many people have access now to anime and Japanese culture. So in the future, Japanese culture will probably become even more popular in the US; therefore, I think the need for these product would grow.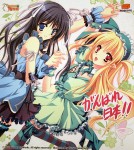 T-ONO: Are you working on any current or future projects?
Yamamoto: Now, I am working on Sora Wo Aogi Kumo Takaku, which is going to be a game that we are going to announce in the end of July, you can see the details on our homepage.
T-ONO: Finally, any message for the fans in the US?
Yamamoto: If there is another chance to come, I would definitely announce it next time. So I hope to see you all next time!
Images © Debonosu Works