Madoka Replica Soul Gem Pendants and Rings for Sale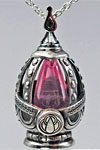 Although not really figure news, fans of the popular Puella Magi Madoka Magica series will be please to learn that COSPLA will be releasing a replica of the Soul Gem rings while Algernon Products will be releasing replica Soul Gem pendants. Both products outer body is made of silver while in the inner gem itself are made from cubic zirconia.
Each pendant will cost a hefty 15,750 yen while each ring will cost 12,600 yen and are expected to be released in September 2011. Tough choices but would make great addition for fans and cosplayers alike looking to make a contract with Kyubey. In the meantime, you can stare of drool over the photos.
Related items