Ken
Silver Spoon Trailer Released!! Staff and Cast announced!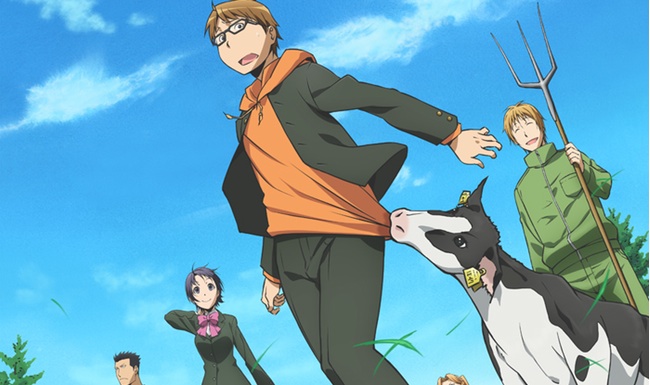 Starting this July, Silver Spoon will be aired on Fuji TV's noitaminA block. As some may already know, Silver Spoon is written and illustrated by Hiromu Arakawa, the same mangaka for the international hit Fullmetal Alchemist. Silver Spoon has receive recognition, wining the 5th Manga Taisho Award and 58th Shogakukan Manga Award.
Silver Spoon is about Yugo Hachiken, a city boy who failed to pass the entrance exams for high school of his preference. He decides to enroll at Yezo Agriculture High School. Entering with no goal and ambition in mind, what awaited Hachiken were tears, sweat, adolescence, and animals.
A trailer has been released earlier today!
The cast and staff of Silver Spoon has been announced.
STAFF:
Original Works - Hiromu Arakawa
Director - Tomohiko Itou
Assistant Director - Kotomi Deai
Character Designer & Animation Director - Jun Nakai
Animation Studio - A-1 Pictures
CAST:
Yugo Hachiken - Ryohei Kimura
Aki Mikage - Marie Miyake
Ichiro Komaba - Tooru Sakurai
Tamako Inada - Ayahi Takagaki
Shinnosuke Aikawa - Nobunaga Shimazaki
Keiji Tokiwa- Masayuki Shouji
Hajime Nishikawa - Kengo Takanashi
Bepuu - Nobuyuki Kobushi
Mayumi Yoshino - Shiori Izawa
Shingo Hachiken - Katsuyuki Konishi
Yoshiyuki Sensei - Yasunori Masutani
Principle - Yuji Mitsuya
Shinichirou Inada- Yuki Ono
Ookawa Shingo - Takahiro Mizushima
Toyonishi Mika - Asami Tano
Sakuragi Sensei - Yoshihisa Kawahara
Niwatori (Chicken) Sensei- Tomohiro Nishimura
Todoroki Sensei - Kenji Utsumi
Latest from Ken