Administrator
[Anime] More Code Geass Season 2 Trailer Shots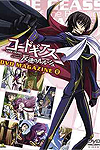 The magazine in question mentioned in the previous post turns out to be DVD Magazine II found while searching on yesasia (product link page can be found here).
A brief discription of the story for season 2 can be found in the magazine. Supposedly, it has been approximately a year since the events of season 1 with no sign of Zero. Several new characters are said to appear including Rollo, a new boy in the school seen in previous magazine features (you can also find him in the screenshots ahead).
In the scene with Kallen dressed in a bunny suit, pictured in the previous post and in this one, it is rumored that Kallen may be working in a casino where the king is staying.
A few new pictures and the older images included, but now in better quality. Click "read more"!
Latest from Administrator