Roger Lee
Stereopony Interview
Stereopony's been rocking the faces off of Japan since 2007 and we had the chance to be de-facificed ourselves at this years Sakura-Con. If you've enjoyed Mobile Suit Gundam 00 or Darker Than Black, you would probably recognize their music. These three girls have definitely made their mark in the J-Rock and anime world and there's no sign of them slowing down. Our very own Roger Lee sat down with them and talked a little bit about their career, their struggles, and the support they've received from fans friends and family alike.
T-ONO: First of all, we wanted to thank you for coming and making the trip here to Seattle. Are you excited to be back in the United States?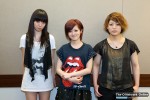 Stereopony: Yes, we are very excited.
T-ONO: Is this your first time in Seattle?
Stereopony: Yes, this is our first time on the west coast.
T-ONO: Have you had a chance to explore the city yet?
Stereopony: Not yet.
T-ONO: Are there any areas you're interested in exploring?
Stereopony: Pike Market Place and first Starbucks Coffee.
T-ONO: In 2007, you're group won the Young People Music Festival, shortly after that, the band was re-named to Stereopony; what was the reason behind that?
Stereopony: When we were writing our first song, there was another band called MIXBOX, in order to become a single band we changed our name to Stereopony.
T-ONO: What was your journey to fame like? What has been the biggest challenge as a band?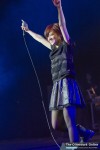 Stereopony: I wouldn't consider ourselves famous yet. As far as challenges, because we debuted in high school, balancing music and studying was difficult.
T-ONO: How do the other members in the band feel? Do they have a different opinion?
Nohana: I didn't really have a chance to play with my school mates, so I didn't really have a childhood.
Shiho: I feel exactly the same way.
T-ONO: What are some of your favorable moments?
Shiho: When we are performing live or when we are having the most fun.
Aimi: When we were still aiming for our big debut, we rarely had a chance to play with our high school friends, but when we were finally going to debut, our classmates gave us a big cake and said "Congratulations!" We were really happy about that.
Nohana: Being able to meet all of our fans that cheer for us.
T-ONO: How has your music evolved since you started as the 4-member band MIXBOX, up to your latest single?
Stereopony: The thing that has affected our music the most are the events that have happened through our lives, including high school graduation, debuting, and moving into Tokyo.
T-ONO: Just the other night you finished your first concert in Seattle. How did it feel?
Stereopony: It was really exciting. I know that a lot of the fans were probably seeing us for the first time, since this was our first time on the west coast, I was really happy to see people stay from the beginning to the end of the concert. It was great to see people's smiling faces.
T-ONO: How were your expectations after the concert compared to your expectations before you arrived in Seattle?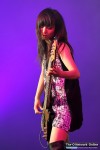 Stereopony: It was even more fun than we had expected.
T-ONO: What are some of the factors or influences in choosing which songs to perform during your live performances?
Stereopony: It depends on the location and where we are performing. Sometimes we just want to do a song at a specific location.
T-ONO: It was recently announced that Stereopony will be performing "Stand By Me" for Eureka Seven AO's ending theme, can you tell us a little more about this track?
Stereopony: "Stand By Me" is about the desire to be strong, the people around you that support you and also the will to be strong. I think this is a very important song for Stereopony as it brings a certain realism to our music.
T-ONO: After Sakura-Con ends you'll be flying to San Francisco where you will be performing your first US tour, how does it feel? What are your expectations?
Stereopony: We really like performing live, and with the performance at Sakura-Con we saw so many smiling faces. We just want to take the power that the fans gave us and give that power back with every performance.
We've included a special video message left by the band for their fans.
Interview conducted by Roger Lee. Article intro by Stephen Bajza.
Related items
Latest from Roger Lee