Sou Miyata Interview (Muv-Luv)
Many people may not know who Sou Miyata is, but they probably have heard about the Muv-Luv visual novel series which he works on in Japan. Muv-Luv was originally a visual novel PC game whose popularity grew into manga and novel adaptations. The series even has an entire toy line released by Volks. Volks is a popular figurine, doll, and toy manufacturer in Japan. See what he had to say in our brief interview with him at Anime Expo 2010!
T-ONO: How do you like Anime Expo so far?
Miyata: It's really fun. I was really surprised seeing people who had some of my works from Comiket in Japan and were able to bring it across the sea!
T-ONO: Which of the games you've worked on did you design characters for?
Miyata: I carried on the work of [Muv-Luv Alternative:] Total Eclipse, someone else was previously working on it. The new characters within the last 2 years from the series were designed by me.
T-ONO: Have you made any changes to the series since you've taken over?
Miyata: Intentionally, I haven't made any changes overall, but fans may notice some of the small ones. I want the fans to be the judge, but I haven't been bashed by the fans so far!
T-ONO: If you had to pick one, which of the characters is your favorite or do you enjoy drawing the most?
Miyata: They always ask me this and it's such a hard question!
Let me answer it this way, since every character has their own facial expressions, I always have to think, "Would this character do this facial expression" versus another character's nuances. Cryska Barchenowa, Yui Takamura, and Inia Sestina are the characters I draw the most so I spend the most time on their features.
T-ONO: What kind of medium do you use in your artwork?
Miyata: Everything I do is digital, I have never really drawn the characters out on pencil and paper. I've only done it twice before coming to Anime Expo, and I was overwhelmed having to do 26 sketches on shikishi boards (laughs)!
T-ONO: Did you get into your current position because you enjoyed drawing or because you enjoyed playing visual novels?
Miyata: In the beginning, I enjoyed drawing more than playing the games. It's not just art, you have voices, sound, animation, and designs, that got me more interested into the games. I thought it was interesting that a game is not made by just one person, but it's a cooperative effort. I wanted to take part in the gaming industry by drawing. I do all the illustrations, but I probably enjoy working on the art for the female characters the most.
T-ONO: Are there any plans for the games to be released in the United States?
Miyata: Total Eclipse isn't a game yet. The manga itself is on hiatus right now, but they're planning on having people buy the game and continue from there. It'll be a collaboration between the manga and game to continue the story. Hopefully, the game will be completed by next year, but that's not up to me and more of the company's decision.
T-ONO: For many Americans who have never played a visual novel, which of the games you've worked on would you recommend them to try first?
Miyata: Probably Muv-Luv Alternative since it is a visual novel game filled with animation.
T-ONO: Can you tell us a little bit more about the animation used in the game?
Miyata: The game engine that our company uses is a little bit different from others. We want to make the game like an anime. So, characters were animated in a way to allow players to watch the novel like an anime. We wanted to put as much animation as possible but keeping the novel aspect. I oversaw all the animations and made sure it's up to my standards with the rest of the team.
T-ONO: Do you have any message to your current and future fans in America?
Miyata: I hope everyone can be excited about my work and enjoy the games. (laughs)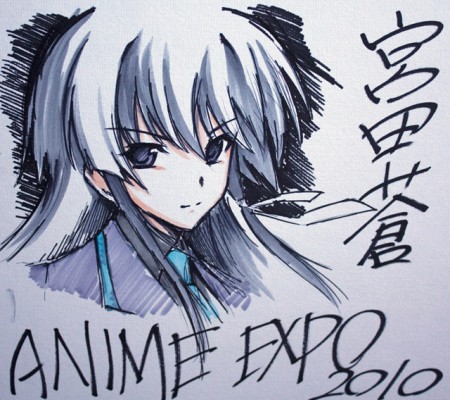 (8/4/2011: The original article was below the quality standards of t-ono.net and has been revised. We apologize for the inconvience.)