Jason Young
Sohei Niikawa Interview @ NIS Press Event 2015
While in attendance at NIS America's 2015 Press Event in San Francisco, we had a chance to interview NIS America President Sohei Niikawa to follow up on our interview from 2013. Find out what he to say about the Japanese video game industry along with the status of the company in America.
T-ONO: First of all, thank you for taking some time out of your schedule to chat with us. Last time when we interviewed you, back in 2013, the PlayStation 4 had just been announced and you were quoted saying that Sony's announcement was a bit premature. Has your thoughts on the system changed since then?
Niikawa: As a worldview, the launch of the PlayStation 4 has been a big success. However, in Japan the system is currently struggling a little bit.
T-ONO: How has it been developing on the system?
Niikawa: When developing Disgaea 5 for the PlayStation 4, the development went pretty smoothly. Since the PlayStation 4 is a very powerful system, it was easy to create graphics for characters and add extra features and content that wouldn't have been available on the PlayStation 3.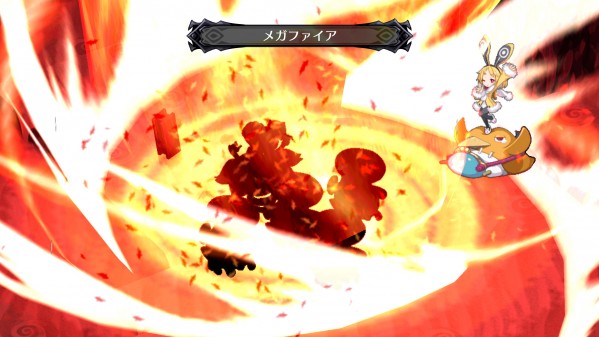 T-ONO: In a related question, NIS has had a tendency to continue support on specific systems long after a new console has already been released. For example, the company was still releasing games on the PlayStation 2 when the PS3 was already released. Are there any plans to continue support for the PS3? Perhaps with a Disgaea 5 port?
Niikawa: Originally, Disgaea 5 was going to be a multiplatform title on the PlayStation 3 and 4. However, when you make a multiplatform game, you have to adapt to the downgraded platform. Since we were making an entirely new entry, we decided that it would be best to focus our attention on the PS4.
T-ONO: Now that you've been developing on the PlayStation 4, what specific features would have only been possible on PS4? Is there anything that you've continued for Disgaea 6 in particular?
Niikawa: Well, anytime we're working with a console, I don't want to have to consider the limitations of the system. If there's going to be a Disgaea 6, I would like to take the entire series and evolve it to the next level regardless of the system.
T-ONO: The company has had a record of supporting various handhelds in the past, including the Android and 3DS. Does the company have any plans to continue supporting these devices?
Niikawa: Well, we currently have several games in the works for both the PS4 and PS Vita.
T-ONO: Has there been any consideration for iOS or even markets like Steam?
Niikawa: All I can say is that we're thinking about it.
T-ONO: Concerning handhelds, it's not entirely a secret that the Vita's been struggling worldwide. Has the company been happy with sales titles like Danganronpa on the Vita?
Niikawa: Actually, I'm very satisfied with them.
T-ONO: Given the success, what does [NIS America] think other companies should do to attract more players to the system?
Niikawa: Well, the Vita is still a live market. If you're just putting money into localizing, you won't be successful. When developing for it though, you really have to minimize cost in order to generate a good profit out of it.
T-ONO: We know that in addition to games, NIS America also handles localization of anime series. How do the two markets compare in the US?
Niikawa: So in comparison to anime, the video game market is a bit of a wave. If it's a really good game, then a lot of people will buy it. With niche, the sales are just all right. Anime, however, is always steady. If you compare profits, then games will always be more but anime is a very steady market.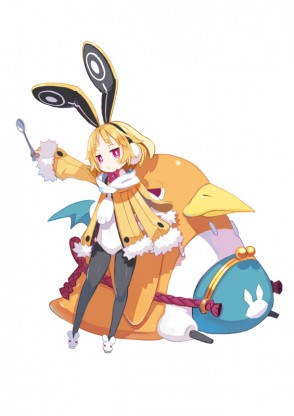 T-ONO: In addition to all of the games and anime, NIS America also sells goods and merchandise from your series. One thing a lot of our readers and followers have been wondering about was if the Prinny hoodie you debuted would go on sale soon. Is it currently on sale, and if not when?
Niikawa: Well, it was just released in Japan and we're currently planning on bringing some of them to Anime Expo 2015!
T-ONO: Aside from your managerial duties, we know that you're also a producer for the Disgaea series. Usalia is quite a colorful character, what was the inspiration behind her?
Niikawa: Do you guys know the Power Rangers? Well, there are five colors. Usalia represents the yellow-type. As for Disgaea 5 characters, we wanted to create characters that were similar to the Power Rangers' colors and that previously weren't in the series.
T-ONO: As a final message for your fans, what message would you like to impart to them regarding the release of Disgaea 5 on the PS4?
Niikawa: To everyone who's played any of the past Disgaea games, I'm confident that they'll purchase and enjoy Disgaea 5. The challenge to me though, is how can we get new fans interested in the series? Well, the story and characters are all new and so it's a lot easier to jump into. There are a lot of tutorials and it's very easy to understand, so newcomers can easily join in the series. The rest of course is up to you guys to get your friends and family to purchase the game!
Related items
Latest from Jason Young