Luna Tsukigami Interview @ AX 2014
As the leader of the doujin group Lunatic Circle, Luna Tsukigami's beautiful moé-style artwork has appeared in numerous books and magazines in Japan. In 2007, the prolific artist released his own self-published book, "Moeru Headphone Reader 2007" and later on published the "Moeru Headphone Reader 2013" in 2013. An English version of the 2013 book was recently supported by enthusiasts worldwide, under the banner of Sekai Project, on kickstarter and will be released later this year. The artist stopped by Anime Expo 2014 to greet his American fans and we were lucky enough to catch him for a one-on-one interview. Come with us as we find out all about the inspiration behind his book, stylized through the use of his digital pens.

T-ONO: Can you tell us a little about your appearance at Anime Expo?
Tsukigami: Last year, we released this book, Moe Headphone at the Summer Comiket. This year we got it kickstarted for an English release. Because of the Kickstarter, we are here to spread the word of Moe Headphones.
T-ONO: What was your reaction when you saw so many people that recognized your work?
Tsukigami: I was really surprised. I am really happy that a lot of people know of my work. Probably because of the internet and through social media content, they are getting to know my work.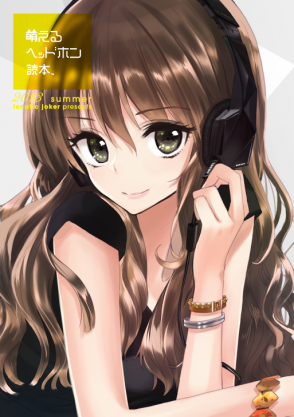 T-ONO: Is this your first time in America or Los Angeles?
Tsukigami: This is my second time. The first time I was here, I was sightseeing. Last time I came over I was able to go to Long Beach, UCLA, Hollywood, Santa Monica, Beverly Hills, basically all the sightseeing locations. For this year, I'm just going to concentrate on Anime Expo.
T-ONO: What are your thoughts on Anime Expo?
Tsukigami: Surprisingly, it's not that much different than Japanese events.
T-ONO: Was there anything memorable that you've shared with your fans?
Tsukigami: There is this limited doujinshi that I produced in Japan. It's really rare to get it in Japan because it's limited, but someone brought that limited doujinshi here. I was really surprised and wondered how he got it. It's amazing that people in America were able to get their hands on some of these items.
T-ONO: What kind of mediums or techniques do you use? Draw first, then scan? Digital art?
Tsukigami: It's all digital. Even the rough drawings are done digitally on tablet with a screen so it's like drawing on paper.
T-ONO: Was it a bit different transitioning from drawing on that tablet to drawing sketches for the fans?
Tsukigami: Sometimes I would draw manually. I try to make it consistent so there won't be a difference between the two. I practiced drawing manually a lot so there won't be any differences.
T-ONO: Are there any current or future projects you're working on?
Tsukigami: Right now, I do a lot of magazine artwork. In the future, I want to work in animation.
T-ONO: How much research did you do for the Moe Headphone Reader?
Tsukigami: I bought every one of them. Even the things that were not in the book, I actually bought them. There were around 10 of them. I listened to each one and some of them were not good. I took out the ones that were bad and that is how I narrowed it down to six headphones.
T-ONO: How did you decide to place the girls with the headphones?
Tsukigami: I would look at the maker of where the headphone came from. For instance, the France one, it's actually from France. I wanted to use the white girl aspect with a little bit gorgeousness to match the image. For the wireless one, it feels like it's made for a worker which is why it has an office lady style girl. The Italian, like their cars, it's a really nice hot type girl.
T-ONO: For people who were not part of the Kickstarter or here at Anime Expo, where else can they purchase your book?
Tsukigami: Currently, we have not decided yet. Please look forward to the release.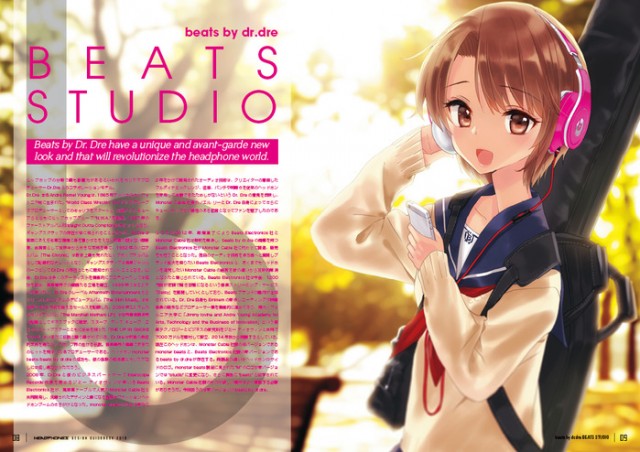 T-ONO: What message do you want your American fans take with them from your book?
Tsukigami: For the beginners who are looking at headphones, it is important to look at sound quality. As beginners, you don't really understand sound quality so I actually want them to focus on the designs. Outside of the six headphones that I presented in the book, try to find one that you like based on the design and enjoy your headphone.
T-ONO: Is there any possibilities of future books featuring headphone girls?
Tsukigami: Not really scheduled currently.
T-ONO: Any final message to your fans that couldn't make it to Anime Expo?
Tsukigami: I can't really say, but please come next time. I don't know if I'm coming next time, but if I'm coming and you're coming, let's shake hands!
T-ONO: Thank you very much.
Tsukigami: Thank you very much.