Jason Young
LiSA Interview @ Anime Expo 2012
The-O Network's Jason Young and Theodore Mak had a chance to interview Japanese pop singer LiSA at Anime Expo 2012. LiSA, who is widely known for her work as the singing voice for Angel Beats!'s Yui and Fate/Zero's opening "Oath/Sign" has released two Oricon-charting albums Letters to U and Lover"S"Mile to date, making her an up-and-coming J-pop sensation. We explore her love for Disney and her impressions of being in America for the first time in her career. Make sure to also check out her video shout out to The-O Network readers at the end!
T-ONO: As fans of your work with Angel Beats! and Lover"S"Mile, we just wanted to say that we love your voice.
エンジェルビーツとラバーSマイルのファンとして、LiSAさんの声が好きです。
LiSA: I am very happy. Thank you very much.
うれしい、ありがとうございます。
T-ONO: How excited are you to perform in front of your American fans for the first time in your career?
歌手としてアメリカのファンの前で初めてライブをすることに対して、どう思いますか?
LiSA: Eeeeh.."Super big!" [in English] *laughs* Eh, is that wrong? Wait that's wrong! I'm "super excited" [in English] to be performing in front of my American fans. I just used the English that I learned yesterday. *laughs*
スーパービッグ、あれちがう?はっはっはっはっは、スーパーエキサイテッド(昨日勉強したことをそのままで)
T-ONO: You've been in America for a few days now, what's been the biggest surprise for you?
もうアメリカに数日すごして一番驚いた事はなんですか?
LiSA: "Super big! All super BIG! Everything's big!" (opens arms widely) *laughs* Everything is Big!
スーパービッグ(笑)オールスーパービッグ(笑)みんなおっきい、全部おっきい。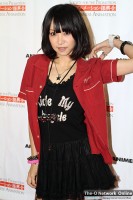 T-ONO: What did you think of your fans at the Anime Expo 2012 Opening Ceremonies?
Anime Expo 2012のオープニングセレモニーでアメリカのファン達を見て何を感じましたか?
LiSA: Although it was my first time here, when I got up on stage and was walking on the red carpet, everybody applauded and cheered. I felt everybody's appreciation and their love for Japanese animation. It made me really happy.
初めて行ったのに私がステージ上がったときや、レッドカーペット歩いたりしたときに皆が声援送ってくれたりして、アニメの(日本のアニメ)とかを愛してくれているんだなって思ってすごくうれしかったです。
T-ONO: I noticed in a previous interview and your online photos that you have a love for Disney.
過去のインタビューやインターネットの画像で気がついたんですが、ディズニーの事がとっても好きなんですか?
LiSA: Yeah, I love Disney.
T-ONO: Did your love for Disney have any influence on your decision to go into music?
ディズニーへの愛が音楽業界へと行くきっかけを少なからず作ったのですか?
LiSA: When I was young, I performed in musicals. I was inspired after watching Beauty and the Beast and wanted to be Belle.
えっと、私小さいころに、ミュージカルやっていて、ミュージカルをやりたいって思ったきっかけはビューティーアンドビーストを見て、ベルになりたいと思いました。
T-ONO: Here's a question that we would personally like to know. If you could perform a song or theme for any Disney film which would it be and why?
これはちょっと個人的な質問になってしまうのですが、もし歌う事になるとしたら、どのディズニーの曲を歌いたいですか?
LiSA: Right now I love Toy Story, so I'd really want to sing a song for Toy Story.
自分が今一番すきなのは、トイストーリーなので、トイストーリーが歌いたいです。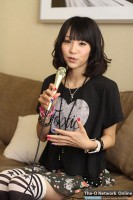 T-ONO: We love how much you interact with your fans on Twitter. Do you find it hard to keep up with the thousands of requests and messages that you must get every day from your fans?
LiSAさんがTwitterでのファン達とのコミュニケーションがなかなか僕らにとって面白いのですが、やはり何千というファンへのコメントやリクエストに返事するのというのは大変なのですか?
LiSA: On Twitter, I pretty much see everyone's messages, tweets, etc. I sometimes have this thing called Lissa-ko Matsuri (LiSA Festival). I just answer all the comments from the person who first comments until I get restricted. I call my fans Lissa-ko, so I name it Lissa-ko Matsuri because all the Lissa-ko gather around and I just have this occasionally when I feel like it.
えっと、全部ずっと見ています、そしてりさっ子祭りというお祭りを開催するんですけど、気分で、そのときに早い順に全部返します、規制されるまで。ファンの名前をりさっ子という名前をつけていて、りさっこが集まるお祭りって感覚で気分しだいでやります。
T-ONO: In regards to your American performance, what kind of preparation or mindset have you used to prepare for your live if any?
アメリカライブが近づいて来てますが、もしよろしければ、どんな心構えでこのライブに挑んでおられるのか教えてくれませんか?
LiSA: Of course. Well, I really can't imagine what it would be like because it is my first time in the United States. However I love American musicians and watched a lot of live videos from them so I am imagining something like that.
もちろん、初めてのアメリカなので想像があんまりできないんですけど、私はアメリカのミュージシャンが好きなので、色んなライブビデオを普段からみているので、勝手にそういうイメージをしています。
T-ONO: As many of your fans know, you were once the lead vocalist for a Japanese indie rock band. Has this experience had any influence on your current musical style?
色んなファンの方たちがもう知っていると思うのですが、LiSAさんは昔日本のインディーバンドのボーカルを担当しておられましたよね?やはりそれらの経験が今のLiSAさんのスタイルを確立しているんですか?
LiSA: We used to do lots of live performances and I believe that how I am right now is because of it.
ライブをすごく沢山していたので、今の自分があるのはそのときに沢山ライブしていたからだと思います。
T-ONO: You seem to sing with a lot of passion, which we respect. Can you take us a bit on what was going through your mind during your final performance of "Ichiban no Takaramono" with GirlsDeMo at the Final Operation Concert?
歌っているとき、すごく心をこめて歌っていますよね?もしよろしければ、ファイナルオペレーションコンサートでGirlsDeMoと一緒に歌った『一番の宝物』を歌った時の心境を教えていただけませんか?
LiSA: Well, I sang with the feeling of appreciation to the people who loved Angel Beats! and Girls Dead Monster. I was also appreciative to Yui-chan from Girls Dead Monster who gave me the chance to sing like this.
えっと、エンジェルビーツとカールゼットモンスターを愛してくれたみんなにありがとうと私にこういう風に歌うチャンスを与えてくれたガールズデッドモンスターのゆいちゃんにありがとうという感謝の気持ちをこめて歌いました。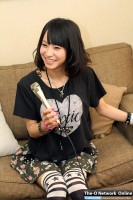 T-ONO: A lot of your music is now available in the United States, for people who haven't heard your music before what song(s) would you recommend they listen to?
結構な曲がアメリカにも来てるのですが、もしLiSAさんの曲を聴いたことない人に勧めるのでしたら、どの曲をおすすめしますか?
LiSA: Everything! *laughs* However, the message that I want to give out the most right now would be let's live along together in this world, let's live the everyday life together, and that is best described in the song "Jet Rocket." So I would want people to listen to that song in particular.
全部おすすめ!でも、一番今自分が届けたいメッセージというのは一緒に今生きているのを・・・一緒に・・・毎日一緒に生きていこうねという気持ちをこめて聞いてほしいものはジェットロケットです。
T-ONO: After Anime Expo, what's next for LiSA? Are there any projects?
Anime Expoの後に次は何を計画してますか?
LiSA: There's Type-Moon Festival, a Girls Dead Monster for one day event and then there is also Animelo Summer Live.There's a lot of anime-related events!
タイプムーンフェスティバル、ガールズデッドモンスター1日だけ復活記念、アニメロサマーライブ、アニメイベントがいっぱいあります!
T-ONO: To summarize, you've accomplished a lot in such a short career. What's been the best piece of advice that anyone's ever given you for your career?
まとめますと、すごく短い間にすごくたくさんの事を成しえましたよね。その間に受けたアドバイスの中で一番心に響いたものは何ですか?
LiSA: The most important piece of advice that anyone's ever given me was that when you're on stage, enjoy the moment for yourself.
ステージの上で自分が一番たのしむことです。
T-ONO: Lastly, do you have any special messages for your fans who weren't able to attend Anime Expo 2012?
では最後に、Anime Expo 2012に来れなかったアメリカのファン達へのメッセージはありますか?
LiSA: Hello who is watching T-ono.net, it's me LiSA! This was my first time coming to LA, I hope I can feel the powerful energy in LA and can bring it back to Japan! My album Lover"S"Mile just came out and I hope you enjoy it! This was LiSA, BAI-CHI!
T-ono.netをごらんのみなさん、LiSAでーす!私は今回始めてLAにきているんですけど、LAのパワーを一杯感じて、ジャパンに持って帰りたいと思います!是非私のアルバム、ラバースマイル聞いてください!LiSAでした、ばいち!
Interview conducted by Jason Young and Theodore Mak. Translation edits by Arthur Arends.