Administrator
Danny Choo Interview @ AX 2010
Internet sensation Danny Choo made his first official American appearance on June 30, 2010 at one of the largest anime conventions in the United States, Anime Expo. Choo runs the internationally recognized otaku blog, dannychoo.com which covers topics ranging from anime, figures, and Japanese culture. His website's popularity has spawned a plethora of merchandise including a future figure of his mascot Mirai, and an anime adaptation titled Chinka. Choo is also known for his Tokyo Stormtrooper dancing videos in Japan. Living the otaku dream, Choo works with various anime related companies including figure maker Goodsmile Company and more recently starring his own television show, Culture: Japan.
T-ONO: Could you give a brief introduction about yourself?
Choo: I would have to think about this real quick (laughs). I was originally born and raised in the UK and moved to Japan about 11 years ago. I have always wanted to live and work in Japan because it was always a dream for me. I was finally able to make it and after 11 years, I am still happy. I still go around Japan with this fresh mind-set, which I still find very fascinating. In Japan, I blog about my life and my work involves a lot of companies that work with Japanese pop culture.
T-ONO: Has the general population of Japan become more tolerant of the otaku culture?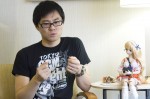 Choo: I think that the news has been talking about Japanese pop culture as well as other programs. I am definitely trying to do my bit to let more and more people know about this fantastic culture. I have this television program which I am directing and presenting called Culture: Japan. It is shown on the Tokyo MX television, Animax Network, and all of Asia. I think that it really depends on the type of person you ask really, if you ask someone if they like tomatoes; some people hate tomatoes and some love tomatoes. I actually hated tomatoes when I was younger but now I could eat tomatoes with no problems at all. It really depends on the person you're asking and because so many people have different views, you'll get different answers
T-ONO: There are many fans of your website and your work who consider you as an icon and celebrity figure in the otaku community. What are your thoughts on that? How has that affect your daily life?
Choo: For one thing, I don't really like to refer people as being fans because it puts me on a different level. I rather call folks 'my comrades,' which puts us all on the same level. I don't really consider myself as being a celebrity, I see myself as somebody sharing their life with other folks and helping other folks get in touch with each other. The main audience I write dannychoo.com for is actually myself. In the next 10 years time I can look back and actually see what I have been doing through photography and so on.
The second audience is my readers. When I was bought up in the UK, I had no internet at all. Can you imagine? My gods! Yah, especially when you're looking for health material (laughs). I had to go to a book shop in London to buy magazines or I had to come to Japan to buy stuff. I know very much what it's like to want to live and work in Japan and to be passionate about Japanese pop culture. I want to do my bit to share my life with folks outside, which is why I take a lot of photos and talk as much as possible about life in Japan as possible. That is what dannychoo.com is there for.
Another important thing is to enable people in each country to connect with each other. My mission at Anime Expo is not to talk about my bit and pieces but to get folks who read dannychoo.com to get to know each other. When I leave, it's going to make me very happy when folks leave Anime Expo to have met my other good folks.
T-ONO: How does your wife respond to all the figures and Dollfies in your workspace?
Choo: Oh, you could ask her, she's sitting right there (laughs).
Mrs. Choo: At the beginning, I was against his hobby. But afterwards I thought that life was short, so why not just keep him happy? I also found the figures and dolls as cute, so I like them as well. As long as he is happy I think its fine.
T-ONO: Have you ever taken a digital photography class?
Choo: Not at all, I think one of the main things I do while taking a photo is that I immediately think can I tell a story with this photo. If I can't, I don't bother taking the picture at all. Just doing that alone will improve one's photography skills. Once you start telling that story while you're taking the photo, it will possess your hands-on ability. I don't know what it is (laughs).
T-ONO: Do you have any plans for a new iteration of Mirai Gaia in the new future?
Choo: Mirai Gaia is a platform that enables my clients to showcase their products and services. Also they can sell those products and services while connecting users within the community. My vision for this platform was that it could do everything. All of my client's website looks exactly the same apart from the top page (laughs). It enables us to keep costs low and make it scalable so that the platform can be managed by a small team. The system is always improving. Recently, we launched a version and we enabled support for IPTC information. IPTC was created back in the 70s or something that enables folks to embed information in the photos or something like that, I can't remember. Wow, that was before I was born (laughs). Basically, if you have captions in your photos, Mirai Gaia will automatically add those captions into the description field. At the moment, we are only using it for my clients.
T-ONO: How was it like working and filming at Fujisawa High School?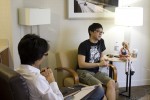 Choo: Working in the television production is still very new for me. I was able to learn most of the production process from putting together the show. It was really interesting meeting with different people involved in the industry. Filming at the school was absolutely fantastic. I have only seen a high school in anime, but seeing the real thing was like: it's just like anime! (laughs). When I went up to the classrooms, I just wanted to sit in those classes and take one of those lessons. I wished I went to a school like that. I think it's like being in an anime while learning at the same time. For future episodes of Culture: Japan, we want to continue that theme. One of the things we plan to do is to follow some of those students for the day.
T-ONO: How is all of that arranged especially getting the school and the students to help?
Choo: For many years, I wanted to cover what goes on at a real school. But getting permission to film at a school has privacy issues. It was really difficult and it took me a few years to get a hold of Fujisawa High School. We had some folks help us contact different schools and actually meet them. I think we went to Saitama, location of the school that Lucky Star was based on, where we met with the head of that prefecture. The head of the prefecture said, "sure, go ahead," but the school said no (laughs). At the end of the day, it was just making phone calls and meeting people to put together the show. Communication was key.
T-ONO: Has there been any problems with the parents of these children?
Choo: No, no, no. We got permission from the whole K-ON! group. Those were the students featured mainly so we weren't allowed to feature any other students working in the corridors. The three main girls are a part of the K-ON group. Their parents were okay with it, so we did have to get permission from the parents first. We took a few hours of footage, cut the portion we wanted to show, and sent it to them for review. They would say we could use everything apart of this and this time to this and this time. So they did check everything first including the photos shown on dannychoo.com.
T-ONO: Was it difficult to take pictures because of the photography law in Japan where you can't show anyone faces unless permission was given?
Choo: The photos were taken at the school and we had permission. The school checked the photos so we didn't have any problems. By the way, that law is called portrait rights. It isn't a law basically; it first started off by a group who wanted to protect interests of people. These were set up against paparazzi to protect the interests of folks. People respected these portrait rights that many blogs have mosaics on the faces in the photos. I think it is very disappointing that Japanese blogs are going in that direction. I will do everything I can to get rid of it. What I don't want is that any photos of Japan have no faces. It will be very disappointing. Japanese folks look just as good as any other folks around the world. I don't want to have just one group of people saying there shouldn't be any Japanese faces on the internet. So I'll do everything I can to change that.
T-ONO: So it's pretty much an honor system that people have?
Choo: That's right; it's not enforced by the way at all.
T-ONO: Have you found much time to travel to Taiwan or nearby countries?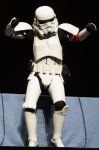 Choo: Lately, my work has taken me to those places except for Taiwan. I would love to go to Taiwan soon. This year, I was in Hong Kong and Malaysia. It was very nice to meet a lot of comrades who enjoy the same sort of interest and passion as well. I want to able to do more to connect these people together. So in Tokyo, I run an event called Tokyo CGM Night. That brings a lot of light-minded folks together. At first it started off with me inviting people that I knew. The people met each other and a lot of new collaboration started from that. For an example, I invited Google and Good Smile Company and they met each other there. Good Smile Company has made the Google Androids, which I gave some away on dannychoo.com. Also, Google came out with an official skin for Chrome. It is a great place for people to come together to make new friendship. I would like to do more with Tokyo CGM Night like turning it into an event similar to Comic Market (Comiket).
T-ONO: How do you feel the anime scene in Malaysia and Hong Kong compares to that of Japan?
Choo: I believe my folks in Malaysia are just as passionate as folks in Japan. They all watch anime and consume anime merchandise. It's just that in Japan, folks stay up early hours of the morning to watch anime on television. Unlike the folks in Malaysia, not just folks in Malaysia, some of them download them and watch them whenever they want. That's really the main fundamental difference I saw.
T-ONO: How about the retail stores?
Choo: I did see some in Hong Kong. The amounts of different types of figures available are different because certain characters have different rights in different regions. A particular region might not have the rights to sell a product officially. Those that want a specific product have to go through online stores. Those were the main differences I saw with the retail stores.
T-ONO: Any particular reasons why you chose to associate yourself with Fakku (an online site where adult doujinshis are posted without the author's consent) for the meet up?
Choo: Jacob has been an online comrade for a long time. He is very good at CGM (Computer Generated Media) as well, which was how we got to know each other through our mutual interest. The conjunction with Jacob did not particular have to do with the content, but because he is very passionate and good at what he does.
T-ONO: Any last words for all the fans that couldn't make it to Anime Expo?
Choo: For comrades who couldn't make it to Anime Expo, it would be great to continue to connect with each other through dannychoo.com or through other anime blogs out there. At the end of the day, it is not about the number of page views, but about sharing our passion. If we are able to do that through the different blogs, then it's beneficial for everybody because we are able to share our passion and enrich our lives by meeting other folks.
Interviewers: Benjamin Chu and Theodore Mak
Latest from Administrator