Aza (Miyuko) Interview
The popularity of cosplay has grown to the point of turning everyday folks into cosplay idols and celebrities. On November 29, 2013 during a fan meet in Thailand, we were lucky to have a quick chat with the popular cosplayer Aza. Fans may recognize her as Miyuko while she was with the Korean cosplay team Spiral Cats. Hear her thoughts about her cosplaying career and about the future.
T-ONO: How have you enjoyed Thailand so far?
Aza: I enjoyed meeting my fans to converse and take pictures with them. I also enjoyed the opportunity to explore the Thai culture.
T-ONO: Can you tell us a little about your experience in Chiang Mai last week?
Aza: In Chiang Mai, I was glad to come across a traditional Thai event that was going on at the time and got to wear traditional Thai clothes. I was very happy that so many people welcomed me.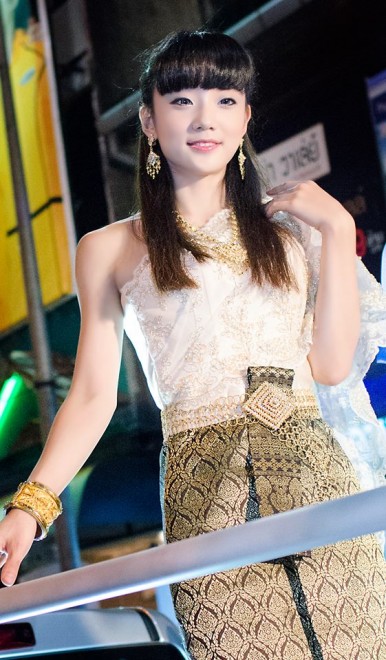 Photo taken by a fan (unknown)
T-ONO: Can you tell us about your first experiences in front of a camera?
Aza: When I was a 2nd year in middle school, I saw some people cosplaying at the school festival. So I decided to go to a cosplay event in Korea with my friends. I was worried that others would not like my cosplay, but in fact so many of them loved it and my friends enjoyed it too. I was very happy about it, so I decided to continue until now.
T-ONO: What do you think were some of your best photoshoots?
Aza: When I participate in photoshoots, the ones that I liked the most were mostly done when I was happy. That's when my photos come out well. The days when I feel I got nice photos are when I was having fun speaking with the photographer or when I had fun being with other cosplayers.
T-ONO: Can you tell us a little about the cosplay you're in right now (Kuroneko)?
Aza: My cosplay today is Kuroneko from a show called My Little Sister can't be this Cute. At first, I didn't know if I would look good as a cat, but after seeing the outfit on me, I thought I looked very good. I decided to cosplay as her because I thought she was cute when I was watching the anime, and since I look good and so many people know this cosplay, I feel happy and proud.
T-ONO: How long did it take to make the cosplay?
Aza: Each costume varies in the amount of time, but this Kuroneko costume's quality takes one to two days.
T-ONO: Which cosplay took the longest to make?
Aza: Katarina from League of Legends took me the most time. The costume itself actually didn't take much time, but the props were very difficult to make by myself because I was making them for the first time. It took me two to three weeks to make the props.
T-ONO: Which of your cosplays you've made do you like the most?
Aza: The school uniform costume that I liked the most is Sena from Boku wa Tomodachi. I liked that she is prim and princess-like, but also ditzy.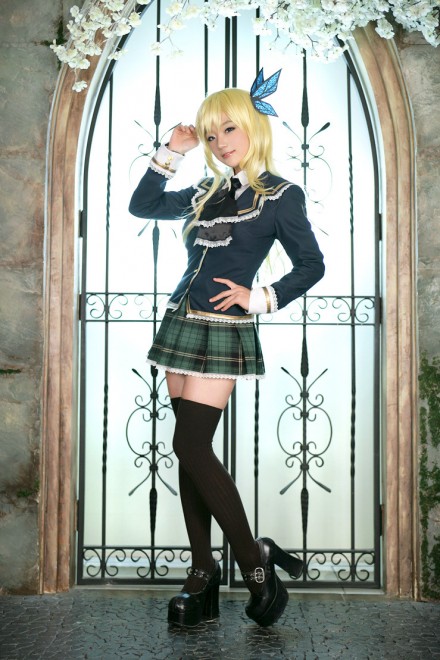 The costume that I liked the most is Love Live's Umi's costume from the concert scene. That's what I liked the most because it came out pretty.
T-ONO: Did you ever think you would ever be so popular?
Aza: Even in Korea, I don't really realize that I am popular, but everyone says that I am. When I go to things like fan meetings, people tell me that they like me. That's when I realized I am actually popular, but in every day life, I don't feel that I am. Thank you all for being my fan!
T-ONO: Any chance of visiting North America?
Aza: I have not yet received any invitation from US, but if I am given the chance, I would like to hang out with American fans and have the chance to observe cosplaying in the US.
T-ONO: If you could travel anywhere in the world to cosplay, where would you like to visit?
Aza: I haven't actually been on any trips for vacation, although I've been to overseas for events and such. But if I could go on a trip on my own, I would like to go places where foreigners took nice pictures and do cosplays that fit the locations. It's actually my dream. Mmm..there's too many, so I can't really pick one. I've seen the locations only through pictures, so I've just been wishing I could go to those places.
T-ONO: Can you tell us about any future cosplays that you may be working on or planning?
Aza: There's Mizuki in Aikatsu!, and Eri in Snow Halation from Love Live's 2nd Single album. I plan on filming the dances this time. I think I'll cosplay Katarina again, and then Popstar Ahri.
T-ONO: You're a big fan of Love Live. What attracted you to a series like Love Live?
Aza: There are nine characters in Love Live, and they all have distinct personalities that are adorable. I also thought their dances and songs are cute, so I thought I want to dance like them too. So I'm practicing dance with my friends.
T-ONO: Can you tell us about how you felt being selected as the representative for Korea for World Cosplay Summit?
Aza: I've attended the summit to help someone who was a Korean representative then, but this would be my first time attending it as the representative myself. I am nervous and worried if I can perform well.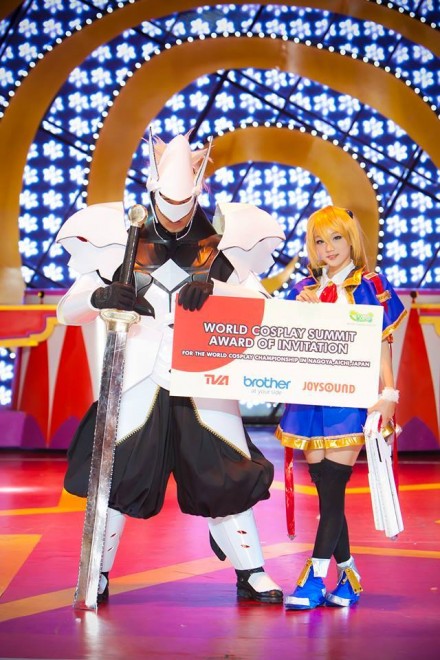 Photo courtesy of World Cosplay Summit (WCS)
T-ONO: As a cosplayer and a fashion design student, what is your dream profession?
Aza: My dream is to work on stage costumes that can be used in operas and such, but since stage costumes are not ready-made costumes (like the ones sold in stores), they are difficult to tailor. I think practicing making (cosplay) costumes would make it easier for me to tailor stage costumes as well. Since the Summit involves me being an actor on stage, it's a new experience for me. It helps me understand what it's like to wear stage costumes that I would be making.
All photos belong to their respective holders. For any uncredited photos, please drop us a line so we may add it.
Special thanks to Mr. Kondo and Negibose.
Event photos and Interview by Eddie Lai
Questions by Eddie Lai and Theodore Mak
Translation edits by Han Hwang