Jason Young
Dempagumi.inc Interview @ JX USA 2013
Fresh off the release of their latest single, "W.W.D. II" on iTunes, we were privileged to have an opportunity to interview the up-and-coming Japanese pop group Dempagumi.inc while at Japan Expo 2013. Known for being former hikikomoris in Japan, these charming ladies have found a way to step out of their comfort zones to start walking on the path towards becoming an international success. Find out all about their aspirations, chock-full of colorful personalities, as we discuss their more recently released products including the Dempa Models x 100 Cosplay photo book and upcoming film Shiromajo Gakuen.
T-ONO: Please introduce yourselves and tell us one skill or talent that you feel makes you unique [from left to right].
Everyone: Hello everyone! We are dempagumi,inc!
Nemu: Hi! My name is Yumemi Nemu. My special skill would be drawing and DJ-ing.
Aizawa: Hi! My name is Aizawa Risa and I am the leader of dempagumi.inc, I love to cook.
Mirin: My name is Furukuawa Mirin and I love playing video games!
Fujisaki: My name is Pinky, Fujisaki Ayane. I'm very good at acchi muite hoi, a variation of rock-paper-scissors.
Moga: My name is Mogami Moga. I'm the murasaki (the purple-colored lady) for dempagumi.inc and this is my special ability is this pose. Here I go! *stretches*
Naruse: My name is Naruse Eimi and I'm good at drawing manga.
T-ONO: Yesterday, you had a chance to perform your first live in America at Japan Expo. How did it feel to perform in front of an American audience for the first time?
Aizawa: Since this was our first American live performance, we were a little nervous before we went on stage. We wondered what were we going to do if there was an empty audience, what if no one was there and they don't know anything about us, but we were really looking forward to it. We noticed that there were people there who were really glad to see us and they had taken the time to learn the special cheers for us which made us very happy.
T-ONO: Did you do any sort of special preparations before your American performance?
Aizawa: Before coming to Japan Expo, we worked very closely with the dance instructor for dempagumi.inc. to go over the flow of the performance, the setlist as well as a thorough rehearsal.
Nemu: More specifically, we also went over the dance preparations for the song "Sabotage" from the Beastie Boys that we cover.
T-ONO: Is there a special meaning behind the group's name "dempagumi.inc"? Where did it come from?
Aizawa: The producer Mofuku-chan she was thinking that there wasn't really any idol group that sang dempa songs; in addition, we thought that was a good name. We thought that the group might increase in size and that we might expand in our work so we wanted to add an extension. Hence the ".inc" portion of our name, although when we say our group's name we never really use it.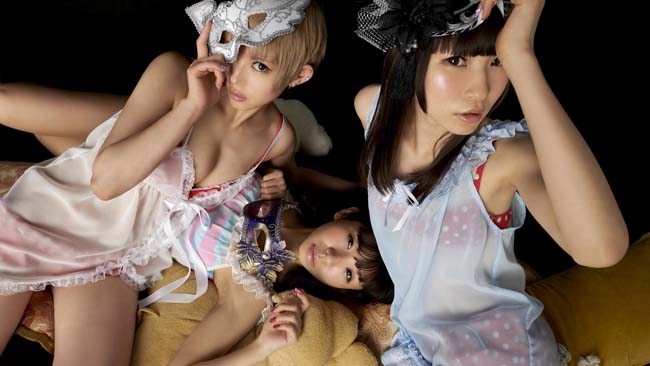 T-ONO: Your group has recently released Dempa Models x 100 Cosplay, a cosplay photo book. (created in association with cosplay clothing manufacturers Clearstone and Team Cosplay) Can you tell us what that is about?
Aizawa: In Japan, we work with a company called Don Quixote; which is a large chain of stores in Japan with pre-packaged cosplay suits that they sell. We did that and we also did some photoshoots and thought that maybe we should do more. So we did a hundred different cosplays that we created a photobook out of.
T-ONO: Just like the cute outfits you're all wearing today, it seems as though you all wear a wide variety of fashion styles in the book and in your live concerts, how do you decide what to wear and your style of fashion?
Fujisaki: Well in private, we all decide upon what we should wear and me as Pinky decide upon a theme on what I wanted to look like today. Sometimes I want to look like a student, sometimes something a little bit more cool looking. So anyways, the clothes I wear largely depends on what theme I want to wear that day.
Aizawa: I wear some lolita fashions and one brand that I really like to wear is Angelic Pretty, which coincidentally has a store in San Francisco.
T-ONO: The single "W.W.D II" was released a few days ago on iTunes, "W.W.D II" is a "sequel" song to their early 2013 single "W.W.D." (a documentary song) and will be the theme song for the movie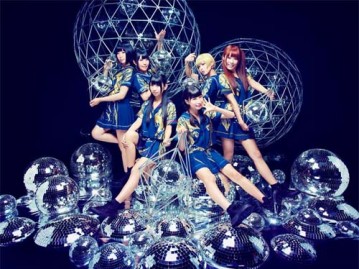 Shiromajo Gakuen. Is there anything that can you tell us about the movie?
Aizawa: In English, the title for Shiromajo Gakuen is translated as "Innocent Release." It's a movie about people who are emotionally hurt and is about those girls trying to become shiroi majo (the white witch) by going to classes and attending lectures. The final exam to become the white witch is pretty harsh and the storyline follows that. We've been involved throughout the entire process and it's a really wonderful movie. It should be released around the world on the internet so please watch that.
Nemu: It's filled with action, moe, sexy, magic and more!
T-ONO: Now that you've recently conquered Paris and now the U.S., where would you like to go next?
Nemu and Aizawa: Indonesia.
Fujisaki: Singapore.
Nemu: Russia.
Fujiksai: Germany.
Narusa: England!
Fujisaki: Yah, England!
Fujiksai: Actually we'd love to go everywhere!
Aizawa: There's a lot of places that we haven't been to and we really like to travel all around the world.
T-ONO: Do you have any special messages that you would like to share with your fans who couldn't make it to Japan Expo USA?
Aizawa: As dempagumi.inc, we originally started in Akihabara. We have gradually started to travel all around the world to meet all of our fans. We love it that you guys are all cheering us on and we want to meet every single one of you!
Interview conducted by Roger Lee and Jason Young.
Latest from Jason Young