Salvador Mateos
PAX West 2016 Impressions: Dragon Quest Builders
Among the games that I played at PAX West this year, one of the notable ones that I would like to talk about is Dragon Quest Builders from Square Enix. This game caught my eye once I noticed it has elements of crafting and the beloved enemies from the Dragon Quest series. Your character, the Savior, is woken up by a goddess inside a crypt with no memories and is told that humans of this world have lost the ability of creating. A back story follows and it leads her into teaching you the basic controls, how to gather, craft and create.
Before the game begins, you can customize your character. You can choose between male or female and select details such as hair color, eye color, and hair style. Customization is optional as there is a default character. Your task is to remake the city into what it was before through crafting, a special ability that only you possess. As more of the town is built, more characters will wander in and inhabit your town. Building is not the only element in this game; this is Dragon Quest after all, and there are monsters to be fought. With the limited amount of time on the demo, I did not get that far but weapons ranging from swords to bombs and traps can be built and are needed to defeat bosses. This adds another fun element to the game aside from just building and keeping in line with the Dragon Quest series.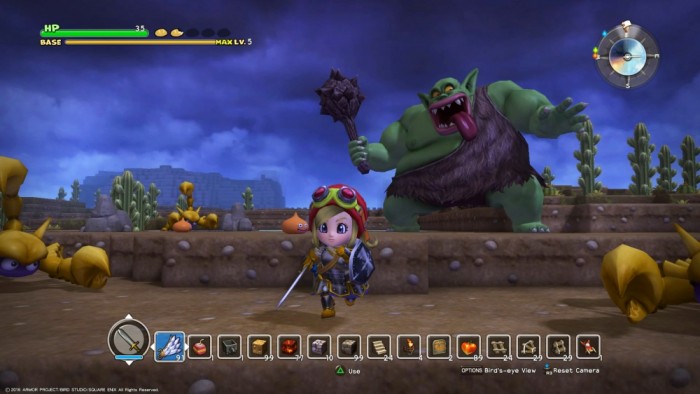 Overall, this game was made for fans of sandbox games in mind. At first glance this game looks and plays like Minecraft, but with an engaging plot and the art style of Akira Toriyama, Dragon Quest Builders is different and much more engaging than a typical sandbox/survival game. I can see myself playing this game alone in solo player mode or with friends in multiplayer mode as I unwind for the day. Intrigued by the game? Then go check it out! The release date is scheduled for October 11, 2016 in North America and is available on the PS4, PS3, and PS Vita consoles. Pre-order now and get three exclusive recipes (slime block, gold block and springtide sprinkles recipe) for use in free build mode.