Salvador Mateos
E3 Impressions: Killing Floor 2
We managed to get a sneak peak at the new upcoming game, Killing Floor 2, with the developers from Tripwire Interactive. Killing floor 2 is a first person horror shooter game that takes place a month after the events of the first game.
A full cooperative demo of the game for Playstation 4 was available for us to play. The demo took place in a city with survivors standing around and our goal was to beat waves of enemies also known as Zeds (zombie-like creatures). Before we started the game we chose from a list of different roles such as: Berserker, Commando, Support, Field Medic, Demolitionist, Firebug, and Gunslinger. You then select your perk. Perks range from different traits such as extra health, more ammo, more damage, or faster movement speed.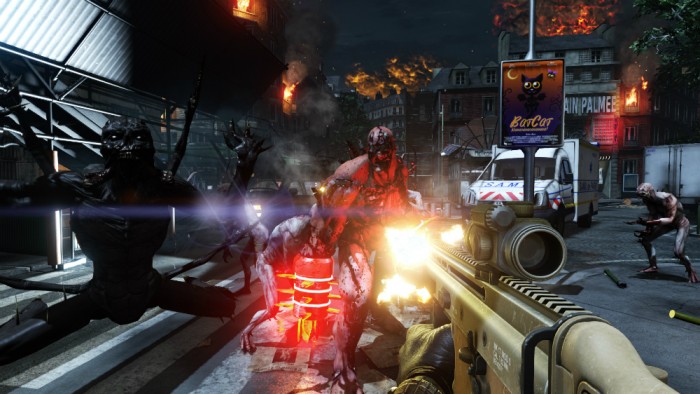 Each perk can be leveled up to 25, with a new pair of skills unlocking every five levels. Only one skill can be equipped at each level. There can be some hard choices here, especially at level 25, where each perk gets a special Zed Time power. Perk picks are not permanent and you can even swap them pre or even mid match. When players kill a Zed, they gain in-game currency and experience points towards gaining levels. The in game currency is then used in between waves to upgrade/buy new weapons, armor, ammo and also you can sell your old weapons just in case you don't have enough currency.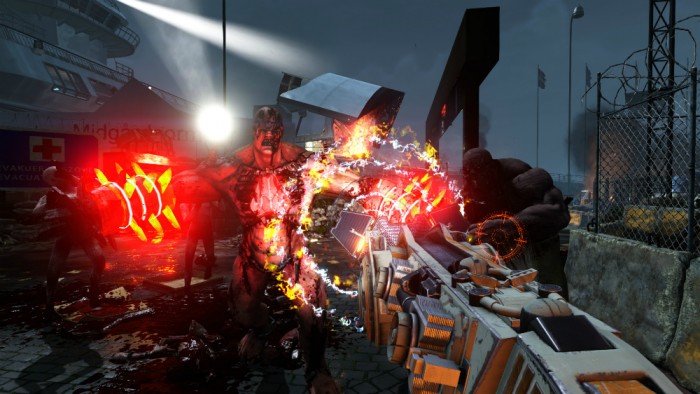 The weapons in Killing Floor 2 feel great. There's a nice kickback to the assault rifle, smashing a Zed in the face at melee range is very satisfying, and even the sound effects when players get healed are spot on. One thing I did like was "Zed mode", which is basically slow motion. Every so often while you are killing many Zeds, the game will allow players to have more control over the chaos around them by slowing everything down. I really enjoyed this mechanic as it made for some very easy head shots in quick succession. As you progress you also level "Zed mode" to the point in which the enemies are in slow motion but you are still in real time. "Zed mode" is to take advantage if you are swarmed by a large mob and utilize the time for more head shots or reload.
Gameplay is very fast paced and I can see where this game can get really deep once you get to the harder levels. When playing with friends communication is key as well as what roles you play since you want a team that is well rounded and lacking in defense or offense. Trust us this comes into play later when things get extremely chaotic.
Over all killing floor looks like a very fun experience and I can see myself enjoying this game with a group of friends for many hours.