Brian Lee
May'n SF Dots and Lines 10th Anniversary Tour Impressions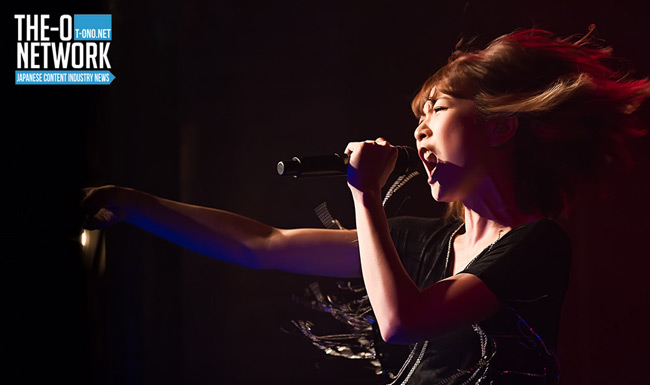 J-Pop Summit Festival 2014 took place on July 19-20. This was the sixth rendition of the event and by all accounts the biggest. Just a few weeks ago it seemed hard to surpass last year's event which had Kyary Pamyu Pamyu headlining it but J-Pop Summit Festival seems to have done it. Fans of Japanese music were treated to the sights and sounds of performers like Tomomi Itano (newly graduated from AKB48) and the fresh faces of Tokyo Girls Style. The event may have formally closed at 6PM in Japantown but those willing to hang around were able to see singer extraordinaire May'n and end J-Pop Summit with a bang.
May'n, formerly Mei Nakabayashi, got her start almost ten years ago when she was picked up as a prospect by Horipro. She soon debuted her first major role as the singing voice of Sheryl Nome in Macross Frontier. To celebrate her ten years, she is performing around the world with the Dots and Lines - May'n Road to 10th Anniversary World tour which consists of almost three dozen shows (many already sold out) and spans more than a year in length. I've seen May'n on two separate occasions: once in 2010 at Anime Expo in Los Angeles and once more in 2012 in San Francisco. This is her second solo concert in the city and she's definitely come into her own. Her showmanship is off the charts and she really knows how to work the crowd and make you feel her presence onstage. We may have seen a more inexperienced performer in past years but she's now a seasoned professional used to being on the stage as she is breathing.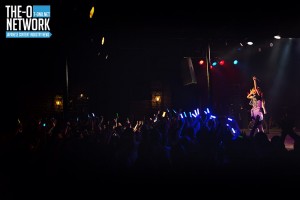 The show comes hot on the heels after the Thursday night show at the Musician's Institute in Los Angeles. The tour follows the pattern laid down in 2012 where the San Francisco show was preceded by one in LA. The venue of choice for the night is Slim's; San Francisco fans of Japanese culture will remember it as being the place where Stereopony played in 2012 and it is a staple venue for rock fans. I've seen many of my favorites within these walls and now I can add May'n to that list.
May'n's latest album release is titled NEW WORLD and hit the public in January. A good number of songs from the album were featured in the concert and she started off the night with one of them, "ViViD," followed by "Run Real Run." Her previous albums were not ignored and "Brain Diver," from the anime series Phi Brain: Puzzle of God, and "May'n Space," a song from her first album Styles, finished off the starting sequence. A trio of her slower songs "Watashi no Shirushi," "Aozora," and her newest single, "Re: REMEMBER" brought the crowd back down to earth.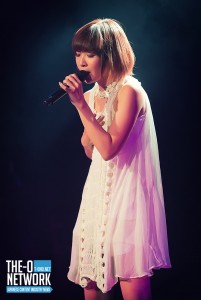 For me, May'n will always be tied together with Macross Frontier's Sheryl Nome. This is not a bad thing; Macross has been a large part of my life since I was small and Sheryl is one of my favorite characters. She has many standout songs from the series which leads to a small problem: which do you put in the set list? May'n arrived at a compromise and included ALMOST ALL OF THEM. This medley was composed of "Welcome to My Fanclub's Night" (pretty fitting), "What 'Bout My Star?," "Infinity," "Universal Bunny" (from the first Macross Frontier movie and my favorite), "Obelisk," and "Iteza Gogo Kuji Don't be Late." This was followed by one of her standout songs, "Diamond Crevasse," which was played in its entirety. It's a slow, soulful song and one that has become a staple of her lineup.
One of the many things May'n has improved on is her English speaking ability. Why is this important? It allowed her to learn just how to refer to San Francisco from the crowd. Trust me, that's big.
"San Fran?"
"Frisco?" (crowd: Noooooooooo). A little shocking to her because it's used a lot on the internet.
"SF?" (acceptable)
"Then, what would you say?" Crowd: "The city!" "The city?! Really?"
Another one she was surprised at (or more accurately the non-use of) is Shisuko (as in, San Furanshisuko). It's used a lot by Japanese speakers who do enjoy their abbreviations. Apparently this is how it is taught in Japan.
May'n recounted some of the things she did during her visit here. A few dozen mussels fell prey to her. She attempted to eat a massive chocolate-covered apple and snatched up more than a few boxes of pancake mix (she looooooooves pancakes) to bring back home. Of course no visit to San Francisco would be complete without a visit to Powell Street and the cable cars. May'n stepped into the shoes of Sheryl and rode one of the iconic vehicles depicted in Macross Frontier. Even in the far-flung future they continued to thrive in the face of technology and disaster.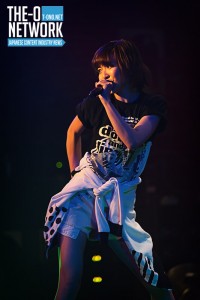 The night continued onward with a mix of songs from NEW WORLD and a few more from her work on anime. The trio of "Northern Cross," "Chase the World," and "Kyou ni Koiiro" kept the crowd's spirits high even as the hours grew late. You couldn't tell that it was fast approaching midnight like some sort of Cinderella tale. Much like that story no one wanted the night to end and yet it must.
Near the end of the set was "Phonic Nation," a special sort of song. It focuses upon the fact that while we may all speak different languages we can all understand music. The Phonic Nation is the world brought together by music. It was written by May'n specifically to describe how everyone is, at their core, all human, and all lovers of music. We're all under the same sky united by music. No matter who you are and what language you speak you can appreciate a beautiful voice.
May'n ended the show with thank yous to each member of the crowd. She did the same back in 2012 and it was even more special as they were individualized and made eye contact with every person who had taken time out of their busy weekend to see her. Due to the number of people here tonight we would have been there for another hour if she had done the same so she went with a more practical thank you by sections.
It is my custom to buy a tour shirt for almost every show that I attend. At $53 it was slightly cheaper than the previous shirts (~$60) but after the tax, pushed by Kinokuniya, it came out almost even. Most tour shirts are $30 or less (including other Japanese acts) and tax inclusive with that price. Hard pill to swallow and I hope the next time May'n comes by she'll have a decently priced shirt. While the shirt cost a pretty penny the actual concert ticket was well worth the $45. May'n put on a show and any fan should be satisfied by the two hour concert.
She ended the show by saying she hopes to come back soon and sing with everyone once more. We'll be waiting. This night at Slim's has proved that San Francisco is a solid destination for May'n to perform at.
I hope that future J-Pop Summit Festivals will continue to have blockbuster concerts as their exclamation point. The event has come so far from where it was just a single day and rivals many conventions for guests. With the way things are going it can only get better from here.
Special thanks to Derrick Soares from Shameless Self Promotion and all the folks at Slim's. Big thanks for the chairs. You have no idea how helpful those were. Well, maybe you do, since I was perched on one for almost the whole night. Derrick kept an eye out for us and being trapped in the press box wasn't so bad.
The Dots and Lines tour has many more dates, mostly in Japan, and concludes in February 2015.
Please check out http://may'n.jp/dotsandlines and http://www.maynasia.com for more info.
Setlist:
1. ViViD
2. Run Real Run
3. Brain Diver
4. May'n Space
5. Watashi no Shirushi
6. Aozora
7. Re:Remember
8. Medley: Welcome to My Fan Club's Night!, What 'Bout My Star?, Infinity, Universal Bunny, Obelisk, Iteza Gogo Kyuji Don't Be Late
9. Diamond Crevasse
10. Moonwalker
11. In The Air
12. Hero
13. Northern Cross
14. Chase The World
15. Kyou ni Koiiro
16. Lose My Illusions
17. Dolce
18. Phonic Nation
19. Kimi Shitamou Koto Nakare
Album song count:
May'n Street: 1
Styles: 1
If You...: 2
Heat: 2
Kyou ni Koiiro: 1
New World: 8
Re:Remember: 1
Macross Frontier: 8 (each part of the medley counted separately)